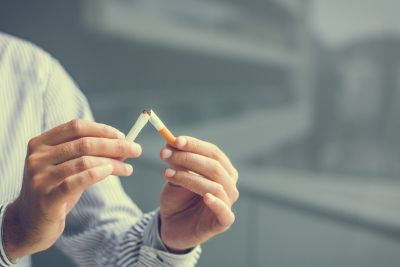 An essential part of the public health calendar, VApril is upon us once again. But with worldwide disruption caused by the coronavirus, it can be hard to find the drive to commit to the event – even when it's potentially more important than ever before. So, what exactly is the VApril message, and how can it help you and friends or family to cut back on their habit when it truly matters most?
What is VApril?
Now in its third year of operation, VApril asks regular smokers to be aware of their use of tobacco products and cut back by switching to vaping alternatives. Widely acknowledged as a useful cessation aid, the UK Vaping Association (UKVIA) has encouraged users to 'go digital' this year and use online technologies to spread useful knowledge about how to start vaping and commit to cutting out tobacco products for 28 days. The event focuses on-
Seeking Guidance:
VApril events provide specialist guidance and care, educating users about how to effectively stop smoking.
Providing Evidence: The event gives individuals factual information about trying vaping and stopping smoking, helping audiences make an informed choice about vaping and switching to less harmful alternatives. While the event focuses the potential role vaping products play, real-world education is very much the focus of the initiative- with UKVIA producing a detailed guide to cessation under the shadow of Covid-19.
Why does it help?
VApril asks smokers switch to vaping products across the programme's 28 days. And the benefits begin almost immediately. Counting from the end of your last puff, your body starts the process of recovery, starting with-

After 30 minutes: Your blood pressure begins to lower, and pulse drops to your average level as the initial 'hit' of nicotine subsides.

After 8 hours: The carbon monoxide (CO) and nicotine levels in your blood reduce by up to half, with oxygen levels dropping to normal for your current habit.

After 48 hours: Harmful CO levels drop throughout the body and your lungs start the process of active repair, removing mucus and long-term debris built up by smoking. Nicotine is removed from your system at this point and your ability to taste, smell, and breathe begins to steadily improve.

After 72 hours: Irritation is relaxed throughout the lungs, allowing for easier breathing and increased energy levels due to improved oxygenation.

After Two Weeks: Long term benefits continue as your body continues to heal, resulting in improvement in circulation and reduced risk of coronary disease. This is in addition to the fact that Stoptober campaign research found that stopping for 28 days made users "five times as likely" to commit to cessation. Research has also shown that 21 days is long enough to create or change a habit– making your good efforts more likely to stick. However, if you or a loved one are planning to take up the VApril, it is essential that it is vital to understand the potential risks and complications that the Covid-19 virus can bring.
Why is this so important now?
With thousands dead and rising in the UK, Covid-19 is a real and existential threat to citizens throughout the world. Along with adhering to social distancing guidelines, it is important to give yourself and others the best possible chance of survival if the virus is contracted.

We have previously covered announcements on Covid-19 in our blogs, covering what makes the virus so deadly to certain segments of the community and what officials have to say about the illness. The main reason for many is that the infection can cause pneumonia or rapidly inflame your lung tissue. This reduces your ability to breathe and brings down the amount of oxygen in your bloodstream as your lungs fill with fluid.

Even if you survive this, the toll can impact your body's ability to respond to ongoing conditions such as kidney issues, diabetes, and more – making otherwise treatable conditions life threatening. While our understanding of the virus is far from complete, there has arguably never been a better time to make the switch from tobacco to vaping.

And combining your efforts to self-isolate with social distancing can remove the many social triggers and temptations that may normally derail your efforts. Simply put, there's never been a more vital time to consider putting your cigarettes down for good.
What technologies can help?
For many smokers, making a change to a new product is not only difficult, but outright daunting. With images of cloud chasing and hi-tech vapes, those that are less confident with technology can find themselves lost Thankfully, there are several advancements made in the last few years that can help take the effort out of your quitting journey. These include-

E-liquid Varieties: One of the major hazards of smoking is nicotine exposure, with exposure potentially causing a number of cardiovascular, respiratory, and gastrointestinal issues. Modern brands allow you to control the strength of the e liquid you use. This can allow you to match your current nicotine concentration and steadily reduce your strength – moving from less potent liquids, to flavoured options, before quitting entirely.

Prefilled Pods: Maintenance and upkeep is a major deterrent for many users. However, all-in-one devices like the RipTide RipStick offer an affordable, intuitive solution. Simple to clean and maintain, these devices use prefilled pods that can be directly inserted into the device and responsibly disposed of when empty. This cuts back on confusion and uncertainty – guaranteeing that each pod matches a user's unique needs and taking the stress out of making changing reservoirs or topping up tanks.

Device Ranges: No matter whether you're a seasoned vaper or true novice, there is a device out there that lets you vape how you want to. This can be as simple as a beginner kit that replicates the look and feel of a cigarette, letting regular smokers transition with ease. There are robust entry-level pieces of kit that are perfect for those looking to save money without compromise. And there are units that offer hybrid functionality to let users micromanage your vaping experience.
What else should I consider?
Of course, smoking cannot be stopped just by picking out a device or e liquid alone. And with self- isolation enforced by law it's crucial that quitters look after their overall health and make use of all the support options currently available to them. These include, but are not limited to-

Cessation Services: The NHS has done stellar work proving care and guidance for those looking to quit. The official NHS site has a wealth of options available, including how to seek help from your doctor if you require it. There are also a growing number of digital apps available on smart devices to help you find a flexible way to quit that works for your habit.

Meditations and Exercise in Quarantine: One of the biggest risks Covid-19 represents is to our mental as well as physical health. With so many of us quarantined in small flats with irregular access to green parks and areas, the government has provided detailed guidance on getting through this difficult period. Trying out alternatives such as meditation or yoga, can also help manage stress levels or break up your day if you are working from home.

Having Enough: With all non-essential shops closed in the UK, making sure you have enough of your chosen e liquid for VApril month is essential. While there is no need to 'panic buy' or hoard products, ensuring you have enough of your chosen brand can help avoid situations that may risk relapse. Our diverse range of products offer safe shipping, ensuring you have enough of what you need when you require it most.

Sharing Guidance: People are only able to make decisions based on the knowledge they have available to them. Sharing details about VApril with friends and family can help them find the right support they need, whether it involves vaping, using a cessation service, making meaningful life changes or - ideally - a combination of all three.