Further Information
Designed for use with the market's top e-liquid V2 Cigs Platinum this 3 pack of quality EX Blanks could give you up to 45-60 refills before buying another. With a clear design showing your e-liquid levels and a drip gauge labelled in millilitres - this light and sleek cartridge can be used with all of our batteries. A streamlined design, improved e-liquid efficiency and a screw-on cap eliminates leaks and allows easier refills. With the EX Blank, you're guaranteed to give a lovely rich taste every time.
V2 Cigs EX Blanks Refillable Tanks
V2 Cigs EX Blanks can be used with all V2 Cigs Classic, EX Series batteries and Shisha Kits. This Mini Tank style transparent cartridge/clearomiser has a screw cap and gives a lovely rich taste.
Each pack contains 3 EX Blank tanks.
Save more than £3 by choosing the new 3 x 3 pack multi-buy option (giving you 9 EX Blanks in total).
EX Blanks are designed to be filled with V2 Cigs Platinum E-liquid. It is important that you use the best e-liquid which has pure and tested ingredients, V2 Cigs e-liquids are all laboratory tested and you can get your own online ingredient report.
Features of this powerful little clearomizer mini tank include:
Screw-on cap that eliminates leaks and allows easier refill
Streamlined design
Improved e-liquid efficiency
Refillable up to 15-20 times before you will need to replace it
Drip gauge labelled in millilitres
Clear design shows your e-liquid levels
Much lighter and less bulky than large and ugly vaporizer & E-cig "tanks".
EX Blanks are part of the V2 EXSeries.
Can be used with all V2 Cigs Standard, Long and EX Series e-cigarette batteries.
How to get the best use from a Refillable Tank
To get the best usage from your EX Blanks we recommend that you keep the tank regularly topped up with e-liquid because this will keep the wick permanently moist to give you the best taste and vapour.
Pair your EX Blank with any of our mouth-watering V2 Cigs Platinum E-Liquid & Shisha flavours! Indulge in the rich, tobacco flavours of V2 Red, Sahara and Congress. Cool off with V2 Menthol, Peppermint or Mint Tea. Need to satisfy that sweet tooth? Indulge in Chocolate, Cherry, Vanilla or Coffee. All e-liquids are available in your choice of 1.8%, 1.2%, 0.6% or zero nicotine strength.
Try a selection of our best e-liquid flavours with a V2 E Liquid Sample pack, 6 great flavours in one handy selection pack.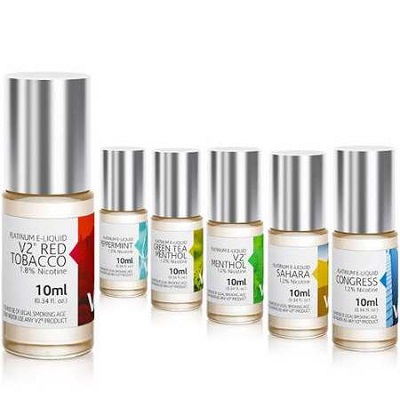 The V2 Cigs UK Testing Process
All V2 Cigs e-liquids and cartridges have a batch code identifier that can be used to obtain a full online laboratory report of ingredients. The vast majority of e-liquids providers do not offer this safety net. V2 Cigs e-liquid is designed and tested to ensure purity and consistency and optimised to work with our EX Blanks and V2 Cigs battery specification outputs for a clean and optimum vaping experience.
V2 Cigs E-Liquids - Individually lab tested for purity.
"Do you know what's in your E Liquid?"
How to fill a V2 EX Blank
Watch this short video to see the best way to fill V2 Cigs EX Blanks.
Customer Reviews
Write a Review
Have been using these for years. I have the occasional problem but customer services are always very helpful.

Happy with these blanks. All worked perfectly. Thank you for fast shipping.

I love V2 products, but as previous people have commented, the ex blanks leak. As I've previously mentioned, the leaking started when there was an issue with screw mechanism, i presume when manufacturer changed. Please ask manufacturer to sort this problem, as I've got liquid leaks on everything.

The quality of the EX blanks is not what it used to be. As reviews above. My experience now is I have to be very careful with them, they can crack, leak and come apart. This never happened before this year and I have been using them for a good few years now. Customer service is excellent and I only make this review in the hope that with so many people saying the same thing, the factory will improve the quality.

I have used ex blanks for 7 years now and like a couple of recent reviewers have found that some tend to leak for no apparent reason. Not sure if there has been a change of quality/manufacturer but did not seem to have this issue up until a year or so ago. I certainly would not consider changing to a different vaping system as I like the slim pen size. I usually can get 10/12 refills per cartridge which I am more than happy with.
I find that the customer services are brilliant and have never disputed any returns or issues and are pleasant to deal with which nowadays is very commendable. If the issue of leakage is only a 'blip' thee the ex-blanks would fully deserve a 5 star review.