Before Stoptober began, roughly 20% of the adult UK population (eight million!) smoked cigarettes, which is a damning statistic. This is people of all ages from teenagers to retirement age who are unable to shake the habit. While the popular belief is that 120,000 deaths a year at a rate of 13 per hour lie with nicotine, the chemical compound from the tobacco plant acts as one of the addictive substances in a cigarette but causes very little harm if consumed on its own. Tobacco and the various lethal toxins that form from its combustible nature cause eight million deaths a year worldwide, yet only 4% of tobacco quit attempts would succeed without cessation support. That's why Stoptober entered the conversation.
What is Stoptober?
Stoptober is an annual campaign designed by Public Health England (PHE) in October to help smokers in their quit attempt. Common knowledge in society dictates that giving up cigarettes for good is a monumental task and it's true - they're an addictive substance that seriously impacts your health and even those around you through passive smoke. The aim of the Stoptober campaign, which first launched in 2012 is simple. Together with the NHS, PHE created the initiative to give that initial eight million people a greater chance of putting down the cigarette for good, picking up a healthier habit in the process and prolonging life.
As a recent study highlights, smokers are five times more likely to quit if they don't touch a cigarette for 28 days straight. Stoptober is the collective challenge over 28 days to achieve this goal and make it permanent by using the tools and advice created by organisations like PHE and the NHS. Other health organisations such as Cancer Research UK, the British Heart Foundation, the British Lung Foundation and ASH all have the desire and funding in place to achieve the government's goal of stopping smoking in British society completely by 2030.
Stoptober Campaign 10th Anniversary - Has it Been a Success?
Although PHE's Stoptober campaign can not take full responsibility for the dropping numbers of UK smokers since 2012, the signs are encouraging on the 10th anniversary of the event. In 2020 alone, their campaign evaluation summarised that they met their target of 12.3% quit attempts based on their efforts, 4% of which sustained beyond Stoptober. What started with 350,000 quit attempts in the first year has now led to more than two million attempts over the past decade. Other actions passed in parliament such as the 2016 decision to remove branding on cigarette packages showed bold steps by the UK government towards their 2030 smoke-free goal for UK society. Nevertheless, statistics only paint part of the picture. As we stated earlier, smoking is a dangerous addiction that is very hard to quit completely, with relapses often occurring. Therefore, PHE and other leading health organisations rally together, particularly during the Stoptober event to help people achieve the tough task.
How Does PHE Raise Awareness Before and During Stoptober?
As demonstrated by their recent video release ahead of the Stoptober campaign for 2021, Public Health England work before, during Stoptober and analyse their results after to expand on their findings to see where they can improve. Annually they put roughly £1 million of government funds towards a series of campaigns (mainly digital through social media, advertisements and mobile support) to help smokers quit by offering a range of resources. But is this enough when the cost to the UK economy and health system is so high? The infographic highlighted by statistics via the Public Health website demonstrates how important initiatives like Stoptober are for reducing the number of cigarette users.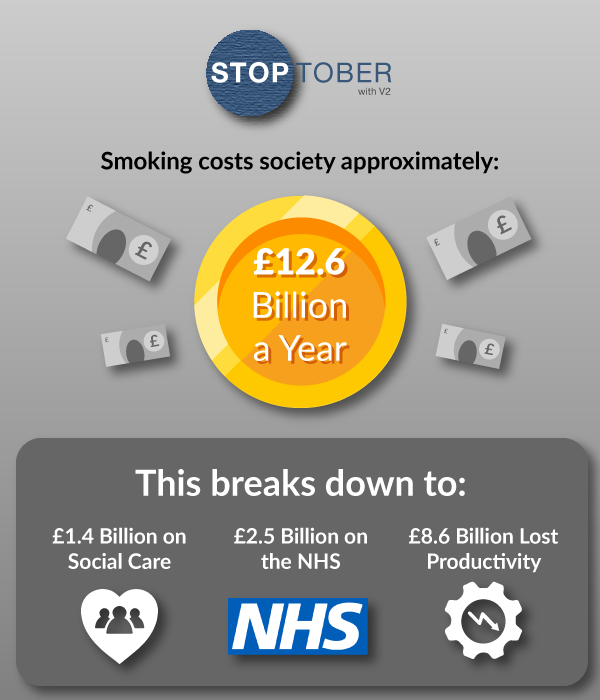 How to Quit Smoking and Get Support
Now more than ever because of the Covid-19 pandemic, digital support is a must as people adjust to a different way of life. Despite the start of coronavirus dovetailing with a large number of people quitting smoking, this number has recently spiked once again in 2021. Reasons behind a relapse include:
Increased anxiety during repeated lockdowns
Boredom during the time at home
Stress from work pressures, family tensions and relationship struggles
Is your attempt to quit smoking for good a mental state or based on physical actions? Are you able to put down a cigarette and hop on the bike for some exercise? Cancer Research UK highlight these tips as must do's to help your quit smoking attempt:
Speak to a doctor or local smoking services so you don't have to fight it alone.
Never give up - even with a relapse, find another method so you know how to quit smoking permanently.
Predict any obstacles that might get in the way or tempt you back towards cigarettes and plan accordingly.
Make a date to stop and stick to it.
Find the right treatment for you, whether that's patches, gum or e-cigarettes.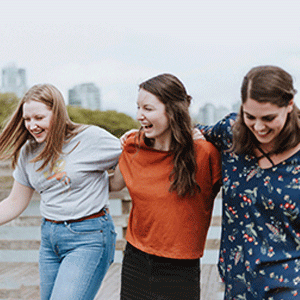 Some tips of our own we have for you include giving the Stoptober challenge a go with a friend, partner, colleague or family member who smokes. You can pick each other up when you feel down or tempted to try another cigarette. You can also use the Stoptober app, revamped for 2021. The latest Stoptober campaign app is downloadable on any Android or iPhone through the Playstore or Apple Store respectively. This offers a range of tools, guides and rewards for each of the 28-day challenges.
How Long Does it Take to Quit Smoking?
Lasting 28 days may seem like a short amount of time but for those addicted to cigarettes, it can feel like an eternity without the right support. However, just remember you'll start to feel instantly better within minutes, hours, days and certainly weeks of the challenge - mentally, physically and financially better for it! However, because of the recent upturn in people returning to cigarettes during the stresses of Covid-19 in 2021, PHE has focused on this as a key message for Stoptober. Quitting smoking should not just be for Stoptober but beyond that. It's all about finding the right alternative that works for you, which you can discover in more depth below.
Different Types of Nicotine Replacement Therapy (NRT)
Nicotine patches
Nicotine gum
NRT inhalator or nasal spray
E-cigarettes
Up to 2010, the first four in the list above were the most popular cessation methods used to help people quit smoking. However, in recent times we have seen the rise of e-cigarettes as one of the best alternatives to smoking. With starter kits for beginners similar in habit and size, while saving smokers money, many now turn to vaping during Stoptober, as you can see on social media pages.
Available in a range of nicotine strengths, a heavy smoker can start with a high level of nicotine and gradually work their way down to avoid going cold turkey. A recent study from ASH highlights 3.6 million in the UK use e-cigarettes. Because it is considered a safer alternative and 20 times less harmful to your health than smoking, which can even be vaped without nicotine, it's a useful way to drop nicotine at your pace till you are ready to quit vaping and smoking permanently.
Your Next Steps and Goals
Smoking prevalence is still increasing among some age groups in the UK. That's why Public Health England stepped in to put a stop to these alarming trends. Anyone who smokes now should quit for the good of their health but to break the habit, it will take plenty of support from those around you, initiatives like Stoptober, setting personal goals and using alternatives such as e-cigarettes to make the transition smoother and not just for 28 days. If you need any help understanding which vape kit could be right for you, the V2 Cigs team would be happy to provide advice to help you on your cessation journey.