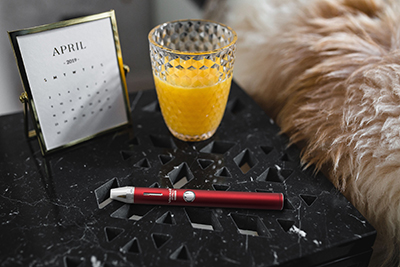 The world's largest vaping awareness campaign, VApril, is back to help share the good news about e-cigs and implore smokers to ditch the cigarettes and switch to vaping. Do you smoke or someone you know someone smokes? Find out more and get ready to take on the VApril challenge.
Take the VApril Challenge
Taking place throughout the month of April, VApril is all about existing vapers lending their support to the cause by sharing their positive vaping experiences with smokers. By spreading the word to as many smokers as possible, the ultimate goal is to educate and get smokers to switch to the healthier vaping alternative. Public Health England says that e-cigarettes are up to an incredible 95% less harmful than smoking cigarettes and that vaping has the potential to help smokers quit the cigs altogether. Additionally, new research shows that e cigarettes are twice as effective as traditional smoking replacement therapies such as patches and gum. Cool right?
Despite a wealth of positive information about e-cigarettes, a staggering 44% of the UK's 7 million smokers believe that vaping is as harmful as smoking and 40% are yet to even try vaping. It with this in mind, VApril asks the estimated 3 million UK vapers to stand up and speak to smokers about the benefits of vaping.
Find the Best E-Cigarette to Quit Smoking
To help guide those beginning their vaping journey, the choice of devices, e liquids and accessories available at your fingertips can be a confusing place to be. Let's start by looking at the best devices for beginners.
In the first instance, you'll be looking for something affordable, but not cheap, something easy to use that won't hurt your brain upon assembly and something that'll satisfy for your cravings to succumb to the cigarettes.
Your first device should help you make the transition from smoker to vaper with minimal fuss and minimal expenditure. The Vapour2 Starter Pack is a great place to begin your vaping adventure and comes complete with everything you need – a rechargeable battery, USB charger and a choice of 6 flavoured e liquid cartridges. At a cost of £19.99 for the pack, you'll enjoy the equivalent of 120 cigarettes as well as a rechargeable battery that will provide you with enough power for the next 3 months.
If you've got the cash to splash, the powerful ; VERTX Plus Vaporizer is a slick bit of kit that will provide double the puff count when compared to Vapour2's s Starter Pack batter and will cost £72.77. As opposed to a pre-filled e-liquid cartridge, the VERTX Plus comes with a blank cartridge, which means you can manually re-fill your e-liquid – ultimately cutting down on the costs and packaging associated with pre-filled cartridges.
What is the Best E-liquid?
Once you've decided on your device, you'll need to cast your attention to the kind of e-liquid you want to consume. First and foremost, finding your favourite flavour is key to remaining smoke free. If you love the taste of your vape then you'll be more inclined to stay clear of tobacco and lead a healthier life.
Vapour2's Premium E-Liquid is available in pre-filled cartridges or as e liquid bottles for refilling blank cartridges. Available in 14 different flavours, purchasing a Flavour Sample Pack will provide you with 6 different flavoured e liquids ideal for discovering what works for you and what your preferred choice might be in the future.
The cost will always dictate quality when it comes to vaping, so avoid getting drawn into purchasing the cheapest and most convenient e-liquid. Do your research and read reviews about the tastiest e-liquids there are. A quality e liquid won't cost you the earth, but it will use the best ingredients. A great tasting vape should be clean, smooth, flavourful and ultimately keep you satisfied.