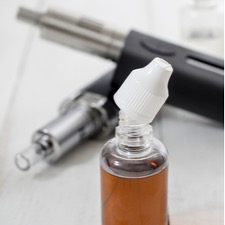 A vape pen is traditionally designed for mouth-to-lung vapers, although we've recently seen the welcome addition of direct lung Sub-Ohm coil vape pens too. However, not all types of e-liquid can be used in a vape pen.
Thin and compact, vape pens are often the go-to option for many new vapers and experienced alike that need a simple kit. But while the majority of vape juices have a mixture of Propylene Glycol (PG) and Vegetable Glycerin (VG) acting as the carriers of e-liquid, you need 50% as a minimum of PG in a mouth-to-lung vape pen (because it produces less vapour and more of a throat hit) and vice versa with VG in a direct lung vape pen.

Granted it may seem a little daunting at first to decide what kit to pick. But it's important - because if you pick the wrong e-liquid type, you won't get the best flavour, cloud production, nicotine rush and overall experience from your vape pen.

Plus, it might reduce the performance of your vape kit over time, as it clogs up the different parts of the e-cigarette. So with the different coil resistances, PG to VG ratio and nicotine base to consider (freebase or nic salt), what's the best vape juice that will match your slimline and efficient device?
Matching Your Favourite Pen with the Correct E-Liquid
E-liquids are available in so many different flavours and nicotine strengths via 10ml bottles or Shortfills (more on that later). To extract the maximum performance from your vape pen, it's important to decide what sort of experience you're after.

First of all, ask yourself, do I want a mouth-to-lung or direct lung vape? That will then tell you what type of coil resistance you need in your vape pen and finally the ideal PG/VG ratio for your vape pen vape juice.

As an example, if you want to vape mouth-to-lung (which is a high percentage of vape pen users), you'll be best served with an MTL coil of 1.0 Ohms or higher. This will pair well with a nic salt for a high-nicotine yet smooth intake, or a high PG freebase e-liquid of 50% and beyond to get the greatest mouth-to-lung experience.

In contrast, too much VG in your vape juice will increase the thickness of the e-liquid and thus create larger unwanted clouds for MTL vapers - clogging your coils by trying too hard to work against high resistance. For the best results with high and 100% VG e-liquids, you'll achieve a far greater effect with vape mods, as opposed to smaller, less powerful vape pens.

With this in mind, why do so many opt for a vape pen, especially at the beginning to try new e-liquids? Well, these smaller, sleeker, slimmer and more portable devices are great for new vapers as they give you a simple vape experience that effectively emulates the experience of smoking a tobacco cigarette.

However, with this smaller size comes a sacrifice in battery power. No matter which device you choose, there simply isn't as much battery capacity (albeit some exceptions) as in larger vape mods and box mods. So it all depends on compromise as well as the trial and error method, till you find what works best for you.
Is a 50/50 Vape Juice or Prefilled Cartridge a Smart Alternative for New UK Vapers?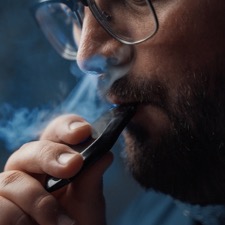 To not risk vaping an unsuspectingly strong throat hit with a PG percentage that's too high or over complicate matters with a high VG e-liquid that clogs the coils quicker than expected, rest assured you have other options. For instance, the V2 Platinum range of e-liquids come in a balanced 50/50 PG/VG mix, which makes them ideal for use in vape pens. This blend is compatible with the vast majority of vape devices, and we've chosen this concentration to make your vaping experience balanced, comfortable and offer great flavour and cloud production all at once!

The V2 Platinum range of e-liquids is popular with both beginner and more advanced vapers alike, due to its great range of flavours and strengths (the V2 platinum range comes in 14 flavours and four different nicotine strengths), as well as its consistency and flexibility when it comes to different vape styles. A bonus of 50/50 e liquids is that they are super versatile, and can be used in pretty much any device or tank without too much trouble. This is one of the many reasons why we tend to recommend new and beginner vapers to start with a 50/50 e-liquid, before branching out into different vape styles.

Lots of vape pens and "cig-a-like" devices also use vape cartridges or "pod" systems as they are sometimes known. These cartridges simply slot, click or screw in and out when you are done with them. This is a great option for beginner vapers as it's super easy to get started, which is why many cartridges come in a 50/50 PG/VG mix. The V2 Cigs Classic prefilled flavour cartridges are a great example of this, and are filled with the V2 Platinum e-liquids for ease of use when vaping, while still getting a great product and satisfying vape experience. Of course, when you use pods or cartridges, you are restricted by the brand you use, as these cartridges are rarely compatible with other brands' vape pens.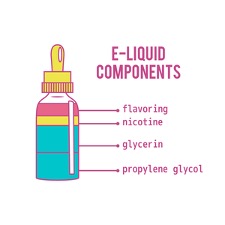 The Basics of Your Vape Juice
Almost all e-liquids are only made of four basic ingredients - PG, VG, nicotine and flavourings. The majority of these flavourings are things that you can also find in your baking cupboard, or your local supermarket too! When you compare this to tobacco cigarettes, which contain more than 7000 different chemical compounds every time you inhale, it's clear which you would rather be using.

PG and VG are the main base ingredients of e-liquids, and are present in almost all of the vape juices you can buy today. The ratio of PG to VG in your e-liquid base makes the biggest difference to your overall vape experience.
Different Vape Juice Types
High PG
High PG e-liquids are most popular with new vapers and those who vape to quit smoking. High PG vape liquid is great for this kind of vaping as it offers you a strong throat hit, to effectively emulate the experience of smoking tobacco cigarettes. High PG liquids also offer great flavour (as PG is naturally flavourless and odourless) and effectively deliver a great nicotine rush, to help keep cravings at bay.

Most high-PG e-liquids also need to be vaped at a lower temperature than high-VG liquids, which is ideal for vape pen users. You can also get higher nicotine concentrations in high PG e-liquids, as the mouth-to-lung vape style usually needed for this kind of e-liquid is less harsh on the throat than direct-to-lung vaping styles, which are more common with high VG e-liquids.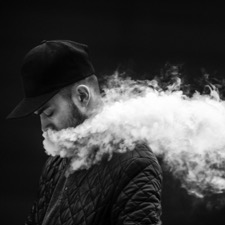 High VG
High-VG e-liquids, on the other hand, are more popular with direct-to-lung vapers and cloud chasers (people who look for high vapour production from their vape). This vaping style and this type of e-liquid help to create those big, thick, fluffy clouds of vapour that we all recognise and associate with vaping.

Generally slightly thicker than their PG counterparts, it requires a slightly higher temperature to get good vapour production. However, vaping direct-to-lung, as most users do with high-VG liquids, can be very harsh on your throat if you're using a liquid with a high nicotine concentration, which is why many users prefer low or nicotine-free-e-liquids when vaping direct-to-lung, or with high VG formulas.

Some high-VG vapers also like to use shortfill e-liquids, as they can more accurately control the nicotine concentration of their e-liquid.
Shortfill
Shortfill e-liquids are unique since they don't contain any nicotine of their own. This makes them very versatile, as you add your nicotine shot to the bottle after buying it. Shortfills first came about to allow for larger bottles of e-liquid to be sold after TPD (Tobacco Products Directive) rules came in, restricting e-liquids containing nicotine to containers of no more than 10ml.

Shortfill e-liquids can come in a wide variety of PG and VG compositions, and as you choose the nicotine strength that is right for you, these are some of the most versatile e-liquids around. You can still get shortfills in all kinds of fantastic flavours, such as the award-winning Dinner Lady range, which offers users several deep and layered dessert flavours from their vape, including:
Berry Tart
Blackberry Crumble
Lemon Tart
Strawberry Macaroon
Sunset Mojito
Watermelon Slices
If you're a new vaper and are unsure what kind of e-liquid is right for you, or a more advanced vaper looking to upgrade, don't hesitate to get in touch with the experienced team here at V2. We can help you pick the right e-liquids, devices and accessories to make sure you get a great vape experience every time.