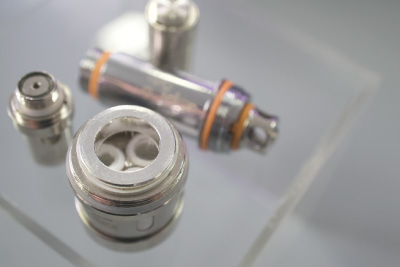 Maintaining your vape can help your device maximise its performance while adding true value for money. But with so many makes and models available, it can be a struggle to change out your heating coil. So, when should you think about changing your coil and how do you go about doing it?
What is a vape coil?
Your device's coil is used to create the vapour clouds from your chosen e liquid. Held within your device's atomiser, these are wired directly to your battery and are activated when you turn your vape on. The coil quickly heats and vaporizer your e liquid, allowing you to draw it into your lungs and use your device. If your device has variable temperature settings you can increase the heat of the coils, increasing the amount of cloud produced but also causing them to burn-out faster than normal.

How do you know when to change the coil on a vaporizer?
No matter what device you choose, your coil will eventually wear out through regular use and require replacement. An early warning sign is a change in the volume of your smoke and the taste of your vape, which will take on an acrid flavour and be less noticeable. Even if you don't notice any difference, your coils should be regularly switched out at least once a month, or more often if you are a heavy user.
How to change the coil on my vape
Luckily, changing your coil is not only inexpensive but easy to do. Here are our four simple steps to swapping out your coil quickly and safely.
1. Disassemble your vape: Depending on how your device is put together, you will need to access your coil – something that can be different for a top or bottom fill tank. This will involve detaching the tank from the device as per your vape's instructions. We would recommend putting down paper or other absorbent material as - if the vape has recently been used - there may still be some e liquid present. Make sure that you empty your tank completely too.
2. Remove the coil: Once you can see the coil on the device, carefully unscrew it counter-clockwise. Remember, if you haven't changed your coil for a while there is a high chance that it will be covered with residue, so try to cover your hands or used a cloth or paper towel to avoid getting your fingers dirty.
3. Add your new coil: Once you've picked up your coil, make sure that you add a few drops of e liquid to it. This will help prevent burning when the device is first turned on and force you use another replacement. Take a minute to let this absorb into your device then screw it directly into your vape, leaving a firm seal but not excessively tight.
4. Test your vape: When the coil has been added, fill your tank with an e liquid of your choice and carry out a quick test to make sure that it has been reassembled correctly and works as needed. If there are new issues such as a leakage or continued burning, carefully carry out the process again to resolve the issue. If you want to learn more about our range of vape products, you can check out our current selection of coils or our regularly updated blog for information. If you have specific questions that you can't find answers to online, you can get in touch with us directly and let our team know exactly what you need for the best vaping experience possible.