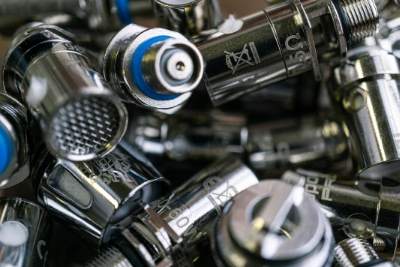 Looking to find out more about mesh coils? Haven't got the foggiest what they are or what they do? Let's take a look at how a mesh coil might maximize your vaping experience and how the overall surface area of your coil might change the way you vape
The Importance of Surface Area
Manufacturers and designers of the vaping community are constantly finding new ways of improving our vaping experience. Whether its battery size or coils, the evolution of vaping devices and their components are an ongoing one. From the first incarnation of a single-coil to dual coils and even quadruple coils, manufacturers aim to ultimately improve and vary our vaping experiences. By using multiple coils that soak up your e-juice, the increased surface area that is produced means more vapour production and even improved flavour.
While multiple coils provide a larger surface area, Aspire changed the game by introducing the Cleito tank. By utilizing the space in the chimney of the tank, the Aspire Cleito introduced a mesh coil to the vaping community.
So, what are Mesh Coils?
A mesh coil is a strip of stainless steel or kanthal metal that is perforated with multiple holes. A much larger surface area than that found in traditional single or dual coils, the multitude of holes, together with a flat design means there is a much larger space between the e liquid and the coil resulting in more heat than can be applied to your e liquid.
What are the advantages of mesh coils?
Mesh coils have certainly taken the vaping world by storm and an altogether larger surface area means that are quite a few benefits to be enjoyed. These include;
Mesh coils heat up more quickly than traditional coils
Larger vapour production and increased flavour profiles
Even heat distribution means that flavour and cloud size is consistent.
Even heat distribution extends the life of a mesh coil compared to traditional coils, which tend to burn in one particular spot.
Less power required for your e-liquid to reach optimum vaping temperature.
Often cross-compatible with existing tanks, which means you don't need to invest in a brand new tank just to enjoy the benefits of a mesh coil.
The Cons of a Mesh Coil
Similarly to other coils that have an increased surface area, ultimately, you will use more juice. It might sound obvious, but to achieve an increased vapour production, more e-liquid and in turn, more nicotine will be consumed.
How to Stay Safe When You Vape
In terms of staying safe when you vape, It should be noted that Public Health England's published evidence that cites e-cigarettes to be up to 95% less harmful than smoking tobacco cigarettes, is based on the research of first and second-generation devices. These are the basic low-powered e-cigarettes that you may choose to use when you first start vaping. The more power and in turn, the more heat that is applied to e-liquid, the more carcinogenic your vapour becomes and the more harmful it is for you to consume. If you're thinking about using mesh coils to produce more vapour, bear in mind that you'll be increasing the temperature of your vapour the more surface area your coils have.
Vaping should be a healthy lifestyle choice that you make to replace the lethal and toxic cigarettes that you've become addicted to and should be a short-term plan that you undertake to become both smoke and nicotine-free. By reducing the concentration of nicotine in your e-liquid, you'll soon be able to cease vaping altogether and consider yourself free from nicotine addiction. Hooray!