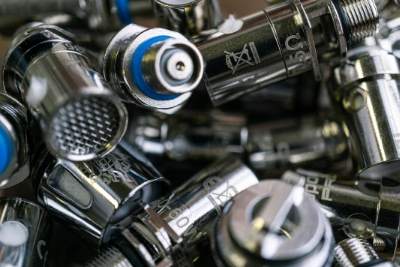 If you didn't know already, coils play a vital role in the function and performance of your vape. Their key purpose is to heat the e-liquid stored in your tank or cartridge to turn into vapour for inhalation. But did you know you can get different types, made from a variety of materials? Coils created from Kanthal, Stainless Steel or Nichrome are now formed in one of two ways. Traditionally you have 'standard wire', which is how many coils are still shaped today. This wire wraps around the wick. However, in recent times, the trend has quickly changed. Originally multiple coils were the next big thing but suddenly we have a new kid on the block. Now, mesh coils have become the craze, in particular with 'Sub-Ohm' vapers, seeking even bigger clouds and enhanced flavour. They essentially do the same job as multiple coils, but with less fuss.
Since vaping began, manufacturers wanted to look at the best ways to maximise vapour production by increasing the coils surface area. Freemax got the ball rolling with the very first mesh coil and Fireluke Mesh Tank. Today, we now see a wide range of coils, with standard wires suiting mouth to lung vapers and mesh coils preferred by more advanced direct to lung vapers. The Cleito Tank from Aspire and accompanying Pro Mesh Coils of 0.15 Ohms is just one innovative example, with plenty more in our top picks below. To start with, let's take a look at how a mesh coil might maximise your vaping experience and how the overall surface area of your coil can change the way you vape.
Mesh Coils and the Importance of Surface Area
Whether it's battery size or coils, the evolution of vaping devices and their components is an ongoing one. From the first incarnation of a single-coil to dual coils and even quadruple coils, manufacturers aim to ultimately improve and vary our vaping experiences.
Mesh coils are the next step in the evolution of vaping. You want a similar impact you would get from multiple coils, but not needing to swap as often for equally great performance. Some devices even take three or four coils, which highlights how far vapers have come on their journey. An increased surface area is vital to heat more e-liquid at a faster pace.
What are Mesh Coils?
A mesh coil is a strip of stainless steel or Kanthal metal that is perforated with multiple holes. Kanthal tends to be the most popular and widely used material for mesh coils. A mixture of chromium, iron and aluminium, it is strong, durable and one of the most affordable materials for mesh coils. With a much larger surface area than that found in traditional single or dual coils, the multitude of holes, together with a flat design, means there is a much larger space between the e-liquid and the coil, resulting in more heat than can be applied to your e-liquid.
Therefore, even if you opt for a vape mod with greater power, you can still fire up the e-liquid fast enough to support the more intense wattage. All of this is thanks to mesh coils and the larger surface area. However, mesh isn't a new concept for the vaping industry. In fact, before the sudden surge in demand for cotton as the chief wicking material, mesh coil was used in rebuildable tanks with a similar concept.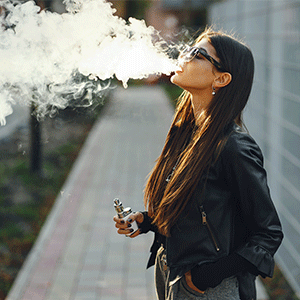 Now, because of the way the heat is distributed by using a metal material with a mesh design, this will only up the flavour due to reduced chances of burning or coil spotting.
Mesh Coils Advantages
Mesh coils have certainly taken the vaping world by storm and an altogether larger surface area provides quite a few different benefits. These include:
Ideal for Sub-Ohm vaping at a lower resistance
Increases coil longevity with mesh coils means less likely to burn out at a quicker rate
Even heat distribution means that flavour and cloud size is consistent
Less power required for your e-liquid to reach optimal vaping temperature
Enjoy the improved taste from your e-liquids high in Vegetable Glycerin or TPD-compliant shortfill bottles as cloud production reaches another level
Mesh coils are designed to cover all of the wick, which is typically cotton, so there are fewer issues with cloud consistency or flavour in contrast to standardised wires.
Disadvantages of Mesh Coils
More e-liquid used
Cooler temperatures than standard wiring, which may be less appealing to former smokers seeking a warmer vape
Because you're filling up the vape mod more often, that leads to a habit of inhaling more vapour than needed, which may feel harsh on the throat
Not as suitable for low wattage vape pods. They operate on less heat, meaning standard wire coils are a much better fit for MTL vaping
Different Types of Coils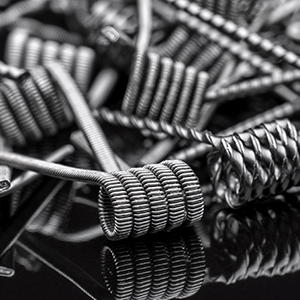 What we love about the vaping industry and one reason smokers love switching to e-cigarettes is a wider variety of choice. The world is your oyster when you can pick different vape devices, e-liquid flavours and coils. With the latter, as well as the two standard types of design, you can mix it up by picking mesh coils made of different materials. Examples of mesh coils include Kanthal and stainless steel, which can be found at V2 Cigs. Not just that, but even nichrome or 3D mesh coils, which again highlights how the vaping industry continues to move forward with the times. You get not just an increased heat compared to standard, but 3D mesh coils also need fewer watts to heat up.
How Long Does a Mesh Coil Last?
A good question answered with another question - how long is a piece of string? Every vaper is different and the longevity of your mesh coil depends on the frequency you vape. Because you're using a larger surface area, as we said earlier, you will more than likely go through a lot of e-liquid, particularly if you have a coil with multiple mesh coil holes. Sub-Ohm vapers who now use mesh coils (which is often the case) will need to change their coils frequently and even change or charge their batteries regularly.
This is expected when you want more cloud volume or a tastier vape from your e-liquid. As we know, mesh-built coils last longer than standard wire designs, so you will get longer life. Nevertheless, it's always best to maximise the taste and overall experience by updating your coils regularly. Otherwise, you run the risk of decreased cloud production and a nasty burnt taste when you vape.
Our Top Three Mesh Coil Picks
2. Innokin Zenith Coils

The pioneer for MTL-inspired mesh vaping. With coils that are made by Innokin with the help of Philip Bursado and Dimitris the vaping Greek, they note that these Zenith coils last up to 5 times longer than traditional MTL-style coils. You not only have the option of the 1.6 Ohm coil, but also a Plex 3D coil of 0.48 for Sub-Ohm vaping or 0.5 Ohm Plexus coils. With so many different options, you're spoilt for choice.
.
.
.
.
.
.
Pairing With the Right Vape Mesh Tank
Another important decision every vaper needs to make is selecting which tank to pair with your coils. Whichever mesh coils you choose, chances are there is a specific vape mesh tank from that brand of coils to go with it. Ideally, you'll want to find a tank with adjustable airflow to maximise the throat hit and enhanced cloud production available from mesh coils. Simply tweak by adjusting the ring when you pick the right vape kit that suits your requirements. If you are looking for the best SMOK mesh coils then take a look at our full compatibility guide.
How to Stay Safe When You Vape
In terms of staying safe when you vape, it should be noted that Public Health England's published evidence cites e-cigarettes are up to 95% less harmful than smoking tobacco cigarettes, based on the research of first and second-generation devices.
The more power and in turn, the more heat that is applied to e-liquid, the more carcinogenic your vapour becomes, slowly increasing the risk of harm for you to consume. If you're thinking about using mesh coils to produce more vapour, bear in mind that you'll be boosting the temperature of your vapour because of the added surface area from your coils.
Nevertheless, vaping certainly plays its part well as a wiser alternative, replacing the lethal and toxic nature of cigarette smoking. In essence, vaping should be a short-term plan that you undertake to become both smoke and nicotine-free. By reducing the concentration of nicotine in your e-liquid, you'll soon be able to cease vaping altogether, free from nicotine addiction.
Final Thoughts
If you had to pick between the two, vaping is the obvious choice to reduce nicotine and stop inhaling cigarettes packed with dangerous chemicals. After vapers get used to whichever starter kit piques their initial interest, they'll often want to broaden their horizons and alter their experience to make it more personal. Currently, mesh coils is the latest and greatest innovation to kick on Sub-Ohm vaping to the next level. The only thing left to do is experiment till you find the perfect device, tanks and coils together to discover what works for you. Should you need any assistance, the team at V2 Cigs is available to offer any advice or recommendations.