Let's go back to where it all started. Vapers often like to reminisce about their favourite vape kit years ago, which helped them on their vaping journey and to quit cigarettes for good. It's thanks to vaping brands like Dinner Lady that the transition has in many cases become a seamless one.
With the development of the industry over time, so has the technology and plethora of options at your disposal. The e-liquid you choose is another important factor in making that change from smoking a successful one and not a relapse.
What's also important to understand is the emergence of different processes and popular ways you can vape to maximise and tailor the experience personally. That's where shortfill e-liquids come into the equation and how Dinner Lady made such a big name for themselves in the vaping industry, selling in over 90 different countries and winning multiple awards. It all started with a shortfill and one particular flavour, which put Dinner Lady on the map.
Shortfills vs Nic Salts vs Freebase Nicotine
Granted that e-cigarettes should not be used as a way to impress friends, but it certainly has its benefits as an alternative to smoking. Because of the evolution of vaping, you can now try e-liquids through different processes. But which do you pick from and why? Well, that depends on your stage of the cessation journey and goals as a vaper.
Dinner Lady sidestepped this initially and went straight for shortfill e-liquids. They don't contain freebase or nic salt nicotine. Instead, it's nicotine-free and completely up to the vaper whether they want to add a nicotine shot or go it alone. But this is only part of their story.
While freebase nicotine in the past acted as the sole method manufacturers used to make e-liquids, it's harsher on the throat and slightly altered to produce a stronger throat hit. Scientifically speaking, Ammonia was added to increase the pH level to increase the levels of nicotine addiction (first done with cigarettes), turning it from a naturally occurring salt via the tobacco plant into its purest form.
In recent times, we have also seen the introduction of nic salts. To decrease the pH levels, an acidic liquid such as Benzoic Acid is added. This enhanced the delivery of nicotine, so it felt as strong as smoking a cigarette without needing to vape as often, as with freebase nicotine e-liquids.
Dinner Lady: a Brief History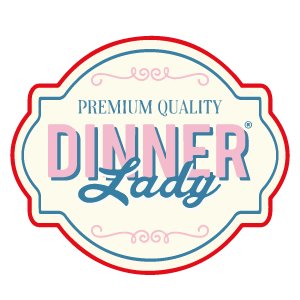 Starting as a brand what seems like an eternity ago, Dinner Lady began to join the discussion among vapers as an e-liquid manufacturer you should take note of in 2016. With the now iconic Lemon Tart shortfill, their aim to transport the community back in time to the days of nostalgia was influential as they created a buzz to revolutionise e-liquids. When they released Lemon Tart as a shortfill six years ago, it was like re-living memories where your grandma baked delicious desserts in the kitchen, entering your nose and taste buds like a crashing wave of astonishment at her creativity.
They took that inspiration and bottled the flavours and aromas vapers expect from high-quality e-liquids, instead of the naff and poorly produced e-liquids you see from some brands. As they say, you only get out what you put in, and Dinner Lady made a statement back in 2016, right from the off.
Producing packaging with a superhero/American diner theme was always going to attract mass crowds from the younger generation, as well as the old school. Essentially, huge appeal to all demographics and those seeking tasty, bold, innovative vape juice - a winning formula.
So Why Did Dinner Lady Start With Shortfill?
The reason why Dinner Lady began their journey as a brand with shortfill is the same reason many pick up a vape pen or starter kit. Vapers want to take back control of their lives and Dinner Lady aims to please by providing that service. With a shortfill vape juice, you have so much more influence over what goes into the e-liquid you vape than a smoker ever would. While people who smoke cigarettes have no idea about the levels of nicotine and sugar in each stick, it's not the same with vaping.
Vapers in the know recognise that shortfills offer multiple benefits. Dinner Lady created a 30:70 Lemon Tart shortfill because they wanted to provide convenience for vapers. While TPD regulations stipulated UK brands could only sell 10ml bottles of e-liquid containing nicotine, there is no rule against shortfills, which is a 50ml bottle free of nicotine but leaving a 10ml gap for nicotine for those who need it.
Therefore in a Dinner Lady 60ml bottle, you can add a 10ml nic shot, give it a shake and have a 3mg 60ml bottle of Lemon Tart with a 70VG/30PG ratio. That means great flavour, low nicotine (just enough for social smokers) and more control over what's in your e-liquid.

If you plan to cut down your nicotine level to zero, a high VG e-liquid bottle without nicotine at 50ml means you can carry that around and use it all day without needing to hold multiple 10ml bottles (depending on how much you vape). Dinner Lady recognised that need for less and set the tone for what they want to be as an e-liquid manufacturer and market leader. Since then, they have branched out into so many different e-liquids, in not just shortfill, but 70VG/30PG 10ml containing nicotine, nic salts, 50PG/50VG and so much more.
While each vaper now has so many different e-liquid choices in 2022 with a wide variety of nicotine bases, flavours and profiles, shortfills offer the most control at a lower price long-term (especially if you vape without nicotine).
What Flavours Does Dinner Lady Offer to Vapers?
Dinner Lady continues to inspire and innovate all these years later because of their extensive market research, stating on their website that they want to 'create a superior experience for vapers everywhere'. Based in the UK with state of the art facilities and factories to produce their e-liquids and disposable vape kits, although lemon tart was the trendsetter, they now boast over 50 different flavours. They stick to the strictest levels of quality control to ensure maximum flavour with each bottle. Whether you're after something sweet, savoury, offering nostalgic value or an after-dinner treat instead of a calorie-heavy dessert for DTL or MTL vaping, Dinner Lady wows customers with great flavours and surprises year after year. Here are some of their most popular flavours to date:
Lemon tart
Peach mint iced tea
Strawberry macaroon
Bubble gum
Watermelon slices
Blackberry crumble
Lemon iced tea
Dinner Lady has made an impression on millions of customers, revolutionising the flavour and delivery of nicotine that vapers require. While shortfill is not for everyone, it certainly has its advantages, providing some of the best tasting high VG e-liquids for Sub-Ohm fanatics. But it all boils down to how much effort you want to put into your cessation journey.
For those who want a quick fix and minimal fuss, Dinner Lady nic salts or their range of disposables may be the way to go. However, for the ultimate controllable experience that tailors to vapers seeking low levels of nicotine and maximum flavour at a lower price, shortfills are the perfect replacement for those who used to smoke. Producing nicotine free tasty e-liquids in a range of original flavours not seen before or after, Dinner Lady is one of the leading pioneers in the vaping industry, and here to stay!