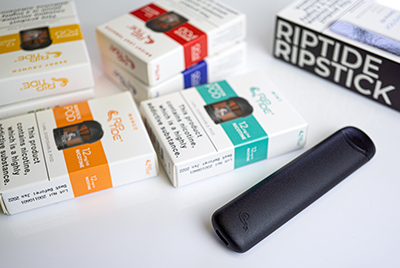 Update (2022): This product is now discontinued and no longer sold anywhere in the UK. To discover similar pod vape systems, check out this page or read our blog on the latest kits 2022 has to offer.
Deploying a 'next generational' pod system, RipTide products have steadily taken the marketplace by storm.
Offering a quality vaping experience that combines performance with a stunning form factor, the RipStick Device has proven immensely popular in the US and we now welcome RipTide in the UK.
But what is a RipStick, and what exactly makes them (and their company) so special?
Let's take a look.
Who are RipTide?
Placing heavy emphasis on innovation, RipTide was formed in order to be the logical 'next step' in the vaping market.
Learning from over a decade-and-a-half of vaping experience, the company focuses on providing devices that use their unique proprietary pod technology. These enclosed capsules remove the fuss and maintenance involved with a conventional vape – providing a smooth, fiddle-free vaping experience and offering crisp flavours through refined design.
Their initial success comes from the use of their NicTech system, a novel (and trademarked) approach that offers a range of nicotine salt flavours without the use of benzoic acid. The addition of this acid can often carry a risk of producing a harsher draw and that familiar 'burnt' flavour present in many products on the market. Removing this chemical allows RipTide's products to enjoy a smooth, easy vape that carries no acrid background taste.
The company also places heavy focus on vaping responsibly and ensures that their products are explicitly marketed to adults – eschewing bright colours or incentivisation.
What is a RipStick?
Combining power with a neat design, RipTide's RipStick model has taken the hearts of social media users and the vape community, managing to make massive inroads into the lifestyle market without heavy advertising.
Marketed by RipTide as the next evolution in vaping technology, the NicTech platform claims to provide more of a hit with a smaller amount of nicotine – offering 'less nicotine with the same satisfaction'.
Made from a unique 'buttonless' design, the RipStick has a sensor that powers-on the device as soon as you take a puff – saving on battery life and maximising convenience. Rounded and robust – once you're done, the device can be dropped back into your pocket or handbag without any worry about leakage or ash. Tough casing makes them resistant to damage while still (somehow) housing a battery that carries enough charge to be used for extended periods of time. Combine this with a micro USB port and you're able to power up when and where it suits you – finally, truly liberating your vape.
This makes a useful tool for those struggling to cut back on their nicotine use, providing a 'full throated' nicotine hit and a number of options. As for how much nicotine is in a RipTide Pod, you may be surprised.
The device's conventional pods contain 12mg/ml nicotine. The device's airflow also allows for a clean, crisp hit without any hint of compromise. Of course, their line also includes a stronger option of 20mg/ml for those who need more of a kick or are looking to gradually transition from a high nicotine intake.
How do RipStick Pods Work?
The RipStick unit is built around RipTide's unique pod system. With the idea to be taken to festivals, gigs, or simply for daily use, it has been designed from the ground up to provide maximum convenience and portability.
The RipStick works with tobacco-free nicotine, a high-quality product that was sourced without the need for a tobacco plant. Developed under the strictest of laboratory conditions, this ensures a reliable vaping experience every time. Made within a proprietary process, its trademark has formed the backbone of their brand – making it quick and simple for long-term users or those new to vaping.
One major complaint the company fielded from vapers was the difficulty involved in refilling and managing their e-liquid pods – with many consumers asking are RipTide Pods refillable. The quick-swap nature of the design means that a dead pod can be changed out in seconds, removing the need for messy refilling and the chance of spillage. Their shelf life is 12 months as standard, letting you bulk buy if needed and ensure a regular supply of replacement pods when you need them most.
Each RipTide Pod is designed to be highly leak resistant. Refilling is quick and simple - when you're ready for a fresh hit of flavour, you remove the mouthpiece for the device and detach the magnetically secured pod with a firm tug. Then all you need to do is swap in a new pod which uses the device's magnetic connectors to pop into place like Thanos adding a gem to his infinity gauntlet.
Then, you're ready to vape.
The enclosed design means that you never have to directly deal with filling e-liquid into a device again – meaning that the days of scrubbing spills from your hands or sofa are long past. This seal also prevents accidental intrusion and reduces the risk to children and animals. Of course, no vaping device should ever be left unattended and RipTide encourages the highest levels of caution and responsibility when using their product.
Who is the RipStick For?
If you're struggling with giving up smoking or are looking for a stronger nicotine hit, the RipStick is great for making an active move from dependence on tobacco products. Their pod system is designed to use tobacco free nicotine (TFN), removing impurities from the product – making it perfect for those serious about going smoke free or wanting to consider an alternative to conventional tobacco.
The lack of 'bells and whistles' on the device makes it easy for individuals unfamiliar with vaping to transition to the product. The magnetic pod loading technique is quick and simple but may be a little strange for unfamiliar users to grasp. Thankfully, the robust nature of the device and the nicotine pods ensure that even the most 'enthusiastic' user won't be in danger of damaging the device as they get the hang of it.
What are the Pros and Cons?
When it comes to any device, there are obvious strengths and weaknesses that every potential purchaser should educate themselves about before picking one up. For the RipStick, these include a number of pros and cons:
Pros
Battery Life: Each battery is designed to last for around 1000 charges based on a full charging cycle. A full charge of the device should last for a day for the average vaper.
Value for Money: Simply put, it's hard to find better value for money. Nicotine pods are priced generously, with each container designed to last. They also offer unique e-liquids using their NicTech with a similar experience to nic salts without the benzoic acid for your regular vape. The all-in-one vape kit is exactly that.
Design: Whether you're looking at it from an aesthetic or functional viewpoint, the RipStick is a solidly designed piece of kit, combining performance, efficiency, and cost-effectiveness in one model.
Its Pods: When it comes to their pods, the magnetic fit is quick and simple. Add in a prefilled 12mg/ml capacity pod and you're faced with convenience at its finest. The changeable nature of the pods and their affordable price point means that you no longer have to rely on vaping more to get your vaping satisfaction, even with a reduced nicotine percentage.
Flexibility: For nicotine hits and aiding quitting, the device manages to be something to all vapers while still sitting at an affordable price point. The size and shape mean that it is equally comfortable in the lining of a jacket pocket as it is in your handbag or suitcase.
If you are interested in learning more about the RipStick or our range of vaping devices, you can view our online catalogue in full, or, if you have specific questions please do not hesitate to get in touch with our team directly. Let us know exactly what you need to help quit smoking or good, how to manage your daily use, or how to enjoy a quality vaping experience.