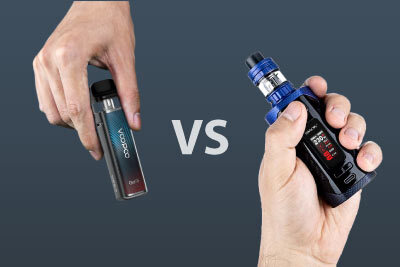 Need a hand navigating your way through the world of pods and mods? Whether you're a veteran vaper or want to stop smoking and start vaping, the choice presented to you when it comes to vaporizers, e-liquid and the array of accompanying accessories can at times seem a little overwhelming. As the numbers of different devices are made available, let's take a look at the key differences between Pods and Mods, as well what the best e juices to use with each device are.
The critical differences between pods and mods will primarily come down to a few factors - size, power, affordability and e-liquid. However, what are pods and mods anyway?
What are Mods?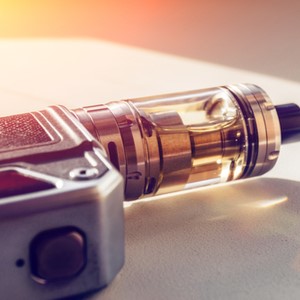 Mod or Mod Boxes are, as the name suggests, the modifiable (mod), box-like devices, which use sub-ohm technology to give vapers more power and subsequently more vapour. These advanced devices allow vapers to modify the moveable parts of the vaporizer such as coils and wicks, which alter the mechanics and resistance of power. By doing this, you can play with the power and temperature of your vaporizer, which in turn can help improve flavour and vapour cloud size.
Mods will use a tank to store e-liquid, with many vapers choosing to mix their own blends of e-liquid to suit their tastes. As you may know, e-liquid is typically made from pharmaceutical grade freebase nicotine, flavourings, as well as PG and/or VG liquid. PG is known for enhancing flavour and the thicker consistency of VG will increase the density of vapour produced, therefore, you'll be able to play with ratios of PG and VG to find your perfect vape, unique to you. Being able to adjust and tailor the settings of box mods to enhance flavour and cloud production makes this the ideal device for those keen on playing with their vaping experience.
The downside to mods is size and affordability. Due to the variety of moveable parts and choice of e-liquids, carrying around a box mod isn't necessarily the easiest thing to do. You'll ideally need a carry case for your equipment and space to set up your device as and when you're keen on a vape.
What is a Vape Pod?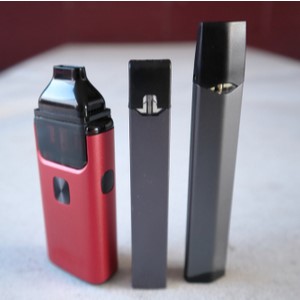 Perhaps considered, the mods long lost and some might say, better-looking brother, over the past year, or so, pods have come to the fore as one of the major players in vaping devices. Sleek, stylish, slender and compact, pods are ideal for those looking for a quality, fuss-free and convenient vape for those with an on-the-go lifestyle. More powerful than a conventional e-cig or vape pen and less hassle than a mod, pods use the same kind of sub-ohm technology as a mod to create vapour, though with lesser power and temperature.
When compared to an e-cig, the combination of relatively high power together with low temperature, mean that pods are the perfect vaporizer to use with nic salts. This alternative to conventional e-juice uses the naturally occurring nicotine salts found in and on tobacco leaves as opposed to the pharmaceutical grade or freebase nicotine commonly found in e-liquid, cigarettes and nicotine replacement therapy products.
Nic salts have higher nicotine content than regular e-liquid and are becoming known for their similarities to smoking cigarettes due to the throat and nicotine hit they provide vapers. Due to the nicotine content, it's thought that nic salts may give vapers the nicotine dose they need faster than standard e liquids, which may, in turn, lead to vaping less frequently.
With a cost comparison closer to e-cigs than Mod boxes, pods could soon become the go-to vaporizer for the masses.
So, Which is Right for Me?
Like all things in the world of vaping, it's almost entirely down to personal preference - finding the perfect product for you might take a bit of trial and error, but with the help of our experienced team and plenty of helpful guides on your side it will be a breeze! When you're choosing between a pod or mod system, however, there are a few questions that you should be asking yourself.
How much power do you need? If a high-powered and intense sub-ohm vape is your go-to, then a vape mod will almost certainly be the better option for you . Mod systems have far more technology under the hood, and generally are able to carry much higher battery power in their larger casing, resulting in improved performance at high wattages, better firing power, faster heating, more intense flavour and larger, thicker vapour clouds on the exhale. However, if you don't mind sacrificing a little power in the name of practicality and convenience, you'll be perfectly happy with a pod system. There are plenty of pod systems on the market today that still pack a pretty powerful punch, even without the same bulk as a mod kit!
What is your preferred shape and size? Traditionally, one of the major drawbacks of vape mods was their bulky shape and size, and their potential for leakage, as they were primarily made by users themselves. Today, however, this couldn't be further from the case. Every day new developments are made which allow for the manufacture of smaller and slimmer vape mods, without having to compromise on performance or power, though it doesn't always come cheap! Vape mods are becoming far more user friendly, whether this is thought smart, leakproof casing or more ergonomic shapes for a comfortable hold. Pod kits, on the other hand, have been prioritising ergonomics for many years now, with their smaller, sleeker, lighter and more modern designs . These are much less bulky to carry around and fit comfortably in pockets, bags and purses, without any leaks. If portability is very important to you, a pod kit will be the best option for you!
What is your price point? While vaping is considerably cheaper than smoking tobacco or cigarettes, there are types of vaping that are more economical, and others that are less so. Closed system pods (disposable cartridges you pop in and then throw away when you replace them with a new one) are the least cost-effective way to vape, though they are ideal for new and beginner vapers, and those looking to quit smoking as they are the most convenient way to vape . Open system pods (replaceable and reusable pods that you fill with your choice of e-liquid) are a slightly more affordable option, though you do still have to replace the pods on a semi-regular basis. Vape mods almost exclusively use e-liquid to refill, which is the most affordable way to vape, and the most eco-friendly, as there is less waste with this kind of refill method.
Do you want to be able to customise your vape? For more advanced vapers, this can be an incredibly important part of their overall experience. Things like coils which can be added or removed, interchangeable tanks and different batteries can all have a big impact on the overall vape experience. This kind of customisation can only be done with advanced vape mod devices. Vape mods also offer experienced vapers far more options and controls even without changing out the hardware of the vape. Temperature, wattage, battery power, voltage and more can all be adjusted to optimise for the perfect vape experience. Alternatively, if this doesn't matter to you as much, a pod vape will do just fine and save you a lot of mess, money, fuss and hassle when setting up your new device.
Choosing the Right E-liquid for Your Pods and Mods
Nic Salts
As we've mentioned, mods will give you the flexibility to pick and choose the PG and VG levels of your e-liquid to create that perfect vape, whereas, pods make a great partner to the alternative and natural e-juice, nicotine salts. Nic salts prefer a lower temperature, which makes pods the ideal solution. They are an excellent choice for new vapers and those who are looking to vape to quit smoking, as they give a much more intense nicotine rush when inhaled than regular e-liquids (standard e-liquids generally use what is called freebase nicotine in their formulas). When inhaled at the same intensity of nicotine as nicotine salts, freebase formulas can be harsh, scratchy and uncomfortable to vape, and will have a very strong throat hit at higher concentrations, which can be uncomfortable for some users. Nicotine salts have a much lower pH when compared to freebase nicotine vape juices, which gives them a much smoother experience. You also need to vape much less for the same rush when vaping with nic salts, which makes them much more economical in the long run for heavy vapers and whose who prefer high nicotine content in their vape.
Because of the high nicotine content in nic salts, you should avoid at all costs using this juice with a mod box. These e-liquids aren't designed for vapour production and direct-to-lung vaping, and it can be very uncomfortable or even painful to try and direct-to-lung vape nicotine salts - we certainly don't recommend it! However, even though nicotine salts aren't appropriate for sub-ohm vaping or cloud chasing, they are a fantastic nicotine delivery formula, and are great for "stealth vaping" or vaping discreetly. Nic salts are best for use in a small device, like a pod kit or vape pen. As you don't need to vape as much e-liquid per puff with nic salts, a small tank can actually last you longer before needing to refill when using nicotine salt e-liquids rather than freebase liquids . As well as this, nicotine salts tend to last a bit longer in storage than freebase nicotine e-liquids, so don't be afraid to stockpile a little! They are slower to oxidise than traditional e-liquid formulas, meaning they can last for up to twice as long, on average, when stored appropriately in a cool, dry, dark place, though of course, the shelf life of your vape juice is different for every e-liquid.
Finally, for those of you looking for fantastic, authentic and intense flavour in your pod vape, nicotine salt e-liquids are a great choice. Freebase nicotine e-liquids have a natural, slightly sweet flavour of their own, so any flavours added to this have to be adapted to compensate for this. For savoury flavours like traditional tobacco, this can be detrimental to the overall flavour profile, however for sweet, fruity and dessert flavours, it is ideal. When you're buying nicotine salt e-liquids however, you don't need to worry about this, as the base formula is completely flavourless, allowing you to get bright, intense and authentic flavours with every draw, no matter what your preferred flavour profile.
For pod vapers, mouth-to-lung vapers and ex-smokers, nicotine salts are an excellent option to help give you as smooth vape, strong nicotine rush, fantastic flavour and easy overall experience!
Freebase Nicotine E-Liquids
Freebase e-liquids are those that use freebase nicotine, rather than nicotine salts to deliver their hit. These liquids come in a variety of different flavours, compositions and strengths, all of which can have a big impact on your overall vape experience, so it's important to understand what kind of e-liquid is right for you. The vast majority of freebase nicotine e-liquid will be made up of a base mixture of PG and VG - these stand for propylene glycol and vegetable glycerin, and they provide e-liquids with several different properties. PG is the substance that creates the "throat hit" sensation, effectively emulating the experience of smoking a traditional tobacco cigarette. It is also an excellent flavour carrier and nicotine delivery substance, so is ideal for use in high concentrations in tobacco-flavoured e-liquids. However, if formulated in too high a concentration, the throat hit can become too harsh and a little unpleasant. PG also causes sensitivity in some people, making it uncomfortable for them to vape in even smaller quantities, and a very small number of people can be allergic to PG, so for these vapers, high or 100% VG e-liquids are the way to go. High-PG e-liquids are the best option for those of us who prefer a "stealthier", or less obtrusive vape. This means smaller, thinner clouds of vapour when you exhale, but fantastic flavour and throat hit on the inhale. As a completely flavourless substance itself, PG is great for carrying and delivering complex flavours, including authentic tobacco flavours such as the Vapour2 range , which makes these kinds of e-liquids great for use by less experienced vapers and those new to vaping from smoking. High-PG e-liquids are, for these reasons, particularly popular for use with beginner devices and pod kits. High PG- e-liquids aren't suitable for vaping direct-to-lung or sub-ohming, so many vapers using mods tend to avoid them.
For new vapers, we often recommend a 50/50 PG/VG mixture, to give you a strong base to start off with, and then when you want to branch out a little, you can start experimenting with PG and VG concentrations once you know what you like.
High-VG e-liquids, on the other hand, are perfect for use with vape mods! They don't have as intense a throat hit as PG e-liquids, making them a fantastic choice for those who want to sub-ohm vape or vape direct-to-lung without any scratchiness or harshness. High-VG e-liquids are the liquid of choice for many advanced vapers and "cloud-chasers", as they create those distinctive, thick, smooth and voluminous vapour clouds on the exhale. VG is naturally slightly sweet, making it perfect for use with sweet flavours like fruity or dessert profiles. However, it is less effective at delivering strong flavours and nicotine, so many beginners tend to shy away from high and 100% VG e-liquids.
Our Favourite Vape Mods & Pods
Now you know what e-liquid you should be using, it's time to actually choose the right device! With so many options on the market today, it can be overwhelming to choose a vape mod or pod kit, which is why at V2 Cigs, we have curated a fantastic range of high-quality products for all kinds of different vapers, experience levels, budgets and preferences. Whether it's thick, fluffy vape clouds or simple, high-intensity experience, we offer some of the best devices on the market to our customers. Keep reading for some of our picks when it comes to the best vape mods and pod kits!
Best Vape Mods
For advanced users looking for a high-power, high-performance, customisable vape mod that gives them all the options they need to create a great vape experience, the Innokin Proton Mini Ajax Kit is an incredibly popular option. This device is fully optimised for advanced, direct-to-lung and sub-ohm vaping techniques, with a 2ml Ajax vape tank included in your kit. Thick, fluffy clouds are the name of the game with this device, as its 3400mAh battery can power up to 120W for brilliant vapour production. Plus, with a battery this powerful, you won't ever be stuck without your vape when you need it! As well as fantastic performance, the Innokin Proton is a very unique-looking and stylish device, so you don't have to compromise on style either! With a large LED screen that allies you to customise with your own colours and graphics, plus an innovative joystick control mechanism, you'll be the envy of your circle with a standout like the Innokin Proton Mini Ajax Kit. This kit is available in three colours - green, blue and black, and has a simple push-to-fill mechanism.
One of the most popular vape mods on our site, the Vaptio Cosmo is a great introductory device for vapers who are new to the world of mods, but want to upgrade from their pod kit for more customisation and power. With a solid 1500mAh battery and simple airflow adjustment system, this is one of the easiest vape mods to use on the market today ! Alongside the smart, sleek and slender casing (available in black, silver or blue), you'll get a cosmo tank, user manual, fast-charging cable and two Cosmo coils. The first coil has 0.7 ohms of resistance for perfect sub-ohm performance, while the other is great for regular mouth-to-lung vaping, with a resistance of 1.6 ohms.
One of the UK's most loved vape mod devices is the SMOK Rigel, which is a striking and very smart device with all the power you'd expect from such a popular vape mod. A brilliant "all-rounder", this vape offers both mouth-to-lung and direct-to-lung vaping with a quality of performance that is rarely rivalled. It's incredibly simple to use, thanks to its preset Watt mode, offering users a great starting point for sub-ohm and mouth-to-lung vaping, respectively. Watt mode amps up the power for truly fantastic cloud production, completely customising your vape for the optimal experience based on your personal preferences. And it doesn't just perform well - with its zinc-alloy casing and carbon fibre inlays for a sporty style, this means you'll certainly stand out in a crowd. With your SMOK Rigel Kit, you'll get:
SMOK Rigel 230W Box Mod
One pre-installed V9 Meshed 0.15Ω Coil
One spare V9 Meshed 0.15Ω Coil
USB Type-C charging cable
Best Vape Pod Kits
For a pod kit that gives you fantastic performance and great power comparable with some vape mods, The Smok Nord 2 is a standout device. Small, sleek, ergonomic and pleasant to hold and inhale with, this device looks like a classic pod kit . A little wider and flatter than some vape pod models, this vape can easily be stored away in a drawer, pocket, purse or handbag without any fuss! It comes with a stylish cobra print design, and is available in four unique colourways - Black, Gold, White and the outstanding 7-colour Cobra. This device comes with a convenient OLED screen to help you understand what's going into your vape, as well as a hefty 1500mAh battery to give you the power you need for advanced and sub-ohm vaping as well as regular mouth-to-lung vaping. One of the first pod devices that features interchangeable coils and variable wattage control (features which were historically reserved for large, bulky mod kits), this device truly does give you the best of both worlds when it comes to choosing between a pod kit and a mod kit. Easy to use, with a button-activated mechanism, 2ml pod capacity and simple side fill port, the Smok Nord 2 also comes with multiple coils, to give you real versatility in your vape, and allowing you to vape both mouth-to-lung and direct t-to-lung, a rarity in the world of pod kits. You can also get a variety of different compatible coils to truly customise your vape experience with the Smok Nord 2. Best for use with freebase nicotine formulas, however, this device can be optimised for all kinds of e-liquids, including high-PG, high-VG and nicotine salt e-liquids. For anyone who wants the power, performance and flexibility of a mod kit, without the bulk, this is a fantastic option.
Alternatively, if you don't want to get into sub-ohming and interchangeable coils, but value a high-quality vape experience the iQ Air Vapers Kit is a fantastic option that offers everything you need to get started vaping quickly and easily , without any fuss at all! Great for beginner vapers and those using vaping to quit smoking, this kit comes with specially formulated nicotine salt pods that are optimised for use with this kind of device - not to mention you only need to click them in and out to replace them, so it couldn't be easier to use! This kit comes with two devices and five delicious nicotine salt e-liquid pod in one of four flavours - tobacco, menthol, strawberry, USA mix, or a variety pack if you're feeling adventurous! This device is incredibly slim and light, making ideal for when you're on the go. Only 6.5mm wide and with a solid 400mAh battery, this device is perfect for travelling due to its small size and lightweight casing, but can also be used happily at home, in the office or out with friends! The smooth nicotine salt formula gives you great flavour, an intense nicotine rush and discreet cloud production. For fans of nicotine salt e-liquids, those who want a small, sleek and portable vape device and ex-smokers in particular, this pod kit is ideal.
The Hangsen iQ Touch Kit is a sleek, stylish and compact pod kit that is ideal for use with high-nicotine e-liquids, including both freebase and nicotine salt formulas. In a beautiful and compact case (110mm x 20mm x 12mm) sits a powerful 450mAh battery with draw-activated mechanism , 2ml tank capacity and convenient top-fill system. This device is available in four smart colours - black, grey, silver and red, and includes an intelligent breathing light will also give you a 9-puff reminder! After 9 consecutive puffs, the dive will light up and vibrate, reminding you to take a break fro your vape, something beginners and advanced vapers alike find very useful! With a 1.2ohm resistance coil, this device is great for mouth-to-lung and nicotine salt vapers, including ex-smokers.
To find out more about the wide range of vape mods and pod kits we offer at V2 Cigs, or to choose your next vape device, take a look at some of our favourites or get in touch with our knowledgeable customer service team who'll be able to help point you in the right direction.