Known all over the world since 2018 for their fantastic array of flavours and nicotine delivery, Elf Bar disposable vape kits fit comfortably in a bag or pocket for easy MTL vaping. Compact and enjoyable to puff, they don't just satisfy from a practical point of view. The Elf Bar's disposable taste is like no other in the industry, but do they last long enough?
Elf Bar has answered the large demand for a long-term solution by introducing their very first pod kit that not only has a rechargeable battery like the Elf Bar Mate 500 or the Elfa kit but replaceable coils too. Does the Elf Bar FB1000 take the brand to another level or should they stick to disposables?
How Does the Elf Bar FB1000 Kit Differ From the Popular Disposables?
There are a few notable differences between the disposables and the new FB1000 pod vape system. For starters, as you can guess from the name, the pod kit features an internal battery of a large 1000mAh battery, which is surprising for the size of the device. In addition, a key change in direction for Elf Bar is the exciting step to add removable coils.
In the past, you could only remove the coil on the previous Elf Bar Mate 500 or Elf Bar Elfa when you replace the pod as the coils are preinstalled. This new kit gives vapers much more freedom, vapour production and consistent flavour for longer than a disposable.
There is also the introduction of button activation as well as auto-inhale, so you can pick what you prefer. The lanyard is an obvious nice touch too that creates an easier way to transport and use the pod vape while on the go.
Elf Bar FB1000 Key Features and Specifications
1000mAh battery capacity
Fixed airflow
Max 30W power output
Auto-draw and button activation
Mesh coils for maximum flavour
Lanyard so it's never too far away
Type-C charging port
Let's Talk About the Elf Bar EBC M1 Coils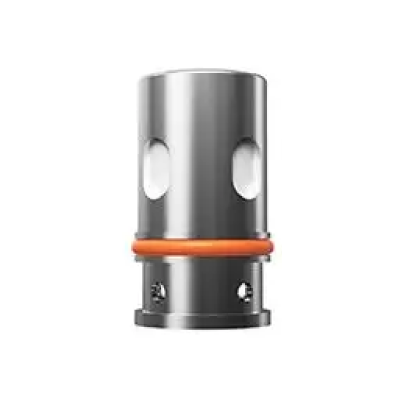 With a 'plug and play' coil system, the EBC M1 coils are easy to remove and replace to reduce the amount of time spent refreshing your kit. Expect roughly four days up to two weeks with the EBC M1 coils, depending on the frequency of use throughout the day from the long-lasting accessory.
They produce rich flavour thanks to the mesh coil design by increasing the surface area and adding multiple wicking holes (four). The coils also support most VG/PG ratios of e-liquids from 70% high VG to a balanced 50PG/50VG. To understand the terminology in greater depth, read our blog here on the subject of VG to PG ratios.
Although it's supposed to be tailored more toward mouth-to-lung vaping considering the resistance with the kit (0.8 Ohms), we believe it sits somewhere between MTL & DTL with a mildly restrictive direct lung and looser draw, which is a step away from the coils preinstalled in the other Elf Bar pod kits.
Functionality and How to Use the Device
The device is as simple and efficient to use as it looks. To turn on the device, click the fire button five times and the same to turn it off, with the FB1000 flashing white three times to acknowledge this action. There are no adjustable settings and the airflow is fixed too, so you can't adjust that.
A battery LED indicator tells you roughly how much battery is left and offers a minor level of protection, with it flashing red six times after a ten-second cut-off. It will flash red when at a low battery capacity, blue between medium to low and green at near full capacity. In terms of filling the pods and changing the coils, it's super simple to benefit vapers of all levels and in particular those new to the industry switching from smoking, with a cap in place at the top of the pod to open when required.
For new vapers that can't afford to keep up with the price of disposables, it's a fantastic sustainable option that won't break the bank daily.
Appearance Breakdown

This is exactly what those who love Elf Bar disposables are after. A deceptively small pod kit - something lightweight and compact that offers the same great flavour and convenience but a longer-lasting option that's easier on the wallet. And we think Elf Bar has ticked a lot of boxes for not just fans of disposables but those who like light pod kit devices yet still provide a decent amount of cloud.
The last thing you want when you switch is to grab a hold of a large clunky device that puffs huge clouds that go in everybody's faces walking down the street, as it's just not decent vaping etiquette. Its appearance will impress all levels, because vapers fresh in their quit smoking attempt often want an e-cigarette with a similar handheld feeling in terms of dimensions, with some smart vibrant colour systems for an affordable price.
The round and slightly wide mouthpiece may suit a DTL or RDL vaper more than an MTL vaper, so that's a consideration you have to factor in when deciding what's comfortable for you. It looks like Elf Bar couldn't decide if they wanted to target a whole new market of vapers that enjoy puffing huge clouds but seek a portable device or to please their current crowd of mouth-to-lung vapers that like something packed with flavour but above all else discreet and easy to manage.
Key Advantages of the Elf Bar FB1000 Kit
The mesh coils provide a stellar flavour that tastes eerily similar to the disposable range, which is most welcome to many Elf Bar enthusiasts!
A surprising amount of vapour from such a small discreet handheld device
1000mAh battery is more than generous and charges fully within an hour
Lanyard supports on-the-go vapers needing increasing convenience. For a night out or commuting to work, there's nothing better
Any Disadvantages?
Fixed airflow reduces control over restriction when firing the FB1000
Despite the size of the kit and the fact they've transitioned to pod kits after nic salt MTL disposables, this is more of an RDL or DL throat hit with surprising vapour. A subjective point but some may have preferred a tighter draw and less cloud for the new interchangeable coil pod kit
Auto-inhale is not as strong a hit as with the fire button
Verdict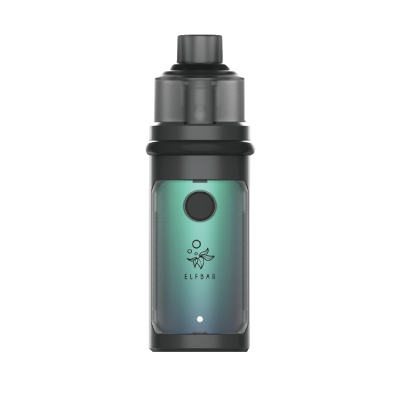 To date, Elf Bar is massively popular because of its thoroughly flavoursome disposable collection. But disposables do have a ceiling for value. They're great for new vapers needing a trial kit to test if they like it. Also, it offers those who need a solution as a one-off for a day out of the house where they can't charge or fuss about with e-liquids.
However, it reaches a point practically and financially where it's natural to need the next step up. A disposable MTL kit provides plenty of flavour and that tight draw smokers seek. But as an evolutionary upgrade, the Elf Bar FB1000 does not disappoint. It's still compact like the well-liked and searched-for disposables (of which there are so many different types). Nevertheless, the opportunity to keep the kit and battery while just replacing the coil is a game-changer.
The FB1000 produces a gateway into the vaping world of Sub-Ohm. A slightly looser draw and more cloud than the disposables. There are some negatives to picking up the FB1000 that we have listed above but overall it's perfect for progressing further in your vaping journey.