Founded back in 2010, Smok is still one of the top brands around for producing practical vape kits that provide an equal amount of strong throat hit and smooth clouds of vapour. Over the past few years, they have released plenty of innovative devices from the RPM series. A total of 12, with the latest Smok RPM 85 and 100 vape mods indicating they're not done yet. In this review, we explore the key differences between the two kits with similar designs and setups.
Smok RPM 85W vs RPM 100W - Which is the Better Mod?
Are you after a higher wattage than 85W? Perhaps you're in two minds about whether you prefer charging a built-in battery or prefer an external battery and spare to save you time. With the Smok RPM 85 & 100, you have alternative options to suit your personal preference. The RPM 100W is slightly longer and fires an extra 15W if you need it for larger clouds. Featuring a 3000mAh battery, the 85W device is more compact and ideal for those who prefer to charge electronically on the go with a USB type-c.
Truth be told, they're very similar in performance. Both have stepless airflow to tailor the vapour how you like it, and support RPM 3 and RPM 2 coils via the slide-to-open pod systems, with a range of coil resistances to pick from. Each device boasts a 0.96-inch TFT display, for easy and clear navigation of the menus.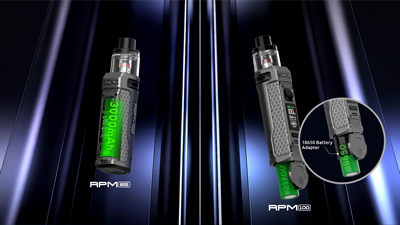 Key Features and Specifications of the Smok RPM 85
5-85W variable wattage output
3000mAh internal battery
0.96-inch TFT display
2ml refillable pods with removable RPM mesh coils
High-temperature protection
Eight seconds cut off
Pod detection technology
Short circuit protection
Low voltage protection
128.5mm x 29mm x 36mm
Weight: 162.5g
Key Features and Specifications of the Smok RPM 100
5-100W variable wattage output
Singular 18650/21700 external battery capability (sold separately)
0.96-inch TFT display
2ml refillable pods with removable RPM mesh coils
High-temperature protection
Eight seconds cut off
Pod detection technology
Short circuit protection
Low voltage protection
136mm x 29mm x 36mm
Weight: 136g
Which Coils Can You Use From Smok?
There are a few coil options available to switch between mouth-to-lung and direct lung vaping with the RPM 85 & 100 mods. Essentially, these kits are designed for use with the RPM 3 pods, which have 0.15 Ohm and 0.23 Ohm mesh coils that come with the kits. They maximise flavour and cloud production with these devices which chug vapour for days.
But in addition, both mods are also interestingly compatible with the RPM 2 pods. Therefore, if you want the option of using these mods for MTL, the choice is yours. This versatility is welcome to vapers who like to mix it up.
However, what's odd to note is that from the six different coil options compatible with either mod, ranging as low as 12W up to 80W is that not one coil is recommended for use up to the 100W available from the RPM 100 mod unless you want to burn out your coil too quick.
Functionality and How to Use the Device
Both devices are really simple to use and easy to navigate. This is made possible by the uber-smooth airflow control dial, which turns with ease to adjust the amount of cloud you can enjoy. So whether you're a new vaper, someone testing Sub-Ohm technology for the first time or an expert who wants something simple to use, the RPM 85 & RPM 100 do not disappoint.
Although it doesn't have auto-draw, it's still relatively easy to use on the go and access the various menu features. Here are the settings and operations you will need:
Press the fire button five times as standard to turn it on and off.
Three clicks of the fire button to lock the device and another three to unlock it.
The up and down button together locks the wattage.
Hold the up button and fire button to change the colour theme.
Pressing the down button and fire button helps to clear the puff counter.
The wattage goes up and down in increments of 1W at a time. To open the pod tank push forward on the sliding mechanism where the arrow indicates.
Appearance Breakdown
In terms of appearance, they're pretty much identical, with the internal battery RPM 100 mod slightly larger and wider as we said earlier. With the same pod tank, fire button and honeycomb-style design, the designs are equally impressive. Narrow and compact, they would fit comfortably in a bag and are relatively lightweight to hold. With an updated TFT 0.96-inch display compared to some of the previous RPM mods from SMOK, it's a user-friendly device for all levels.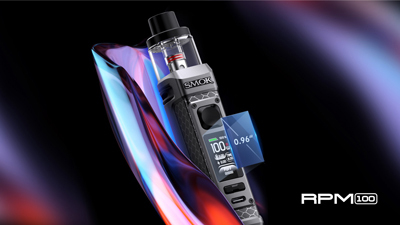 Any Disadvantages?
It's a challenge to fill up your e-liquid. The drip tip is fixed and some bottles of vape juice have a big stopper which won't fit in this pod easily.
Neither coil from the RPM 2 or RPM 3 range go up to the max wattage of either device
Verdict
For cloud chasing, this is a fantastic mod device. Even if it only fires up to a maximum of 100W with the bigger RPM 100 featuring an internal battery and 85W with the RPM 85 external battery 18650/21700, you get plenty of power that produces fantastic vapour and flavour. Granted with Smok tanks and pods there have been issues with leaking in the past, but it doesn't look like there is with these RPM 3 pods while we tested them. They're both simplistic devices to use with a range of coil resistances, where you can fine-tune using the airflow dial to maximise performance. All it boils down to is whether you prefer a large internal battery mod or an external 18650/21700.