Further Information
Innokin Ajax Plex 3D Coils
The Ajax Plex 3D Coil is a brand new coil option from Innokin offering both excellent stability and durability. These are the recommended coils for the Innokin Proton Mini Ajax Kit.
The coil has a mesh style design with micro-grooves on the heating element to create a larger and more efficient surface area for vapourising e-liquids. The coil is available in both 0.16ohm and 0.35ohm versions.

Enjoy incredible bursts of flavour and vapour from favourites e-liquids with the new Ajax tank's next generation Plex 3D Matrix coils.
Ajax Coils Pack contents:
5 x Ajax Plex 3D Matrix replacement coils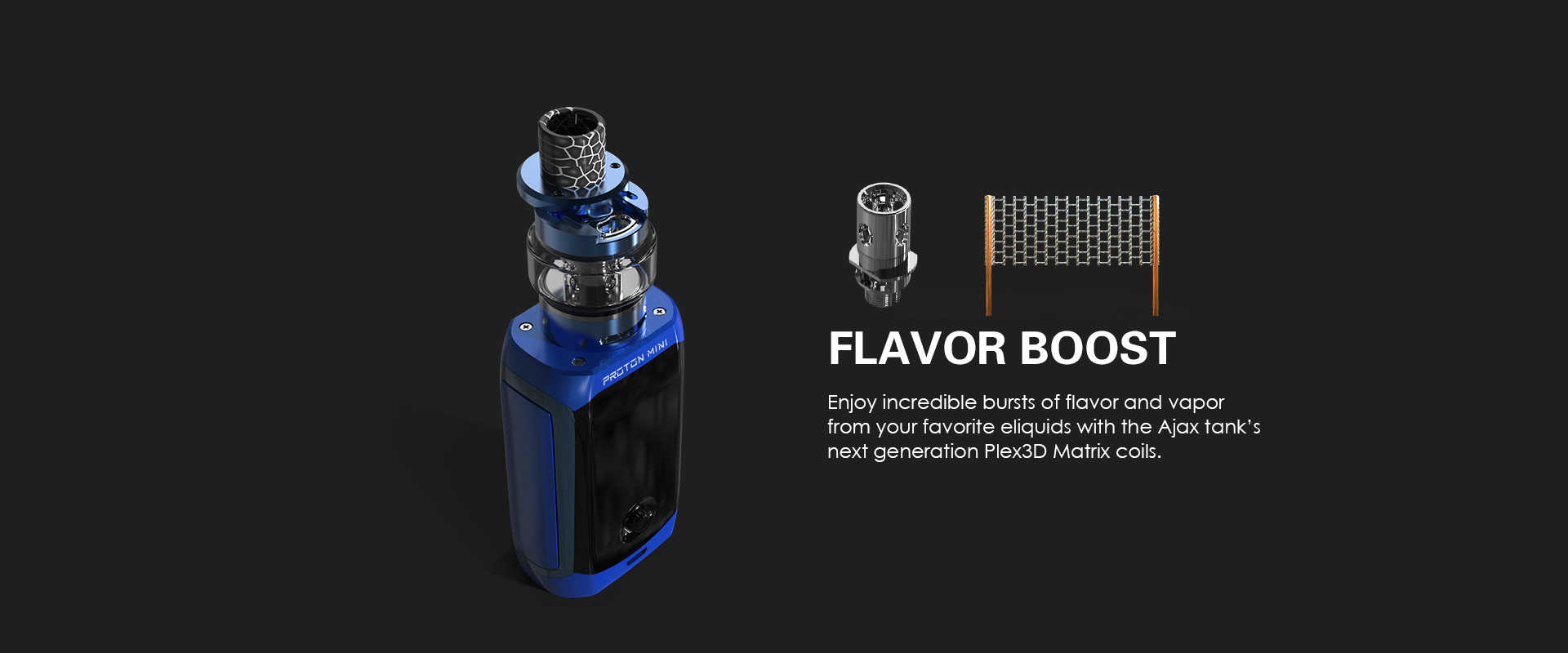 Innokin Ajax Plex 3D Matrix Instructions: How to Replace the Coils
Hold the tank upside down
Unscrew and remove the tank base,
The Coil Unit is located in the centre of the tank base
Unscrew and replace the Ajax Plex 3D coil with a fresh atomiser head
Finger Tighten plus a slight additional turn so that the Plex3D coil is FIRMLY in place
Replace the tank base taking care not to over tighten
Leak Proofing Your Ajax Plex 3D Coils
Your Ajax Plex 3D coils are manufactured by Innokin with precision so will not leak any e-liquid providing you use the product and parts correctly. Where any leaks have occurred our customers have solved almost all by taking the following steps.
When using the Ajax tank for the first time ensure all the parts of your tank are tightened properly, this involves finger tightening then an extra 1/16th turn
Ensure the O-ring seals are correctly in place on your Innokin Ajax tank
Make sure the Plexus coil in the tank is finger tightening then an extra 1/16th turn
When cleaning or replacing the coil carry out the above procedures.
Ensure you have the correct temperature/power settings for your particular device. Coils for example have ratings and should be kept within maximum and minimum recommended settings. Too high and your device will pop and crackle which may cause spots of e liquid to escape via the air-intake.

When a product has been returned, we have found that tigthening the pieces properly usually resolves any e-liquid leak issues right away.

Customer Reviews
Write a Review
Price is right and the shipping was fast. These coils last a long time even with constant use - definitely high quality.