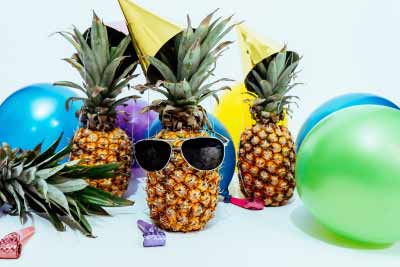 There's nothing better than refreshing fruit cocktails, in the summer. Thankfully, e-juice flavours are available in a range of flavours to suit both your tastes and the time of year. Let's take a look at the best e-liquid flavours to vape with this summer when you want a change from tobacco flavours.
Why Buying Quality E-Liquid Counts
While this advice shouldn't necessarily be strictly limited to the summer months, if you don't already buy the very best e-liquid, then now might be the best time to start investing in a quality e-juice. While it may be tempting to opt for the cheapest e-liquid, the sometimes, the negligible difference in cost can be the significant difference between a fresh, flavourful tasting vape, and one that leaves not such a nice aftertaste.
Vaping Fresh and Fruity E-liquid for Hot Days
Vaping during the long hot summer days ahead should be an experience full of clean, fresh flavours. Check out some of our suggestions for the best e-liquids and flavours to vape with this summer.
V2 Cigs Platinum E-Liquid Sample Pack
Fruity Selection: Vanilla, Grape, Cherry
Not sure which flavours you might like? The V2 Cigs Platinum E-Liquid Sample pack provides you with the perfect solution for your summertime selections, with this tasty pack of vanilla, grape and cherry e-juice.
VSAVI 3x10ml 100% VG Sampler:
Fruit Salad Selection: Apple, Cherry, Elder
Sweet Selection: Strawberry Cream, Coffee Cream, Vanilla
Producing a thick vapour, rich in taste and profile, VSAVI's 100% VG range is ideal for vapers looking for a plant-based way to vape. Whether you're in search of the right flavour or are keen on switching the taste of your vape throughout the week, these 3x10ml sample packs make a great choice. Choose from the fresh flavours of a fruit salad like apple, cherry and elder, or enjoy sweet sensations of strawberry cream, coffee cream and vanilla.
VSAVI Gourmet E-Liquid 10ml
Raspberry, Apricot, Watermelon, Tutti Frutti, Coconut
Designed to provide you with both rich flavours and exceptional vapour production, VSAVI's Gourmet Range use 100%VG together with the very best ingredients for your
e-cigarette
, which combine to give you the freshest of vapes. With a mouthwatering selection of fruity vapes to try, flavours like watermelon and coconut will transport to you white sand beaches, while raspberry and apricot are bursting with flavours synonymous with the English countryside.
Vaping During the Great British Summertime
While the word summer maybe synonymous with good times in the sunshine, the reality is that the Great British summertime will typically be interspersed with the odd downpour. Making it feel like a wet Septembers day, you may well find the need to vape with an e-juice flavour that's a bit more comforting. Check out these tasty e-juice flavours that will help you feel that bit warmer should the sun disappear from the sky.
VSAVI Gourmet E-Liquid Comfort Flavours
Cappuccino, Toffee Choco, Coffee Choco
Like a good gulp of your favourite hot drink, check out VSAVI's tasty range of 100% VG e-juice flavours such as cappuccino, toffee choco and coffee choco and enjoy a heartwarming vape to accompany you as you watch the rain from your window.
Which will your favourite flavour be this summer? Let us know what tastes good to you and leave us a review online.