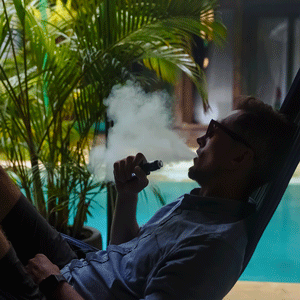 There's nothing better than refreshing fruit cocktails in the summer. When the nicotine craving strikes, thankfully there are a wide range of vape juice flavours to suit both your taste buds and the time of year. Let's take a look at the best e-liquid sensations to vape with this summer when you want a change from traditional tobacco flavours.
Why Vape Fruity E-liquid Flavours This Summer?
Vaping during the long hot summer days ahead should be an experience full of clean, fresh flavours. What springs to mind when you think of summer? In the UK, we typically think of certain tastes and pleasures based on the season. In the winter months, you want a warm roast dinner by the fire, as you stare out the window at the cold frost. But in the 'warm' British months between June and September, think seasonally picked strawberries, zesty limes and delicious watermelon.
Your vaping palette will feel just the same. When the weather heats up, you'll need to feel hydrated otherwise you could run the risk of vaper's tongue, which is common when you vape too much and do not get enough water in between hits. Switching between flavours is good practice, and with so many choices available in terms of vape juice, the question remains where will you start! Check out some of our suggestions below for the best e-liquids and flavours to vape with this summer.
V2 Cigs Platinum E-Liquid Sample Pack
Not sure which flavours you might like? The V2 Cigs Platinum E-Liquid Sample pack provides you with the perfect solution for your summertime selections, with this tasty pack of vanilla, grape and cherry e-juice. You can pick different nicotine strengths too based on your preference. Options include no nicotine at all, 0.6%, 1.2% and 1.8%.
Fruity Selection: Vanilla, Grape, Cherry
VSAVI 3x10ml 100% VG Sample Pack
Producing a thick vapour, rich in taste and profile, they work best with a Sub-Ohm device. The VSAVI 100% VG range is ideal for vapers looking for a plant-based way to vape. Whether you're in search of the right flavour or are keen on switching the taste of your vape throughout the week, these 3x10ml sample packs make a great choice. They're also ideal for those allergic to Propylene Glycol (PG) too, as it only contains Vegetable Glycerin, acting as the carrier.
Choose from the fresh flavours of a fruit salad like apple, cherry and elder, or enjoy sweet sensations of strawberry cream, coffee cream and vanilla. Considering people love eating ice creams, trifle or indulging in plenty of barbecued meat during summer, this is another way to add a sweet taste in your life without an influx of calorie intake as vaping can act as an appetite suppressant.
Fruit Salad Selection: Apple, Cherry, Elder
Sweet Selection: Strawberry Cream, Coffee Cream, Vanilla
VSAVI Gourmet E-Liquid 10ml
Designed to provide you with both rich flavours and exceptional vapour production, VSAVI's Gourmet Range uses 100% VG together with the very best ingredients for your e-cigarette, which combine to give you the freshest of vapes. With a mouthwatering selection of fruity vapes to try, flavours like watermelon and coconut will transport you to white sandy beaches while raspberry and apricot are bursting with flavours synonymous with the English countryside.
Gourmet Selection: Raspberry, Apricot, Watermelon, Tutti Frutti, Coconut
Like a good gulp of your favourite hot drink, check out VSAVI's tasty range of 100% VG e-juice flavours such as cappuccino, toffee choco and coffee choco and enjoy a heartwarming vape to accompany you as you watch the rain from your window.
Nicotine Salts
If you want a quicker nicotine fix to rejoin the summer party, nic salts offer a smooth and flavour filled vape for those seeking a higher nicotine content at a faster rate. If you want to know the advantages of nic salts and the science behind it, you can read more here. Both VSAVI and Solace offer some fantastic flavours to compliment that summer vibe such as Divine Grape with VSAVI nic salts or Strawberry Blast from Solace. Delicious!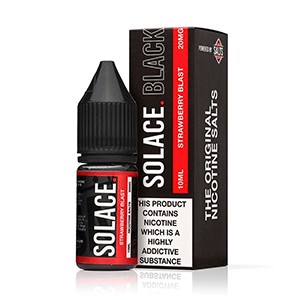 Shortfills - Home or Away?
Summer might come and go in a flash but a permanent addition to the calendar are shortfills. These typically high VG e-liquids are ideal for vapers looking to carry around convenient larger bottles of e-liquid. A gap is left at the top to fill with nicotine if you wish and there are lots of different flavours entering the online market each day. As manufacturers like Nasty Juice and IVG get more creative, the options at the vapers disposal expands.
Like we said previously, English is not known for its consistency with heatwave summers. If you're feeling like travelling abroad, rest assured you can take e-liquids on a plane and shortfills could be the perfect option. You won't need to take as many bottles and can pick from summer flavours such as Watermelon Slices from Dinner Lady or a shortfill packed with ripe berries courtesy of Nasty Juice.
Why Buying Quality E-Liquid Matters
While this advice shouldn't necessarily be strictly limited to the summer months, if you don't already buy the very best e-liquid, then now might be the best time to start investing in a quality vape juice. While it may be tempting to opt for the cheapest e-liquid, sometimes the negligible difference in cost can be the significant difference between a fresh, flavourful tasting vape and one that leaves not such a nice aftertaste.
Which will your favourite flavour be this summer? Let us know what tastes good to you and leave us a review online.