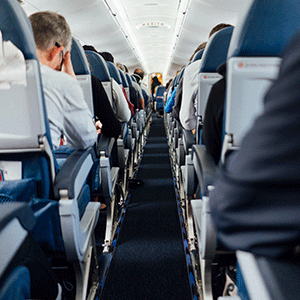 Hurray, during the first quarter of 2022 they lifted the majority of restrictions, meaning there are more flights available for holidays and business travel, compared to 2021, as normal service resumes. So you've packed your suntan lotion, sandals and at least three books ready for your time on the beach. But what about your vape kit, including any e-liquids? Are these even items allowed on board your flight?

With so many restrictions at not just UK airports but international ones too, from Mexico to Egypt, the laws and etiquette surrounding vaping and whether you can take e-liquid or even your device on a plane is a delicate situation.
While you might think vaping e-cigarettes are safer than smoking (and you're right on this front), based on no tobacco or combustion, different laws apply in the sky. We will cover whether you can take your e-cigarette on the plane and investigate everything you need to know about carrying your vape juice in the luggage. Is it safe to take this on a plane? How do the restrictions differ between airlines, or is there a general rule throughout the UK? Failing to prepare is preparing to fail, after all, so let's investigate before you reach airport security.
Can You Take a Vape on a Plane in 2022?
Yes, you may take an e-cigarette on board with you in your hand luggage for UK flights (with a maximum of 20 batteries for most airlines), but you cannot under any circumstance vape e-liquids during the flight. Vaping is banned on any flight from any airline (full list in more detail below). For safety reasons, it's best to remove or at least empty the tank as intense air-pressure mid flight can lead to an explosion. You should also err on the side of caution and remove the battery too from your vape kit before taking off to avoid any damage or leaks to your device during the flight. E-cigarettes are also not allowed in your check-in luggage due to potential fire hazard risks.
As you may have noticed, they keep the no-cigarette warning light on at all times during flights to remind people not to smoke, after the rules changed in the early 2000s. If vapers want to inhale their vape juice before waiting to board, they need to go to a designated smoking area, away from passengers inside the airport.
It's only with Ryanair that you can purchase a 'smokeless cigarette' on board, which gives a mild nicotine hit but is not known for having fantastic flavour like the e-liquids you're used to. What we do know is although vaping and smoking always get compared, one is deemed much healthier than the other based on a variety of factors.
Does the Same Apply With a Disposable Vape?
Whether it's popular flavoursome Elf bars or the latest Geek Bar you use for convenience, you're in luck because these are allowed on board a flight too in the hand luggage. We advise you to keep them inside the sealed packaging and use them when you get to your destination to avoid any mishaps during the flight. Because of the different options you have from fruity watermelon to beverage-inspired flavours, disposables are a great idea for vaping while abroad.
Easy to use, compact, light and often at a higher strength as a nic salt, it's the ideal kit for your holidays or business travel. Just bear in mind the capacity of the e-liquid inside the disposable, so that you should not exceed your limitations when combined with the rest of your toiletries.
What's the General Rule About Taking E-Liquid on a Plane?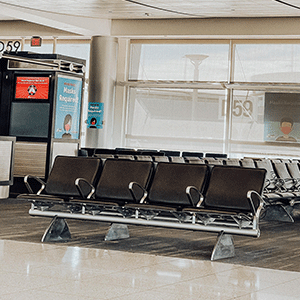 Getting those air miles is great fun but equally important is ensuring you adhere to the UK and international laws. Rest assured e-liquid is allowed on a plane. Typically, whether it's a bottle of your favourite perfume or deodorant, the maximum you can carry on a flight is 100ml. Therefore, the same applies to your favourite e-liquids.

Whatever e-juice you like to top up in your device, whether that's a fruity shortfill high in VG for your Sub-Ohm device, or a simple e-liquid high in PG for minimal clouds, follow standard procedure. That means getting your bottles (remember you can take more than one in your carry on luggage providing it's under 100ml) and popping them in a clear plastic bag. Bear in mind it's one bag per handheld luggage, which must not measure more than one litre in total. Your e-liquid must be included in this weight, along with any other liquid necessities such as cosmetic products.

Another important rule to remember when boarding the flight, which is just good practice more than enforced - only keep the e-liquid in their original bottles! When at high altitudes, e-liquids can leak due to the pressure. Therefore, if you use pre-filled pods or e-liquids you top up yourself, it's best to keep them stored in the bottle and leave nothing in your tank.That includes not just the e-liquids but your toothpaste, perfumes or any other liquids you wish to carry on, so choose wisely.

In terms of dimensions, each bag must measure 20cm x 20cm. Generally, most people take the e-liquid as carry on because it's easier to locate and scan at airport security when you check in. However, always ensure they are packed securely to avoid any spills inside your hand luggage during the flight from the UK or upon return.
How Much Liquid Can You Put in Checked Luggage?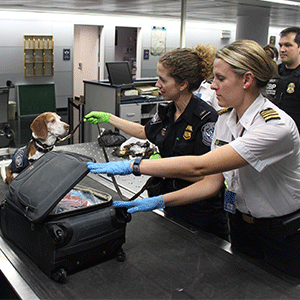 While each UK-based airline has to adhere to government regulations, they compete for your business and may have specific guidelines to stand out in a crowd. For instance, Ryanair might not necessarily have the same rules in place as Jet2. Before your flight, it's always best to read their guidelines carefully, as policies continually change. You can find the key restrictions and permissions from each major UK airline listed below alphabetically, which is correct at the time of writing. The links provided will take you to the airlines' relevant page for further details should you require more information before booking.
British Airways: E-liquids are allowed on board the flight, but the website states to always check as regulations may vary based on country or changed depending on whether you connect via multiple flights with other airlines. Also as a side note, check the hand baggage requirements carefully and the local regulations of the country you're visiting as e-cigarettes may be banned.

Eastern Airways: Although you're able to take your vape device onboard the flight and not in the check-in luggage, refills are not permitted. This means no vape e-liquids or refills at all, so that's something to consider.

EasyJet: Standard UK rules set by the UK government apply for e-liquids on a flight with this airline. No more than 1000ml overall in your hand luggage and do not exceed 100ml per bottle, clearly packaged inside one secure transparent bag. For further details, read here.

Emirates: The website states even if you have a bigger bottle than 100ml but only partially fill, it will still be refused. Present the clear bag containing e-liquids 'comfortably' sealed for visual examination at the security checkpoint.

Jet2: You must adhere to the regulations of this airline if you wish to keep your vaping products, such as e-liquids. Simply pack up the vape juice of no more than one litre (again 100ml max bottle size) tightly and present to security before boarding. If there is any other information required, you can visit their site here for more details about e-liquid restrictions.

Ryanair: Your favourite e-liquids are also allowed on the plane with Ryanair. Just keep to the same restrictions set out by all other airlines in line with government laws. If it's secure and in the correct bag with the right dimensions, it's permitted. For more information, read here.

TUI Airways: Standard rules apply - items of 100ml maximum must be stored in a clear plastic bag, with a maximum size of 20cm x 20cm. Must be no more than one litre total, anymore will need to go in the check-in bag (if applicable). For further details, read here.

Virgin Atlantic Airways: Only 100ml bottles (x10) of the standard one-litre maximum allowed on board the flight. For any further information required about your vape juice restrictions, visit here.

Wizz Air: This airline states on their website and social channels that providing the bottles are maximum 100ml, not over one litre or flammable, they're allowed on board the flight. For more information, read here.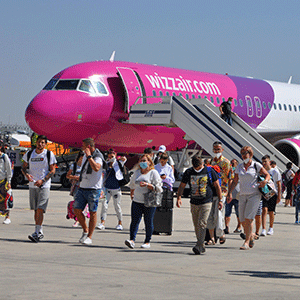 What's a Good Amount of Vape Juice to Take Onboard?
How much you take depends on the duration of your trip and the destination. For trips within the EU where Tobacco Products Directive (TPD) rules apply, a couple of 100ml bottles should be more than enough vape juice on a holiday or a short business trip. With pre-mixed e-liquids containing nicotine, 10ml is the maximum allowed because of rules enforced by the TPD regulations set in 2017.

For those that like to mix their own, the most popular size for shortfill bottles is 50ml. If you need to take more, stay on the safe side and add them to your check-in luggage if you're taking a bigger suitcase.

If you're going internationally outside EU compliance, you might want to take more of your e-liquid. It's nice to already have a good idea of what you're vaping instead of searching in local vape shops abroad where you might not speak the language or understand the quality of the product. Plus, always check the restrictions on carrying e-liquids with international airlines before flying with them.
E-Liquids at V2 Cigs
Whether you vape a higher concentration of nicotine that gets into the bloodstream at a much faster rate or nearing the end of your journey as a vaper inhaling just the sweet stuff, which e-liquid you pick for your flight is important. You want to make sure you have the right supplies for your trip, whether it's a weekend visit to see friends in Spain, a two-day business conference in Germany or a week-long vacation in the USA. At V2 Cigs, we have the best e-liquids for your e-cigarette preference and the customer service to match, should you need any assistance before packing your luggage.