The age-old question that we get from beginner and advanced vapers alike - what is the best vape mod ? Unfortunately, the answer to that question is not an easy one, and you'll probably get a different answer for every single person you ask! Vaping is very personal, and your preferences make all the difference when it comes to choosing the best vape mod, so the question you should really be asking is:
Which Vape Mod Is Best For You?
Like everything vaping, the right vape mod for you will be based on your personal preferences. There are lots of things to think about when you're choosing a new vape device, and a vape mod in particular, as they often contain more features and capabilities than beginner vapes or vape pens.
Whether you're looking to upgrade to a vape mod for the first time, or are experienced user looking to upgrade your vape mod, there are a few things UK vapers should consider before taking the plunge :
Size - some vape mods can get pretty bulky, simply because they need to fit so much in! From batteries to larger circuit boards with more capabilities, often a high-performance vape means you need to be prepared to go a bit bigger - however, there are some great exceptions on the market today.
Style - if you're used to a vape pen, switching to box mods can be a bit annoying to adapt to, though most people pick it up pretty quickly. However, if you really do prefer pen-style vape mods, there are a few options available for you to choose from without sacrificing performance too much.
Customisability - this is one of the main reasons vapers switch to a vape mod device, as they offer far more different options to adapt your vape experience than traditional vape pens and smaller devices.
Power - Vape mods, and larger vape mods, in particular, are great for giving you lots of power from your device. More power is ideal for giving you long-lasting battery life, but also helping you improve your sub-ohm and direct-to-lung vaping abilities, something lots of advanced vapers are interested in.
Additional features - Larger, more expensive and more powerful devices like vape mods also often include additional features to help you get the most out of your vape experience. This can include variable temperature and wattage modes, adjustable airflow modes, preset modes, adaptable voltage and a whole host of other features.
Price - Of course, the price of your new vape is a massively important factor. If you're new to the world of vape mods, you may want to choose a more affordable device to get you started, or you may wish to invest in a high-end piece that will last you for many years to come. Experienced mod vapers will likely be looking to upgrade their vape, which is why we offer some of the UK's leading vape devices.
Best Vape Mod UK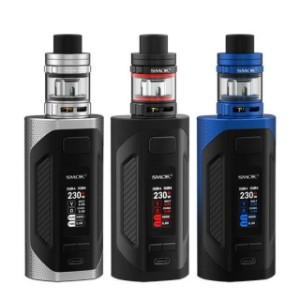 Smok Rigel - Best for: Sub-Ohm Vaping and Fantastic Performance
The Smok Rigel is a fantastic device designed with sub-ohm vaping specifically in mind. For vapers looking to get better cloud production, there's no better option on the market! With space for two external batteries and wattage up to 230, there's plenty of power behind this device, which is exactly what you need when vaping direct to lung . This vape mod also contains a 0.96 inch TFT display, so you can quickly and easily see how your vape is set up, how much battery life you have left and when you need to refill your tank. Whether you're a newbie to the world of sub-ohming or you're looking to upgrade your direct to lung vape experience, this is one of the best vape mods for cloud chasers.
The Smok Rigel is also designed for ease of use and comfort, with simple adjustable airflow system and a rubber "honeycomb" design on the case, for ergonomic and non-slip vaping, without compromising on style at all!
With the Smok Rigel kit, you get everything you need to get the most out of your device and get you sub-ohming safely and comfortably as soon as possible!
1x Smok Rigel Mod
1x Smok TFV9 EU Tank (2ml)
1x V9 Meshed Kanthal 0.15Ω Coil (Pre-Installed)
1x V9 Meshed Kanthal 0.15Ω Coil (Spare)
1x USB Type-C Charging Cable
1x User Manual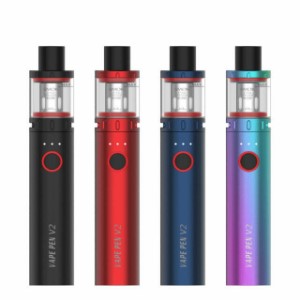 Smok Vape Pen V2 - Best for: a Small Vape Mod Without Compromise
For those of us used to vaping with a smaller device, vape pen or cig-a-like device, the transition to more powerful box mods can be a bit more difficult. For many years, switching to the classic box mod shape was the only way to be sure of great power and performance, but today, this is not the case, as the Smok Vape Pen V2 proves!
A sleek, pen-shaped device, the Smoke Vape Pen only measures 117.7mm x 22mm, but don't let it's small size fool you! Inside this stylish and convenient casing, you get a hefty 1600mAh rechargeable battery, and up to 60W of output, perfect for both mouth to lung and direct to lung vaping. This kit comes with two 0.15 Ohm mesh coils, so you don't have to worry about picking up new coils before you get started. These low-ohm coils are perfect for creating warm, thick clouds of vapour with great flavour and a smooth hit on the inhale. Like most sub-ohm devices, the Smok Vape Pen also contains an adjustable airflow system to make sure you're getting the most vapour production possible . This device comes with an LED indicator to indicate when you need to charge your vape, and comes in four striking colours - Black, Blue, Red and Rainbow.
With this device, you'll get:
Smok Vape Pen V2 60W Kit
2 x Smok Vape Pen V2 0.15 Ohm Mesh Coils
Micro USB Charging Cable
User Manual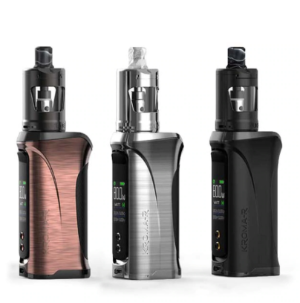 Innokin Kroma - Best for: Style and Power all in One
The Innokin Kroma-R Zlide Kit offers users a little more versatility for the ultimate advanced experience, giving users a high-quality and enviably stylish vape . This beautifully stylish vape system provides consumers with a top-of-the-line experience for both mouth-to-lung and direct-to-lung vaping. A strong device with capabilities of 6-80 watts, a 1000mAh battery and an extremely fast firing time of just 0.03 seconds is housed in a beautifully crafted case available in four stylish and versatile colours (black, gunmetal, bronze and silver).
The Innokin Kroma features a convenient LED screen and provides a resistance range of 0.05-3.5 ohm, which is ideal for both sub-ohm and stealth vaping. The LED screen allows settings such as wattage, resistance, voltage, battery output and vape time cutoff (ranging anywhere from three to eighteen seconds) to be adapted quickly and easily. You can also easily see your battery life, so you always know how many puffs are left before you need to recharge!
You'll get a number of different interchangeable components in this kit to fully customise your vape experience from the ground up. This kit contains:
1x Innokin Kroma-R Mod (1000mAh)
1x Innokin Zlide Tank (2ml)
1x Innokin Z-PLEX 3D Mesh Coil (0.48ohm)
1x Innokin Kanthal Coil (1.6ohm)
1x Spare Glass
1x Micro USB Charging Cable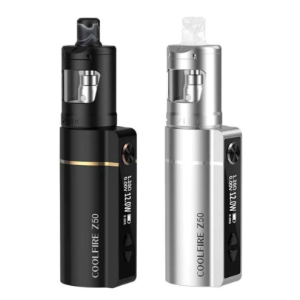 Innokin Coolfire - Best for: The Best Beginner Vape Mod
The Innokin Coolfire takes things back to basics, which is perfect for a first-time vape mod user. However, don't think that means it's not still a powerful, versatile device, as this vape has many more experienced fans as well ! A long-lasting 2100mAh battery means you won't be caught short without your vape when you need it, and a 50W limit gives you great performance in a small, neat package. The Coolfire Z50 is a very portable device, and will slip neatly into a pocket or bag wherever you're headed. Housed in a durable and stylish Zinc Alloy is a 2ml tank with easy-to-use sliding top-fill mechanism, perfect for first-time users . The Innokin Coolfire Z50 also supports both direct to lung and mouth to lung vape styles, which is great if you just want to dip your toe into the world of more advanced vaping, while still ensuring you can get your nicotine hit when you feel those pesky cravings.
With the Innokin Coolfire Z50 Kit, you'll get:
1x Coolfire Z50 Mod
1x Zlide Tank (2ml)
1x Spare Glass Tube
1x Charging Cable
1x 1.2Ohm Coil (Pre-Installed)
1x Spare 0.8 ohm coil
1x Replacement Drip Tip
1x User Manual
1x Spare O-Ring Set
At V2, we are very proud of our expertly curated range of vape products, including our range of high-quality vape mods. From beginner-friendly, budget-friendly options to top-of-the-line advanced vape mods, there is something for everyone. We handpick every one of the products we stock, so you can be confident you'll get a quality product every time with V2.
To find out more about our range of products, or to find the best vape mod for you, p lease don't hesitate to take a look at our site, or get in touch with our customer team who will be happy to help you find the best vape mod for your needs.