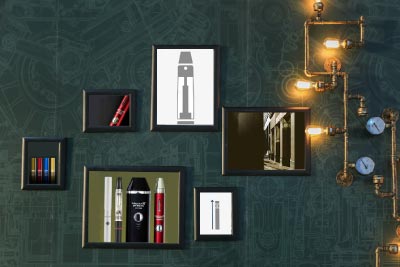 Beacons of modern evolution, invention and innovation are at the heart of our technological endeavours and serve as societal landmarks of progress and prosperity. Whether the invention of a product provides a convenience to the consumer or carries with it a hope for health and change, we salute the inception of e cigarettes and tip our caps to those who helped steer the course for smokers to rid themselves of their daily addictions and to potentially become smoke-free.
The First Smokeless Cigarette Patented
While e cigarettes may seem like a relatively new consumable item, the first patent for an item of this nature was actually submitted way back in 1927 when Joseph Robinson filed papers in the United States for a rudimental 'Electronic Vaporizer'. Designed to electronically heat substances to produce vapour intended for inhalation, like a vapour cloud dissipating, so too did this device as it sadly never saw the light of day.
Fast forward to 1963 and on to Beaver Falls, Pennsylvania where Herbert A. Gilbert comes up with his canny invention for the first smokeless cigarette. Designed to replace the burning of tobacco products with the inhalation of flavoured air, unfortunately for Herbie, the idea never quite cottoned on.
Another 30 years passed before anyone entered the fray to produce a device for a smoke-free future and in the 1990s patent offices witnessed a number of fledgeling ideas for electronic alternatives to burning tobacco including the 1997 release of the Accord produced by tobacco magnates Phillip Morris. Users would insert their traditional cigarettes into the Accord device which would subsequently heat the tobacco using a microchip to power heated blades, which would then produce less smoke than the traditional combustible method of smoking – but smoke nevertheless.
The First Commercial E-Cigarette
For the invention of what we now know as the e-cigarette, we head to Beijing 2003. 52-year-old smoker, pharmacist and inventor Hon Lik took to the drawing table to create the very first commercial e cig as he sought a way to help him stop smoking following the death of his father, also a heavy smoker, from lung cancer.
It didn't take too long before the devices made their way into Europe and in 2006 smokers started to ditch the cigarettes and switch to vaping, before in 2007 the market made its move across the pond and into the US.
The vaping population has grown exponentially since its inception in 2003, with an estimated 35 million vapers worldwide in 2016 and an estimated 3.2 million vapers in the UK alone in 2018. We're set on the hope that Britain will steer towards a smoke free nation in years to come.
E-Cigarettes Less Harmful Than Smoking Tobacco
A testament to the cause comes by way of Public Health England's endorsement of e-cigarettes in 2015, when they published the landmark independent review stating that e cigs are up to 95% less harmful than smoking tobacco. Today, there are an endless variety of e cigarette devices for TPD compliant e-liquids to choose from, for the potential to help smokers become smoke-free once and for all.
A heartfelt thanks to Hon from ex-smokers far and wide for giving the gift of e-cigarettes for the betterment of our health.