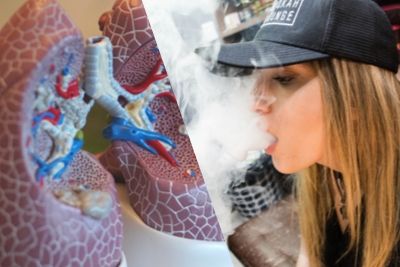 As of the 4th of October, 29 deaths have been attached to vaping by authorities in the United States with 1300 'injuries' also officially reported. But with vaping deaths continuing to prove extremely rare outside the US, it's important to take a look at our understanding of the issue and how our awareness has developed since the first reported cases. While it is vital to take every possible precaution when using vaping products, it is important to stay fully informed and rational. Taking the effort to look at the validity of any medical findings during a panic can take time and it's worth taking a moment to assess and understand exactly how they can affect you. So, what do we currently know about the recent news in America and what can you meaningfully do today to protect yourself from harm?
What happened in America
Initial alarms were raised following the death of 6 individuals and 100's of tangential illnesses which were medically linked to e-cigarettes and vaping products. This connection led the state of Michigan to ban flavoured vaping products, leading to the government to attempt to actively and publicly plan the banning of flavoured vaping products across the country. As covered in our previous article, the initial ban was levied by Governor Gretchen Whitmer in the wake of three deaths in her district. While adults were affected, flavoured vapes were judged to be of high appeal to children – leading to the Governor to pass emergency legislation and seek an immediate ban. While this was ongoing, 450 cases of similar lung issues from different periods were linked to e cigarettes across the country. While this raised the profile of the issue significantly, it has since become increasingly important to understand what seems to be causing these responses and why it currently seems to be a problem that is isolated to America, it becomes important to ask how this happened in such a short span of time and why Europe remains broadly unaffected.
What was the aftermath?
Given the high degree of publicity that followed the vaping ban, many bodies started their own research to get to the bottom of the issue. While this research takes time to undertake and quantify, one of the quickest responses came from Canada, who launched the Vaping Industry Trade Association (VITA) in the wake of cases being identified in Quebec and New Brunswick. The six founding members are donating $100,000 CA per annum to help fight knee-jerk messaging and the group is "committed to reducing smoking rates and preventing young people from accessing e-cigarettes while ensuring adult smokers have access to the e-cigarette market". This has also led other states to take similar action with Montana introducing a similar, temporary ban and the CDC adding a dedicated page to their site that directly addresses questions around the issue. However, this increased news coverage has also led to a clampdown on illicit vaping activity with a Wisconsin black market vape ring recently shut down and investigators targeting counterfeit THC 'dank vapes' that were attached to 66% of reported cases in the neighbouring state of Illinois.
Has this been debunked?
Currently, it's too early to tell – but there are some interesting observations coming from the scientific community in the wake of the story initially grabbing headlines. Many professionals have come forward through Science Media Centre stating that the story is by no way complete. Professionals like Prof. Paul Avelyard of the University of Oxford observed that, given the severity and immediacy of the response "This is an acute reaction to something toxic and not the kind of lung damage that comes on after years of smoking" adding that "The cause is unknown, but more than 8 in 10 had vaped...." a non-tobacco leaf type product. This is backed by Dr. Sara Jackson of UCL and Prof. Peter Hajek of QMUL who noted that many of the sufferers were "vaping illicit e-liquids containing THC" and contained a contaminated extract. These observations are further reinforced by reporting from the Washington Times that highlight the link between the use of THC products and the condition.
The CDC reported 76% of the 773 individuals that suffered lung related issues were using THC products, leading to increased calls for caution from the CDC's director Dr. Anne Schuchat. Speaking in October, Shuchat stated that products from off-street or unbranded sources have been "linked to most of the cases" and potentially play a statistically significant role in the issue.
Earlier this month, Al-Jazeera reported that Americans should take a temporary step back from their use as they consulted numerous professionals in the sector. This led them to reported that the issue potentially stemmed from the use of recent use of vitamin e acetate as a thickener in the product, a common component in black market or home-made vapes. While this can be safe in controlled use, it can cause issues when added in uncontrolled conditions or by untrained amateurs. This also matches with other findings that fat markers have been found in the lungs of certain users. These "numerous oily droplets, called lipid-laden macrophages" lodge in the lungs and create symptoms similar to pneumonia or a viral infection.
While research is ongoing, this marks the condition out as being a potential variant on 'lipoid pneumonia', with further research continuing to see if the appearance of lipoids is a cause, symptom, or marker of infection. One of the major issues facing those looking to get to the bottom of the issue is a lack of contemporary research in the area and that our awareness of the problem is slowly but steadily growing. However, many recent studies undertaken appear to reinforce the trend that THC products are at the heart of the issue.
A recent study from computational epidemiologists Yulin Hswen showed a statistically significant up spike in the likelihood of black-market, THC vapes being involved. Hswen's online research identified a high number of online shares for information covering how to make e cigarette cartridges and products online forums and social networking sites a short period of time before the first incidents began to emerge. However, it is important to highlight that correlation is not causation and no conclusive link has yet to be established.
While no other location has yet to be as badly affected as the US, other unaffected countries are starting to take a proactive approach. This has seen Australia's health department take an active approach to pre-emptive can and ask practitioners throughout the country to keep an eye on vaping symptoms and report them with priority. Despite these links between off-market or illicit vaping devices, it is important to apply caution when using your vaping products. And taking steps to reduce your risk and rule out the above is essential.
How do I reduce my risk
While research is still ongoing, there are a number of simple steps that you can take to make your vaping experience safer. These include- Buying official products: One of key issues stopping doctors from getting to the bottom of the issue is the wide range of products being used - many of which are unofficial or use 'bootleg' e-liquids that can be loaded with carcinogens. All of our products at Vapour2 are fully licensed and produced under the strictest possible measures, letting you vape with confidence and a wide range of choice. No matter who you choose to fulfil your needs, always check that what your being sold is the genuine article. This is arguably more important than ever, as highlighted in a recent official release by the CDC that users "consumers who choose to use any vaping products should not modify or add any substances such as THC or other oils to products purchased in stores and should not purchase any vaping products, including those containing THC, off the street or from other illicit channels." Highlighting that, while there may be potential savings, they are truly not worth the risk.
Maintain your device: Taking proper care of your device can massively reduce the risk of contaminants entering your product. Each of our vape kits comes with a free cleaning kit to ensure you not only get the most out of your product. If this is still a concern, you can easily pick up a Pro Series cleaning kit that will help keep your device in top condition for as long as possible.
Switch your settings: Looking at some of the recent findings, one of the key issues is oil permeating the lungs. If this is a concern for how you choose to use your device, changing your heat and airway can help reduce contamination. Selecting a reduced airway and lower temperature setting reduces the amount of vapour inhaled and reduces the density of your clouds - helping your device and e-liquid last longer into the bargain.
What should I change?
Any responsible vaper should take proactive efforts to change their vaping practice, whether you are potentially affected by the news in the US or not. Changing some elements of your day-to-day routine can bring massive benefits, these include-
Improving your health: One of the triggers found is that users who were elderly, infirm, or had poor lung health were more likely to be affected alongside the use of "home brews" of drugs and vaping products. If you have a history of lung conditions with your family or are at risk of infection, it is important to consult your doctor and ensure that you are in good health. This can easily be accompanied by cutting back a little or switching from a nicotine infused e-liquid to a stimulant-free flavoured one.
Upgrade your device: Even the most reliable bit of kit can begin to fail after heavy use. Choosing a quality vaporizer allows you to control your vaping experience and decide on switching to a safer product to eliminate any potential risks. Choosing a dual-purpose vape also allows you to freely move between e-liquids and physical alternatives that require no fluid suspension; ensuring you enjoy maximum control over filters, your burn rate and many other options.
Stay informed: One of the most important parts of looking after your health is staying aware of changes to legislation or news. Using news aggregation apps like Feedspot allows you to view relevant articles from reliable sites and sift through poor quality reporting. In addition, we will always cover any breaking vaping news on our regularly updated blog page, including any offers, or regulatory changes to make sure that our customers stay informed. Check out our UK online vape store if you want to learn more about our range of official vaping products.