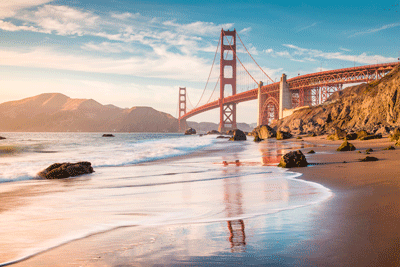 This year in news that shocked the vaping community: San Francisco has become the first US city to ban e-cigarettes, pending further research.
Officials voted in the last week of June to ban stores selling vaping paraphernalia from 2020 unless approved by the FDA, and also made it illegal for online stores to fulfil orders across the city. Ironically, the city is home to Juul Labs, who are understandably concerned about the news.
Currently, this ruling will essentially ban all e-cigarettes from being sold in the city, as there aren't actually any authorised e-cigarettes on the market. Until brands have submitted their applications for approval, which will take into account their marketing, ingredients and how the product could affect behaviour, they can't legally be sold in the city. Shockingly, tobacco products and traditional cigarettes are still available for purchase.
Why Has San Francisco Banned E-Cigarettes?
There has long been talk of a 'teen vaping epidemic' in the US, with Juul being labelled as the main culprit. Anti-vaping activists believe that due to the enticing flavours in e-liquid, teens are deliberately being targeted and may even be convinced to switch to traditional cigarettes after becoming addicted to nicotine. Vaping supporters are staunchly against these claims, stating that fruity and sweet flavours help former smokers to quit, after they begin to dislike the taste of tobacco.
Both sides, however, agree that more needs to be done to discourage teens from vaping. Juul has taken steps towards this, such as closing some of their social media accounts and withdrawing popular flavours like mango and cucumber from the market.
As we jump across the pond to the UK, you might expect to see similar trends among teens when it comes to vaping, right? Thankfully, that isn't the case. As Public Health England lead the fight in backing harm reduction, we've seen the NHS encourage more smokers to try vaping as a way to quit. Vaping has been whole-heartedly accepted into our society, without affecting the teenage demographic.
In fact, earlier this year, PHE published an update with evidence showing that regular vaping remains low among young people, and has plateaued among adults. While "more young people are experimenting with e-cigarettes, the crucial point is that regular use remains low and is very low indeed among those who have never smoked."
But What About Traditional Cigarettes?
Perhaps the most shocking thing about this latest development is that traditional cigarettes, which cause tens of thousands of deaths in California every year, will remain untouched and can continue to be legally sold.
Many can't believe the news, taking to Twitter to express their concerns.
@amandawheeler32 wrote: "Regardless of your feelings on JUUL, I hope an end is put to this nonsense. We have cities across the US wanting to ban vape while leaving deadly cigarettes on the market. Leave killer combustibles on the shelves but remove safer alternatives—SHAMEFUL"
While @DrMTyndall said: "The proposal to ban the sale of e-cigs in San Francisco and other places is basically a move to criminalize people who want to greatly reduce their chances of disease and death due to cigarettes - especially targeting the poor. Bizarre."
So will we see a thriving black market for vape devices in the coming years? Will many vapers switch back to smoking, causing more health issues and potential deaths? Or will the city need to rethink its strategy given all the uproar? Let us know your thoughts in the comments.