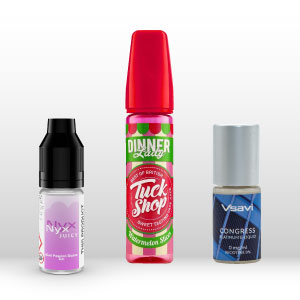 The United Kingdom is easily one of the fastest-growing markets for vaping in the world. Common-sense UK vaping laws and regulations have helped to foster a thriving industry, which has stimulated the development of an almost endless variety of vape juice brands and flavours – all made domestically and crafted according to the highest quality standards.
In addition, consumers also enjoy a wide variety of imported vape juice from other nations such as the United States, Malaysia, China and more.
The only downside of the enormous level of variety is that it can lead to a bit of paralysis if you're new to vaping and are shopping for e-liquid because it's hard to know what to buy first if you're an inexperienced vaper.
In this guide, we're going to help you through the process by listing some of the best vape juice brands and flavours on the market. We have great confidence in these brands, and we think that you'll have an excellent experience with any of them.
These are the best vape juice brands in the UK in 2023.
Freebase Vape Juice (10 ml Bottles)
Freebase vape juice is available in a wide variety of nicotine strengths usually ranging from 3 mg/ml to 18 mg/ml. The extensive range of strengths allows this type of e-liquid to work in any hardware ranging from the smallest cigalikes to the most powerful vape mods. The smaller your vaping device is, the higher your nicotine strength should be.
Legal regulations restrict vape juice with nicotine to a maximum bottle size of 10 ml. The benefit of this type of vape juice, though, is that the nicotine is already mixed in – so the e-liquid is ready to use immediately. If you'd rather buy vape juice in larger bottles, scroll down to the "Shortfill Vape Juice" section below.
V2 VSAVI Platinum E-Liquid
V2 VSAVI Platinum E-Liquid is the same vape juice that we use in our pre-filled vape cartridges, so it's the perfect choice if you've made the decision to step up from cigalikes to a refillable device. Available in a wide range of traditional flavours such as menthol, mint, coffee, chocolate and several tobacco flavours, our Platinum vape juice allows you to switch to a refillable device without losing the flavours you love.

VSAVI 100% VG E-Liquid
Our VSAVI 100% VG e-liquid range uses 100-percent vegetable glycerine (VG) as a base for extra smoothness and full, silky vapour clouds. In addition to our standard VSAVI range – which includes classic flavours like Pure Virginia and Arctic Menthol – we also offer a Gourmet 100% VG E-Liquid range with sweeter flavour options such as Coffee Choco and Coconut. IVG, Dinner Lady and Double Drip shortfill e-liquid is also available.
Nicotine Salt Vape Juice (10 ml Bottles)
Nicotine salt vape juice usually comes in higher nicotine strengths. The most common strength is 20 mg/ml, but a lower 10 mg/ml strength is also available from some brands. Because of the higher strengths, nicotine salt vape juice is appropriate for more compact devices such as pod systems and small vape pens. Most disposable vapes also use nicotine salt e-liquid.
The benefit of nicotine salt e-liquid is that salt-based nicotine allows for the creation of higher-strength e-liquids that deliver nicotine more efficiently without irritating the throat. If you've tried high-strength freebase nicotine vape juice and found the experience unpleasant, you'll probably prefer nicotine salt.
VSAVI
Our VSAVI nicotine salt range is the best choice if you want to enjoy the classic V2 experience with a pod-based device. This e-liquid range has a nicotine strength of 20 mg/ml and has a VG/PG ratio of 50/50 for the widest possible compatibility with pod-based devices. If you're looking for an experience that closely resembles smoking, try the Smooth Tobacco flavour – and if you want something a little sweeter, try Coffee Latte.
Elfliq
Elfliq is one of the most popular vape juice brands in the UK right now, and that has a great deal to do with the popularity of the Elf Bar brand of disposable vapes. If you've ever used an Elf Bar disposable, you know exactly what to expect with Elfliq because this brand consists of the same flavours that have made Elf Bar so popular. We love the Cream Tobacco flavour; it blends a hint of sweet cream with a smooth and satisfying tobacco base to create a complex dessert experience. Blueberry Sour Raspberry is a great option if you're looking for something that presents a combination of sweet and tangy notes.
IVG
IVG nic salt vape juice is made right here in the UK, and it features a wide range of flavours specifically designed for vapers in this part of the world. Blackcurrant has always been one of the most popular fruity e-liquid flavours in the UK, and IVG's Berry Medley flavour blends a distinctive blackcurrant base with a tart combination of raspberry and green apple. If you prefer beverage-themed e-liquids, try Cola Ice – it's a super-satisfying cola vape juice with a blast of cool menthol to simulate drinking a big gulp of soda from a frosty glass. IVG shortfill e-liquid is also available.
Nyx Juicy
Nyx Juicy e-liquid is available in two nicotine strengths of 20 mg/ml and 10 mg/ml, making it a great choice if you're looking for an easy way to reduce your nicotine intake. With two strengths available, you can switch to a lower strength without changing your flavour. If you're not sure which flavour to choose first, we suggest Blue Razz Lemonade; the combination of bold blue raspberry and sour lemonade is one that vapers around the world find irresistible. Mango Ice is another stellar option. Nyx shortfill e-liquid is also available.
Shortfill Vape Juice
Shortfill vape juice contains no nicotine, so it isn't subject to the same 10-ml bottle size limit as other e-liquids. That's why it's sold in larger bottles. When you use shortfill e-liquid, you buy the nicotine separately in the form of 10-ml nicotine shots and add it to the bottle yourself. You're also free to skip the nicotine shots if you prefer to use nicotine-free vape juice.
When you add nicotine to shortfill vape juice, you'll use one nicotine shot for every 50 ml of e-liquid. This gives you a final nicotine strength of 3 mg/ml. Because of the low nicotine strength, freebase vape juice is most appropriate for use in larger devices such as vape mods.
VSAVI
To create our VSAVI shortfill e-liquid range, we specifically worked to develop a selection of flavours that taste great at lower nicotine strengths. We think you'll love these e-liquids if you're a vape mod owner. Not sure what to try first? Try Double Bubble; it's a flawless expression of a big, pink cube of bubble gum.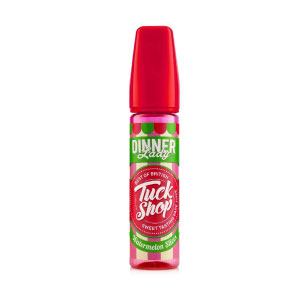 Dinner Lady
Perhaps the most popular vape juice brand in the UK, the Dinner Lady shortfill range includes flavours inspired by drinks, sweets, desserts and classic tobacco. If you like sweet flavours, the first one that you should try is definitely Lemon Tart from the Dinner Lady Desserts range. It presents the flavour of a smooth and tart lemon custard layered over a buttery pie crust. Lemon Tart is probably the ultimate dessert e-liquid. Alternatively, try Caramel Tobacco from the Dinner Lady Tobacco range if you're looking for something a little less sweet.
Double Drip
If you like sweet and fruity flavours, we think you'll love Double Drip Coil Sauce. Designed for maximum flavour intensity and vapour production in larger vape mods, these are easily some of the most boldly flavoured vape juices on the market. Try the Strawberry and Banana Waffle flavour. It tastes like a buttery waffle topped with fresh fruit, and it's easily one of the best breakfast e-liquids you'll ever find. Crystal Mist is another great offering. Blending blue raspberry and black cherry with a bit of cold menthol, it's an unbelievably refreshing experience.
Nasty Juice
The most famous brand to come out of Malaysia's rich vaping community, Nasty Juice pioneered the light use of menthol to create "low-mint" e-liquids with a gentle cooling sensation. The menthol makes the e-liquid taste even more refreshing but doesn't cover or alter its flavour. Slow Blow is one of Nasty Juice's most famous flavours. Combining notes of pineapple and mixed citrus with a light menthol finish, it's a perfect fruity cocktail experience.