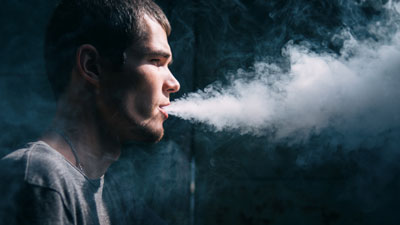 Back in September 2018, we reported on the news that smoking in Scottish prisons was to be finally banned and that prisoners would be offered the chance to get e cigarette devices for free to encourage the use of vaporizers as prisoners traversed the impending transition of becoming smoke free whilst inside. Let's take a look at the cost involved and what's changed since the ban's introduction.
Scottish Prison Service Go Smoke Free
While public spaces countrywide have faced a ban on smoking for almost 12 years, it's astonishing to think that in 2018, Scottish prisoners were still allowed to smoke in their cells. Alas, as Scotland endeavour to promote and encourage the hopeful notion of creating a 'tobacco-free' generation by 2034, the Scottish Prison Service (SPS) took the canny approach of heeding any potential uproar from inmates induced by the removal of cigarettes from their environment by introducing e cigarettes to the community of tobacco consumers. An estimated 72% of Scottish inmates smoke, compared to the 16% representative of the wider Scottish community.
Providing a less harmful alternative, e cigs simulate smoking by providing vapers with a nicotine hit, vaporized by their rechargeable battery, which is styled to resemble traditional cigarettes, thus essentially creating a smoother transition to non-smoker - it's all in the psychology.
Speaking to BBC Scotland, a female inmate commented, "There's not been a lot of trouble, or anything like that, and that's down to the fact that we had the vapes,"
'£150,000 Well Spent' Say SPS
With 7,500 e cig starter kits distributed to inmates, the estimated cost sits somewhere towards the initially projected £150,000. The starter kit contains all the essentials for a smoker to make the switch to vaping including; a rechargeable battery, charger and a pack of three flavoured e liquids. From April inmates will be expected to pay for their own devices and e liquids.
A spokesman for the SPS, Tom Fox commented, "I think it's money well spent. The health benefits for our staff and those in our care greatly outweigh any initial cost we have introducing the programme".
While we await the results of how many of those prisoners will successfully become smoke free vapers, BBC Scotland recently reported that the subsequent scaling and adjustment of the Black Market within the prison system has seen tobacco products be sold for as much as £100 for half an ounce. If there's anything that might put you off smoking it'll be paying £100 to appease your habit. We say stop smoking, start vaping and save yourself treasured pennies in the process.
Air Quality Improved
Since the introduction of the ban in Scottish prisons, the anticipated rewards for making the move to become smoke-free are already being noticed by the SPS, with air quality improving significantly by 80%
Coming as a no great surprise, the news is no coincidence and concurs with Public Health England's declaration in 2015 that e cigarettes are up to 95% less harmful than tobacco products and that vaping has the potential to help smokers to become smoke free.
Watch this space for more vaping news coming your way soon.