There are essentially three types of vape kits, each with their own advantages. Disposables are for beginners and those who like minimal effort, with everything set up already as a single-use device. Vape mods are for the more advanced who like to puff less nicotine, larger clouds, sweeter flavours and maximum warmth.

Somewhere in the middle, you have two types of pods – refillable (with or without a fixed coil) and prefilled containing vape juice. Below in this complete guide, explore everything about vape pods and pod vape kits – a popular method that's likely to replace disposables as the number one choice.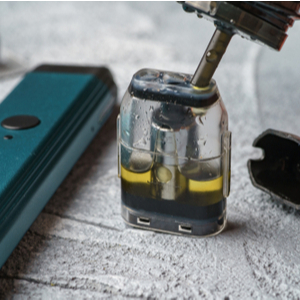 What is a Vape Pod?
A vape pod at a very basic level is a small piece of plastic which stores the e-liquid, as well as the coil. While a vape tank can feature separate removable components, vape pods are smaller, lighter and simplified as one complete accessory. A vape tank does the same job but is more frequently used with advanced vape mods, featuring customisable options to puff larger clouds.

There are three options of vape pods, which are popular today. You can purchase one with prefilled e-liquid and a sealed coil. This essentially provides a single-use pod which you can recycle when it's empty. Alternatively, you can buy a refillable vape pod, which can be sealed at the base, meaning you can't swap the coil, but you can top up the vape juice levels until the coil loses its value. Or you can purchase a vape pod with an 'open system', which means you can change the coil and refill the e-liquid.
The Advantages of Refillable Pod Kits
Pod kits, and refillable pod kits in particular, are very popular for beginners and more advanced vapers for a variety of reasons. Check out the top points below:
Convenience – Everything about pod vape kits is a breeze. The pods themselves are often magnetic and slot into place seamlessly. They're versatile – you can purchase them with or without coils. Affordable, reusable and user-friendly, it's the perfect device for any level.
Better for the Environment – While prefilled pods and disposables are even easier to use than refillable pods, it means throwing away more plastic! Stick with refillable pods and do your bit for the planet.
Great Value – Long-term, refillable pods save you tons of money, especially compared to disposables. The pods last longer and can be refilled more times before you swap the coil out.
Reliability – You rarely get issues with refillable pods. Because of how they sit in the device, their small size and now frequently designed as top fills, you don't get too many issues or leaks of e-liquid. They last a fair amount of time and produce minimal cloud for a discreet vape.
Compact and Light - Pod kits tend to be on the smaller side, making them ideal for carrying around on the go! Ergonomic and slim, pod kits fit in the pocket or bag with ease, so they're perfect for a night out or a day at the office!
Variety of Flavours – With refillable pods, the world is your oyster, as you can choose any liquid you like that fits! In contrast, prefilled pods are more limited with flavours and selective about nicotine strengths.
How Long Will a Pod Last?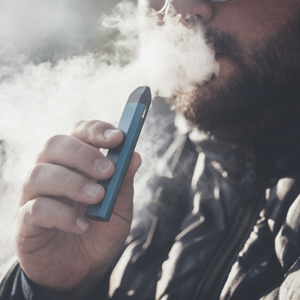 When you use vape mods and box mods, you need to replace and maintain your coils regularly. You'll need to clean your tank every month or so and replace it every year or so, and depending on how much you vape, you may need to replace your coil every few weeks, or even every few days. When you use vape pods, on the other hand, you don't need to worry about cleaning or maintaining your parts, you simply refill again and again, before throwing out the whole pod and starting again. Depending on the type of refillable pod you choose and how often you vape, they can last anywhere from five to fifty refills! A coil typically lasts between 7-10 days, so it depends on whether you get an open or closed pod system. A refillable open pod system will last the longest.
Are Vape Pods Suited to All?
In the beginning, along with cartridges (which are also currently part of a mini-vaping renaissance), vape pods were very simple and typically used by smokers as a way to quit. Now the market is packed with lots of fantastic options for beginners and experienced vapers alike – all geared towards convenience.

Whatever form of vaping you pick, with closed-system vapes, open-system vapes, box mods or vape pens is still significantly cheaper than smoking in the long term. Vape pod systems do cater to the majority of vapers, but it depends on your budget, goals to reduce your nicotine, the number of puffs you want or do per day and how much convenience you prefer.
Are Pod Vape Kits Better Than Disposables?
In our opinion, without a doubt they are. Not just for the environment but for your wallet, and in terms of overall value. They last longer, can create more puffs and frankly give you much greater variety when vaping in terms of e-liquid choices and nicotine strengths. However, you also have to bear in mind how easy you want the setup to be, and the stage of your journey to quit cigarettes. Eventually, it looks like disposables could be banned in the UK, so it's better to plan ahead and pick up a vape pod system or cartridge device ahead of time.
The Best Refillable Pod Kits
Vsavi Starter Kit - Perfect for Beginners
The VSAVI Classic Blank Cartridges have been designed to be perfectly compatible with our range of V2 batteries, including the starter kits, as well as the V2 classic, classic long and EX Series batteries. They're an excellent choice for new users of refillable pods, or those who aren't quite sure if a refillable pod is right for them just yet.

Known as a low-resistance cartomiser, this means they're perfect for mouth-to-lung vaping, which is the style most beginner vapers prefer. Using a refillable pod like the V2 Classic Blanks gives you all the ease of a pre-filled pod, but also offers the freedom to experiment with different e-liquids and to help you find the best possible vape experience for you!
Vaporesso Eco Nano – Simplistic yet Stylish
Vaporesso is known worldwide for their easy-to-use vape kits that look amazing in terms of build quality, with fresh colour schemes and pods that are simple to swap and vape. The Eco Nano is no exception, providing not only a stylish design but the practical vaping performance to match, giving just enough throat hit. And as an added bonus, the pod is wide and see-through so you always know your e-liquid levels.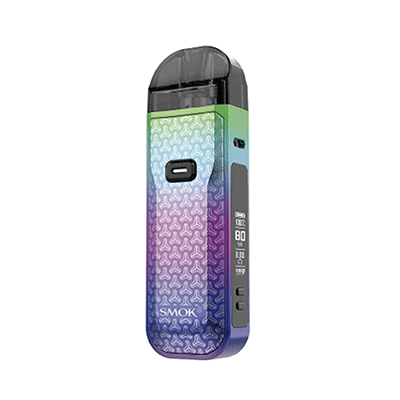 Smok Nord 5 Pod - Best for Sub-Ohm Vapers
Designed for use with the Smok Nord 5 Pod kit, this refillable pod makes light work of powering your Sub-Ohm vape, providing you with great vapour production and fluffy clouds in a small, sleek, ergonomic device. It contains a 2ml e-liquid capacity and space for replaceable 0.15 and 0.23 Ohm coils, making it fantastic for Sub-Ohm vapers looking for an ultra-light, compact refillable vape.

With an automatic draw-activated mechanism and a large 2000mAh battery, this device is perfect for beginner and experienced Sub-Ohm vapers alike! The trendy pod from Smok adds another dimension, featuring a smart anti-leak structure and a curved mouthpiece for a looser draw.