Customer's Journey to Quitting Smoking
After 50+ years of smoking, I think my v2 series 3X has given me my best ever chance of quitting. I have tried many aids, from patches to gum to ecigs (high street variety) and always returned to smoking. Now I think I know the reason why.
Being a weak-willed person, at some point I always lapse and have a cigarette. Smoking the cigarette is so much more satisfying than whatever I am doing to try to quit that one cig leads to another, and pretty soon I am back to a pack a day. Not so with my Pro Series 3X.
Yes I lapsed, but found that smoking a cigarette was smelly, inconvenient, and a much less pleasant experience than using my vaporiser, which I think is down to the quality of the V2 product range. Everyone is different, but there are a couple of things I have found that may be useful to others.
1. Don't Binge
Using the series 3 is so pleasant that I tend to suck on it like a baby's dummy. This leads to a mild headache, and sometimes to a "burnt" taste (presumably because I am vaporising liquid faster than the wicks can replace it.
Vapour2 Comment: The "burnt" taste from the cartridge can be dealt with if you let the liquid steep in the cartridge for about 10 minutes before you start to vape. If you are steeping and it starts to taste "burnt" then it is time to change the cartridge. It is easy to treat a vaping device like a "dummy" especially when you have a "pass through" vaping facility on the device like the Pro Series 3 does. "Pass Through" means that you can vape while the device is charging
2. Don't Be in a Hurry to Settle for Flavours
Your senses of taste and smell are recovering, and your preferences will change. Buy a selection pack and rotate your usage.
Vapour2 Comment: This is great advice from Paul. As a smoker your sense of smell and taste is compromised and as Paul says you will notice that it changes, quite quickly in some cases, so have a variety of e-liquid flavours to rotate helps you stick to vaping. It may not be long before the flavour that you liked the most when you started suddenly does not taste so good! Paul's solution solves the problem!
3. Get Taste before Nicotine
The 0.3 mg nicotine seems to allow one to enjoy the flavour for a good few puffs before the nicotine kicks in especially with anything less than a 1 ohm atomiser.
Vapour2 Comment: We carry a range of 100% VG products in 0.3% as well as a range of 70VG:30PG products, both of these can be successfully vaped with this device if one uses the 0.9 Ohm atomiser from the Pro Series 3X Ceramic e-Liquid PG/VG Cartridge and the 0.9 Ohm atomiser. You will have to insert this atomiser into your 3X cartridge.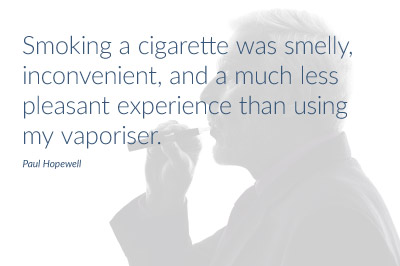 4. Flavour after Throat Hit
I've found that 0 .6% nicotine gives a throat hit before you have chance to enjoy the flavour and within a day or two I'm used to a much lower dose of nicotine.
Vapour2 Comment: Generally using sub ohm capability with anything higher than 0.3% e-liquid can produce a throat hit that is far too strong. The plus side to this is that if you require a very strong throat hit and your nicotine cravings are not being satisfied you can start using the Pro Series 3X Ceramic Cartridges.
5. Adjusting to Appreciating
Enjoying the flavour before the nicotine and light headedness kicks in allows a new person to adjust to appreciating the wonderful new experience and taste rather than a couple of puffs for the hit, equally it needs to satisfy the cravings too, but you can easily overestimate the nicotine required.
V2 Cigs Comment: Another good point by Paul. We recommend draw slowly and deliberately to savour the flavour and then enjoy the hit.
V2 Cigs have a superb product and unrivalled customer service, but they only get 4 stars from me because I have a problem with the cartridges. These are not reusable, or even recyclable, and so will end up in landfill. Surely there must be a better solution.
V2 Cigs Comment: We agree that this is not the best green option and we are trying to find a solution to this very real problem. The cartridges are re-useable but will eventually have to be discarded and of course that is not the best for the environment.
I forgot to add that the "weaning off" is due to the quality of the Pro and the e-liquids. For years I have wished I was a non-smoker, but never really wanted to give up. Your products have given me the chance to resolve that paradox.
V2 Cigs Comment: Thank you, Paul. This is really helpful for anyone who is a long-term smoker and wants to turn to vaping with a Vape Pen such as the Pro Series 3.