Further Information
The Vapour2 PRO Series 3 vape pen is optimised for vaping e liquid.
The Vapour2 PRO Series 3 offers unrivaled performance combined with incredible value. Optimised for e-liquids, this vape pen delivers the cartridge capacity and battery life of a much larger device, in a lightweight, portable design.
Please note, that as we continue to expand, improve and reinvent our range, certain items cease to be manufactured. The PRO Series 3 Cartridges that were originally paired with this vape pen are no longer available; but the PRO Series 3 Vaporiser teams up seamlessly with the PRO Series 3X Cartridges and PRO Series 3X Atomizers to allow for continuous use.
The PRO Series 3 Vaporiser kit contains:
Vapour2 PRO Series 3 Vaporiser (choose from black, blue or stainless steel)
Magnetic USB charging lead
UK or EU wall adapter
Magnetic e-liquid cartridge (which can be refilled up to 20 times)
Also available in the Vapour2 range for separate purchase are:
Both the highly rated Tech and Gadget websites Gizmodo and T3.com have carried out a review of the V2 PRO S3 and this is what they said:
Gizmodo: "Less than a second, your mouth fills with thick piles of vapour — it's crazy, you don't even need to inhale. The thing produces."
t3.com 2017 Vape Reviews: "What is the Best Vape? Easy. The V2 Series 3 ... The V2 Pro is the Apple Mac of vaporisers.... In the pantheon of vaporisers, few hold a candle to this model."
What performance can you expect from your E Liquid Cartridge ?
To get the best long term usage from this cartridge we recommend that you keep the cartridge regularly topped up with e liquid. This will help keep the wick moist to help give the best taste and vapour production. E Liquid Cartridges are consumable items and need to be replaced with a new e liquid cartridge after 15-20 refills. If you continue to use an old cartridge you may damage your vaporizer so we encourage you to buy new cartridges regulalry to prolong the life of your vaping device and to make sure you continue to get great taste and flavour.
Unpacking your V2 PRO Vaporizer
How to fill your V2 PRO E Liquid Cartridge
V2 PRO - The Technical Details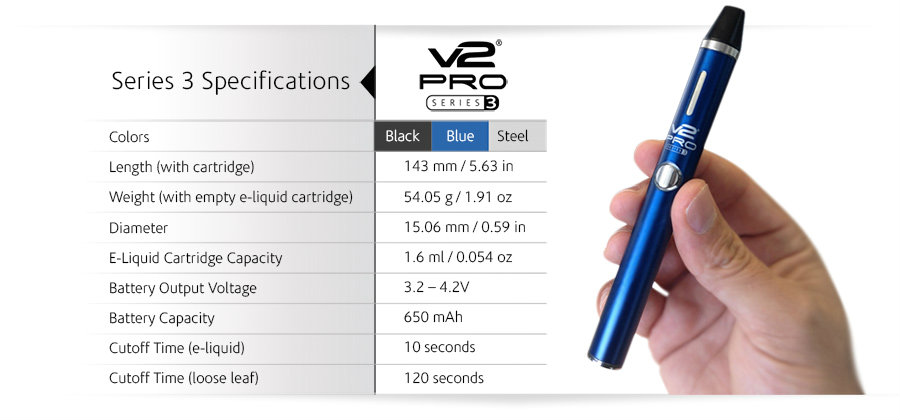 Customer Reviews
Write a Review
I purchased two of these for myself. I was so pleased with them that I bought one each for my daughters. I've tried vape pens before but they have never been as good as these. The cartridges are expensive and this is the only complaint I have. Thank you for an easy way to stop smoking cigarettes. I smoked for 50 years but this vape pen made it easy to break the filthy habit.

Bought this for my girlfriend. She loves it. Easy to use.

It is now 8 months since I had a ciggy after smoking for 51 years. These Vapour2 PRO Series 3 Vape Pens are in my opinion excellent. I didn't want one that blew lots of vapour cloud out, but wanted to feel I was getting a hit and these certainly do it for me. My last blue one was looking very shabby from keep dropping it and it had been hammered at times so hence my new year present to myself.

Team Vapour2 Response: Well done you!! We also love this device.

My best chance of quitting cigarettes

After 50+ years of smoking, I think my v2 series 3 has given me my best ever chance of quitting. I have tried many aids, from patches to gum to ecigs (high street variety) and always returned to smoking. Now I think I know the reason why.
Being a weak-willed person, at some point I always lapse and have a fag. Smoking the cigarette is so much more satisfying than whatever I am doing to try to quit that one cig leads to another, and pretty soon I am back to a pack a day.
Not so with my series 3. Yes I lapsed, but found that smoking a cigarette was smelly, inconvenient, and a much less pleasant experience than using my vaporiser, which I think is down to the quality of the V2 product range.
Everyone is different, but there are a couple of things I have found that may be useful to others.
1. Don't binge. Using the series 3 is so pleasant that I tend to suck on it like a baby's dummy. This leads to a mild headache, and sometimes to a "burnt" taste (presumably because I am vaporising liquid faster than the wicks can replace it.
2. Don't be in a hurry to settle on your favourite flavours. Your senses of taste and smell are recovering, and your preferences will change. Buy a selection pack, and rotate your usage.
Vapour2 have a superb product and unrivalled customer service, but they only get 4 stars from me because I have a problem with the cartridges. These are not reusable, or even recyclable, and so will end up in landfill. Surely there must be a better solution.
EMAIL CUSTOMER


After some research and trying other products decided to try the V2 Pro Series 3 Vape Pen so sent for the stainless steel pen. I am very impressed and haven't touched a ciggy for 2 months now. I was a packet of Menthol a day so have tried various menthol e liquids and like them. Battery life lasts me about a day or day and half depending on usage. Still have the original cartridge but think it is past it's best. Also sent for the blue pen and another cartridge so have always got one fully charged. The only negative is that replacement parts are quite expensive I feel. But, all in all an excellent product and fast delivery.
ENCOURAGEMENT EMAIL