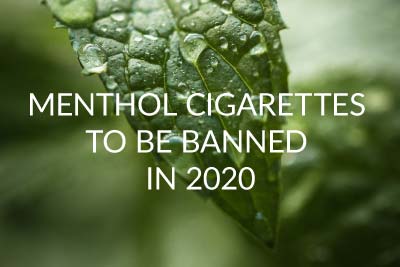 Did you know that menthol cigarettes are going to be banned in Europe by next year? And Brexit isn't going to change this ban hitting the UK either. All flavoured cigarettes will be phased out by May 2020.
This means if you're a menthol smoker, you have less than a year left to find an alternative option. You could start stockpiling now, going on shopping sprees and getting your cupboards filled. Or you could give vaping a try. Much cheaper and easier.
And luckily for you, menthol is considered one of the best flavours of vape juice to get you started.
Menthol Replacement
While most smokers who turn to e-cigs will start with a tobacco-flavoured vape juice, many will move onto menthol for its cleaner taste. If you're a menthol smoker, heading straight for the menthol vape juice is the obvious place to begin.
You are still going to get your nicotine hit with the menthol flavour that you're used to, but without risking the black market for the pleasure.
Vape Juice
First, let's take a look at what makes up your vape juice. Often referred to as e-juice or vape juice, this is the liquid that is inside your vape device that creates the vapour.
The fluid uses propylene glycol (PG) and vegetable glycerin (VG), which helps the flavour and nicotine blend evenly through the juice. These two ingredients make up most of the liquid, with your chosen menthol flavour making up around 10%.
If you are new to vaping, you may need to sample with the levels of nicotine until it tastes right for you. If you are used to smoking around 20 cigarettes a day, then selecting 1.8% is around the right level, 1.2% for mid-level and 0.6% for fewer cigarettes or light cigarettes.
If you are unsure, have a look at your existing menthol smokes box to see what strength level you should try first.
Flavours
When it comes to vaping, you will probably find yourself spoiled for choice in the menthol market. While you've been smoking menthol cigarettes, vape shops have been developing a variety of flavours to suit your tastes. You will find more versatility in the vape flavours.
On Vapour2, you can start with Menthol to match your current cigarette of choice, but may find a Bold Leaf Menthol feels crisper to you. If you want that stronger minty sensation then Peppermint is probably more your style. Finally, there is a Green Tea menthol option that is more subtle in taste.
You will want to have a play around until you find the right menthol taste for you.
Starting Out
If your vaping journey is about to begin then getting a Starter Kit will help you find out what vape flavour is right for you. Vaping can take some testing to settle into your juice of choice. Starter Kits take away the added expense of buying each piece of kit individually and with some, you also get to choose a selection of flavours to get the right taste.
Remember that by May next year, you will no longer be able to buy menthol cigarettes in the UK or Europe. You can, of course, choose to move onto tobacco flavoured cigarettes but vaping gives you a real option of keeping your chosen minty flavour in your life and cutting out all the toxins associated with smoking.
You can find more information about the menthol tobacco cigarette ban here.