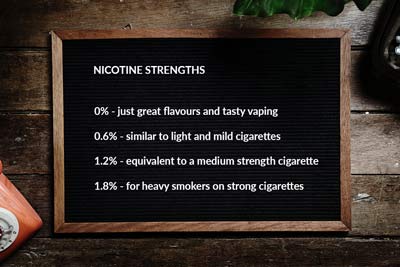 Deciding to quit smoking and start vaping is the first major step on your route to becoming smoke-free. In 2015 PHE said that vaping e-liquid is up to 95% less harmful alternative to smoking tobacco products. Meaning e-cigs have the potential for smokers to become smoke-free altogether. Great news, but when it comes to buying e liquid for the first time, how do you know which strength is for you and what will match your current consumption? An extremely valid and common question among first-time vapers. Let's find out more about the strength of nicotine in your e juice.
Which Strength Of E-Liquid Should You Choose?
Available in a variety of flavours, e-liquid crucially comes in four different strengths to choose from - 0%, 0.6%, 1.2% and 1.8%.
0% - zero nicotine, just great flavours and tasty vaping
0.6% - similar to light and mild cigarettes
1.2% - equivalent to a medium strength cigarette
1.8% - for heavy smokers on strong cigarettes or rolling tobacco
Deciding on what will be your preferred strength will, of course, depend on what you're used to smoking. For those of you that like to smoke light and mild cigarettes, we would suggest starting on the lower strength of 0.6% nicotine strength cartridges or e-liquids.
For medium strength cigarettes, a good comparison would be to choose the middle ground and opt for cartridges and e-liquid of 1.2% nicotine strength. Smokers of stronger cigarettes and those that 'roll their own' with tobacco and papers will want to go for the top-end of 1.8% nicotine strength.
Reducing Or Increasing Nicotine Strength
The way your body feels will act as a great barometer for whether you need less or more. If you're vaping and feeling queasy, it may be that the strength of nicotine in your e juice is too strong and you may need to go down a notch. Alternatively, if you find yourself vaping more to get what you need in terms of a nicotine hit, you may want to try something stronger.
As time goes by, try to gradually decrease the strength of nicotine in your e-liquid until you can reach the achievable goal of getting to that all-important 0% strength. From then on you'll be both smoke-free and nicotine free. Viva la vaping!
E-Liquid Nic Salts
Nicotine salts are an alternative to the conventional e liquid commonly available previously mentioned. Where traditional e-liquid, cigarettes, and other smoking cessation products will predominantly use the purest form of pharma-grade or 'freebase' nicotine, nicotine salts are the naturally occurring compounds found in tobacco leaves.
Freebase nicotine uses ammonia to strip the nicotine salts of their protons to increase the bioavailability of the nicotine, meaning it travels to your lungs, brain, and bloodstream almost immediately.
VSAVI's Premium E-liquid Nicotine Salts are comprised of 20mg / 10ml Nicotine Benzoate Salt Solution, a 50/50 blend of Propylene Glycol (PG) and Vegetable Glycerin (VG) as well as some of your favourite flavours including Coffee Latte, Grape Divine, Strawberry Milk, Juicy Lemonade and Smooth Tobacco.
It's the addition of the food additive benzoic acid to increase the natural nicotine salts' bioavailability as well as providing vapers with a closely similar throat hit and experience of smoking. Compared to vaping e-liquid that uses freebase nicotine, the chemical makeup of the nic salts e-liquid means that it produces the nicotine you need by heating at a lower temperature to that of conventional e liquid which is great for low powered vaporisers and standard e cigarettes.
This ultimately means that you can vape less while still getting the nicotine you need. Ideally suited to individuals seeking a stronger throat hit, as well as those looking to cut out the habit of frequently vaping to curb the cravings that typically come a-calling when you're going through the long quit - why not give nic salts a go?