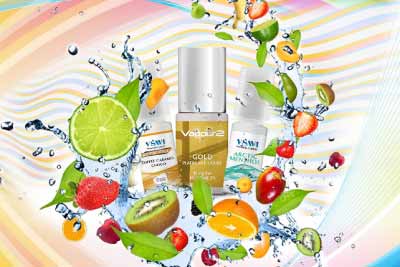 Thinking about quitting smoking and starting vaping? Already started vaping but think you're missing something? The number of vaping accessories and accoutrements can leave any sane individual left in a whirlwind of confusion - it can be difficult enough deciding which vaporiser to start off with, let alone which of the array of colourful and creatively named e liquids you choose. Whether you're just starting out on your journey with e-cigarettes or still finding your vaping feet, it's important to understand that flavour is fundamental in your endeavour to stay successfully smoke-free. Check out this guide to finding your favourite e-juice flavours…
Why Are E-Liquids Flavoured?
We all know that one of the main reasons you get hooked on cigarettes in the first place is because nicotine is a highly addictive substance. Nicotine can be harmful if consumed irresponsibly, but the damage really being done to your body is by the smoke released from the burning of tobacco, and the thousands of chemicals found in cigarettes. That's why vaping is deemed by Public Health England to be up to 95% less harmful than smoking tobacco products.
Vaping is all about heating a typically flavoured e-liquid that contains a nicotine strength enabling you to get the necessary fix of nicotine to curb your cravings as you stop smoking. But why is e-juice available in all these crazy flavours?
Whilst it's important to curb the nicotine cravings, a little-known fact about cigarettes is that they contain up to a teaspoon of sugar. This means that in addition to your body battling the natural and well-known nicotine cravings that we all hear about, it'll also be facing a lack of sugar high – hence manufacturers producing sweet and fruity flavoured e-liquid available to us today.
Which Flavour E-Juice Is For You?
Deciding which flavour e-juice you should choose lies mainly with your palate's natural preferences. Alternatively, you may find that the e-liquid you choose to move forward with will be a flavour you traditionally thought was not for you - either way, ultimately a great way for identifying your future pick is to get one of Vapour2's sample starter packs.
Each pack contains four different flavours of e-liquid from a total of 15 flavoured e-liquids which means you can experiment with a variety of flavours, without making unnecessary purchases that you don't particularly like. Crazy about cola? Gaga for grapes? Find out which flavours we think you'll love, below...
The Old School Smoker
If vaping is your chosen way to quit smoking (and good on you!), then for the first few months you're best sticking to what you know. Luckily, we have a wide variety of tobacco flavours to suit every set of tastebuds, with V2 Red, Gold Tobacco, Sahara and Congress making up a stellar team. If you're craving something more or preferred menthol cigarettes, Bold Leaf Menthol is a great crossover e-liquid, as well as Menthol, Menthol Tea and Peppermint.
The Middleman
You've moved on from tobacco, breezed past menthol and you're on the lookout for more exciting flavours - but you're not quite ready to take on anything too crazy just yet. How about iconic aromas like Cola, Vanilla, Strawberry, Chocolate, or Cherry? Our e-liquids are bursting with sweet, tangy and moreish notes; a world away from the stale cigarette taste you've left behind.
The Vaping Adventurer
Been vaping for a while now and seeking a bit of adventure? The VSAVI 100% VG E-liquids are ideal for those who are craving less of a throat hit but more flavour on their sans-smoking journey. With flavours like Arctic Menthol, Strawberry Cream, Apple, Coffee Cream and Elderflower just oozing mouth-watering essences, you'll feel extremely smug with yourself. Once again, these can be ordered in sample packs so you can try them out before you commit long-term - bonus!
Vaping Level: Expert
Feel like you've tried every flavour on the market and just need something to get you through those last months until you quit for good? That's where the VSAVI Gourmet Range comes in. Allow enticing flavours like Cappucino, Apricot, Coconut, Toffee Choco, Coffee Choco and Tutti Frutti to spoil your palate and make you feel like royalty. After all, you've come this far on your non-smoking journey, why not treat yourself?
The Importance Of Quality E-Liquid
When it comes to buying e-liquid, whilst it might be tempting to go for the most immediate and cheapest option available to you, be wary of what you choose as it might just leave a bad taste in your mouth. In your efforts to stay smoke-free, one of the most important things to do is to enjoy your experience, which will ultimately be achieved by what you vape.
Due to the rise in popularity of e cigs, the unfortunate reality is that you'll probably encounter some pretty cheap and nasty e-liquid out there. What was promised as some sweet-like paradise experience, may well have been made from a range of artificial ingredients that don't actually resemble the fruity concoction at all.
Vaping is all about providing a less harmful alternative to smoking with the premise usually focused on one's health. Vapour2 uses natural flavourings to provide you with a clean and authentically flavoured vape with no nasty aftertaste. Try for yourself and find your new favourite e-juice flavour today.