For this review, we are going to do an interesting comparison between the Elf Bar Cigalike disposable vape and the Vsavi Starter Kit with prefilled cartridges - two vape devices and styles of vaping that bear certain similarities but provide a different outcome as a nicotine cessation tool.
As we know in 2023, disposable vapes are used by millions around the world, and none more so are searched for than Elf Bar. The cigalike disposable they created is one of the closest throw-away all-in-one kits you can get that mirrors a cigarette. To compare with Elf Bar's cigalike, we picked a traditional starter kit from Vsavi, which is quietly making a comeback and could potentially dominate as a market leader in the vaping industry for years to come due to its convenience and affordability. Why you ask? Let's evaluate both devices in the review and how each vape style differs.
Are Disposable Vapes (All in One Kit) Here to Stay?
Before we can compare the devices side by side, we need to understand the varying trends of vaping. Like all cultural phenomena, vaping ebbs and flows with customer patterns. Something may be 'hot' one minute and not so popular the next. For instance, disposable vapes account for roughly 138 million devices sold each year in the UK, but is that figure slowing down?
Well, because of the risks they pose not only environmentally, but also to the youth of this generation, with many seeing their various colours and flavours as attractive to teenagers, calls have been made to completely ban them from the market. With millions of vape batteries discarded weekly (on many occasions not responsibly in recycling), this has created not only a cause for concern but also threatened the future of vaping.
So, with that in mind, disposables could potentially lose their position in the market, leaving a gap despite their considerably useful entry point into vaping from smoking. A convenient device that:
Needs no knowledge of vaping to operate
Is easy to use
Doesn't require a refill of e-liquids or a change of vape coils
Can test a variety of flavours
For many, that disposable nature is similar to smoking and creates confidence in the vaper that they can successfully turn away from cigarettes with a better alternative. One that provides the same minimal-fuss approach. Does the Elf Bar cigalike create a solution or cause a problem?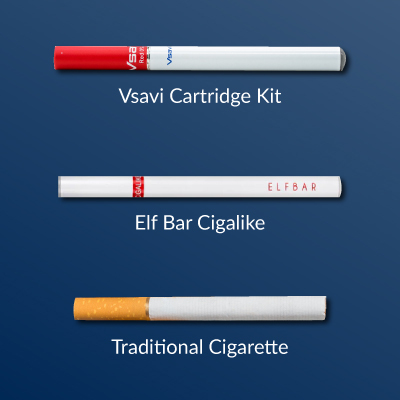 Elf Bar Cigalike – the Closest Disposable Vape Kit to a Cigarette?
At first glance, it looks very similar to a cigarette in appearance. Compact, thin and lightweight, it feels remarkably close to the sensation of smoking, without inhaling combustible tobacco of course, but still getting your nicotine hit. Available in a 20mg nicotine salt (also referred to as nic salts), you receive a similar sensation throughout the day as you would from a heavy smoking habit.
Available in different flavours such as apple peach and strawberry kiwi, there are lots of fruity flavours to try. Plus, you have more traditional flavours like creamy tobacco and spearmint to ease your transition.
The Dilemma
However, the battery of the Elf Bar Cigalike for a single-use disposable vape is on the small side and offers no chance of recharging. With a 1.6ml e-liquid capacity, you get only 400 puffs for roughly £4.
It's still less than a packet of cigarettes but not an affordable long-term option for many, despite its convenience. The battery capacity is 280mAh, which would only last a mouth-to-lung vaper for roughly one day with moderate use.
So, what do you do? Could a prefilled cartridge or pod be the answer? For many, while convenience is of paramount importance, so is value and sustainability.
You want something that resembles a cigarette and helps you achieve your goal of nicotine cessation, but also something better for the environment that uses fewer batteries.
And with the way disposable vapes are critiqued in the media, it may be wise to move away from them before they are completely removed from the market. Could the Vsavi starter kit act as a long-term solution?
Vsavi Starter Kit with a Prefilled Vape Cartridge – a Better Alternative Than a Disposable Vape?
The Vsavi starter kit is the quintessential throwback cigalike device. Still going strong as one of our best sellers, there is a clear market for vape cartridges containing nicotine. Recently, we have seen the rise of pod kits because they offer the disposable nature of a disposable vape kit, but you get to keep the battery. Bonus!
Compact but thicker than a disposable vape or vape pen, pod kits have larger battery capacities. However, they do not bear a true resemblance to a cigarette. They are often not prefilled like disposables, meaning you have to buy the liquid and then change the coil yourself too.
In contrast to disposables and pod kits, the Vsavi starter kit, or cigalike, offers all the convenience of a disposable and the sustainability and durability of a pod kit. They are super compact and thin like a cigarette ( as you can see from our accompanying video review below) with slightly less battery capacity than the Elf Bar cigalike, with a 250mAh battery.
But what we prefer from the Vsavi starter kit is it being rechargeable. Plus, you can select between an automatic draw or manual fire button vape (which you can rarely do with a disposable).
What About the Vape Cartridge/Disposable Flavours and Other Features?
The variety of cartridge flavours is plentiful, like with the ElfBar Cigalike. Additionally, there are fewer sweet flavours to attract youth to vaping with the Vsavi prefilled cartridges and more targeted tobacco/menthol flavours helping smokers to transition with ease as a like-for-like replacement.
What's also useful is the larger variant of nicotine strengths. The Elf Bar Cigalike and the rest of their disposable ranges are either 20mg nic salt, 10mg nic salt or 0mg at the final stage of vaping. Not much to go by for some vapers!
In comparison, the starter kit from Vsavi offers nicotine strengths with traditional freebase nicotine of 1.8% (18mg), 1.2% (12mg), 0.6% (6mg) or the 0% option, which has its advantages. Therefore, you have more choice when you first start and can cut down your nicotine levels in a less drastic manner.
Each vape cartridge from Vsavi is lightweight and the batteries are available in different dimensions and colours (traditional white to match a cigarette, black or silver) to select what suits your preference.
Charging time is between 2-3 hours which is not quick, but the whole kit is set at an affordable price in different bundle options, including prefilled cartridges with the kit( ideal for beginners), in addition to bulk buy options of vape cartridges, which are popular to save more money long-term.
Final Thoughts - Are Disposable Cartridges and Pods the Present and Future?
If you had to decide right now in 2023 which is better, there could be an argument for all formats of vaping, whether you like disposables, pod kits or classic starter kits with prefilled vape cartridges. Each has its benefits and drawbacks.
What we're seeing is a current trend for disposable vapes because they're easy to use and packed with high-concentration flavours and sweeteners, making them addictive. They're available everywhere but also have many negative aspects, like environmentally and socially as we mentioned previously.
Pod kits are also popular right now, but the lack of features with some or the nature of the device (bigger dimensions) could put off some vapers from quitting smoking.
With a vape cartridge device that offers prefilled e-liquids containing the coil/atomiser already, plenty of flavour choices, convenience and affordability while being better for the environment, they do tick a lot of boxes.
In terms of pitting the Elf Bar Cigalike against the Vsavi Starter Kit for the purpose of this review and as a background for the bigger picture (industry as a whole), both are excellent devices that serve different purposes.
Whichever you choose now can help you quit smoking, but a market for disposables may not be around in the next one, two or three years.