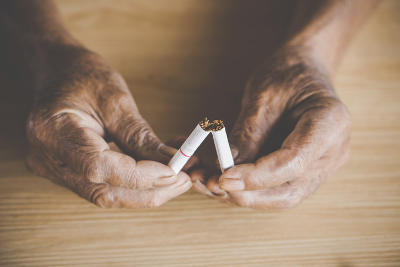 If you are looking to stop smoking, but haven't quite managed to muster the energy to fit cessation into your schedule as of yet, then why not join thousands of like-minded smokers this October and take the Stoptober challenge?
Led by Public Health England and the NHS, and supported by all here at Vapour2 , Stoptober is a nationwide annual event that encourages smokers to become smoke-free for 28 days in October with a view to quitting completely once the month is up. Those taking the challenge can engage with various aids that will support and assist you on your way to becoming smoke-free via the NHS website.
Why quit? Simple - feel healthy, save money, and protect your nearest and dearest from the dangers of second-hand smoke. It sounds pretty straightforward, but we know exactly what it's like when you attempt to stop smoking and how difficult it can be to become truly smoke-free.
The addictive routine and nature of nicotine can cloud the senses in more than one way. Whilst the obvious senses like taste and smell may wane, your sense of judgement can also be impaired and it's easy to forget what it was like to have the extra cash to splash or for your loved ones not to wince once you've stepped inside, fresh from stubbing one out. It's going to be a tough road to travel, however, support is on hand and the advantages and benefits you'll feel when you finally quit smoking will seem a just reward for the hard work you're about to put in.
So how can you stop?
Simply head on over the NHS's dedicated page on all things Stoptober and sign yourself up to the challenge. Upon signing up, you'll be sent a rather handy personalised quit plan providing you with a step-by-step guide to getting the right support based on your previous attempts at quitting.
Going cold-turkey may work for some, but the truth is that the withdrawal process is one that should be treated with respect for the sake of your mind and body, so make sure take the time to address the very real feelings you're about to experience and help yourself when you need it.
Find out about ways to seek expert face-face-support where you'll be able to discuss tips to help you quit as well as a range of prescription medicines that may work for you. In addition, discover how to curb your cravings with a plethora of products designed to help you on your journey; from gum to e-cigarettes and patches to sprays - these new found friends are here to keep you company this Stoptober. The Vapour2 Starter Pack is completely budget friendly and gives you the chance to try six different flavours and find out what you like.
Like to feel like you're getting somewhere? Keep track of your progress by downloading the Stoptober app, showing you how much money you're saving as well as providing daily support when you need it, wherever you need it.
Be inspired and read first-hand accounts from people just like you who have been there done it and are proud to say that they're now smoke-free. It can feel like a lonely journey sometimes, but fear not for a cohort of thousands upon thousands of fellow Stoptober citizens are with you.
Go forth, stub it out and stop smoking. You can do this.