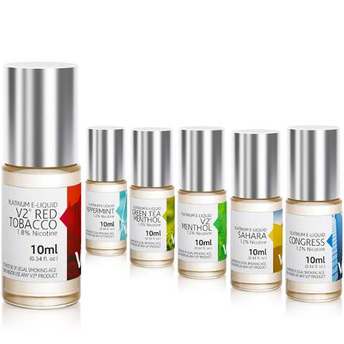 If you're in the market for some more e-liquid, there are some considerations that have to be made. You can, of course, buy what you normally buy. Whether you are used to placing an order online or purchasing from a vape shop, you likely already have something you are used to. It's also very likely that what you are used to is simply what you fell into. It's the first or second e-liquid you ever used. It worked, and so you kept buying more.
That doesn't mean it's the best for your needs. You may have come to this conclusion already and decided to go out looking for more e-liquid. Better e-liquid. In fact, what you really want is premium e-liquid. It's a term that you've doubtlessly come across already, but it isn't a defined one. So, what is premium e-liquid and what makes it that much better than regular e-liquid?
Key Differences
Before we get into these differences, you should know that there is one aspect of e-liquid that will always be the same. That would be the propylene glycol (PG) or vegetable glycol (VG) ingredient . There really is no such thing as premium PG or VG, as they are always made the same way. After that, there are some key differences.
Flavouring. This is what it's about, right? The flavouring is what you are most likely looking for when you decide to go hunting for new e-liquid. Premium e-liquid will clearly taste better than regular e-liquid. That's often because there are taste masters that are constantly working to create, and perfect, e-liquid flavours. If you want to really experience vaping as it should be, you'll want superior flavour.
Testing. Besides testing for flavour, premium e-liquid will be tested up, down, and sideways. It will get tested for quality. It will get tested for vapour thickness. It will get tested for throat hit. Anything that can make your experience better (or worse), it will be tested for and adjusted accordingly. That's how you make sure a premium e-liquid lives up to that lofty "premium" billing.
Packaging. Laugh all you want, but packaging matters. It matters twofold. First, there is the simple fact that glass or high-quality plastic bottles are not as porous. That means they aren't going to distort the flavour of e-liquid over time, which cheaper bottles can do. Secondly, you know a company is taking their e-liquid seriously if they create beautiful packaging to show it off. It's not always the case, but it gives you a good indication.
Spotting Premium E-Liquid
This brings us to our next point. How do you spot premium e-liquid? Anyone can call their e-liquid premium, but what indications should you be looking for to verify their claim? As we mentioned, the packaging will at least give you an idea of if the company takes itself, and its products, seriously. The next thing you should do is check out the ingredients. Make sure there isn't anything that looks funny, and perhaps look for some signs that they are using high quality flavourings.
Yet, doing so can be tricky. That's why we would recommend doing some research on your own first. There are plenty of reviews that you can look at that can describe people's experience with different e-liquid. Remember that flavour can be subjective, but it will give you a better overall idea. Or ask friends that you trust, and perhaps try out their own liquid.
Lastly, you can simply go for a well-known brand that is already known to produce premium e-liquid. There aren't any risks involved when a company has a track record for making great products, and especially so with premium e-liquid. We would of course point you to V2's best e-liquid choices as a great option for you. Regardless of how you find it, make sure you are always choosing top quality e-liquid to get the most out of your vaping experience.