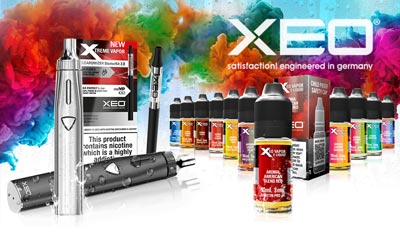 Renowned for their high standards and exceptional quality, XEO are a German-based manufacturer of vaping products that possess style, sophistication and some seriously great vapour. Let's take a look at some of XEO's best products exclusively available online.
XEO Clearomizer Starter Kit
Are you new to the world of e cigarettes and vape pens? Looking for a quick way to quit smoking and start vaping? The XEO Clearomizer has a slim design similar to an e-cigarette but comes with all the benefits that will enable you to easily manage and control your vaping experience.
Featuring an 280mAh lithium-ion battery, the XEO clearomizer, provides enough power for you to enjoy a full days vaping. Such a powerful battery means that once the day is done, all you need to do is plug your pen into re-charge with the USB charger included in your starter pack and get ready to vape again the following day.
As opposed to traditional e-cigs that might come with a disposable cartridge, the XEO Clearomizer includes a refillable clearomizer that you can fill with your favourite e-liquid. Cutting down on packaging and waste, refillable mini tanks are the way forward for eco-conscious folk looking to reduce their carbon footprint and love mother earth that bit more. Leak-free, refillable clearomizers will typically last 15-20 refills before the quality of your vape starts to diminish but have no fear, for replacement clearomizers are easily available form both Vapour2 and Pure E-Liquids.
Uncomplicated, straightforward and super easy to use, the XEO has an automatic start-up function that means all you need to is purse your lips to the tip and inhale as you would a traditional tobacco cigarette. Costing £24.99, this is a starter e-cig kit well worth your time and attention.
XEO Void Vaporizer
One of the only mods available that is suitable for both novices and experienced vapers alike, the XEO Void combines the power and technology of a mod box and fits it into a discernible and discreetly sized vape pen. Robust in design, the XEO Void caters to those looking to produce thick plumes of vapour without the fuss of fixing up all the gear required to get a box mod going.
Powered by a 1500 mAH battery, the XEO Void comes with changeable atomizer heads that are capable of both sub-ohm vaping and standard vaping. The 0.6 Ohm atomizer head is perfect for those using high VG e-liquids who will be looking to produce huge vapour clouds and experience great flavour. Alternatively, the 0.1Ohm atomizer head is well suited to those who may be making the switch from smoking to vaping. Available in 9 colours, discover a versatile vaporizer to suit your style and your senses.
XEO E-liquid
Now that you've found your new favourite vaporizer, why not pair your new device with some XEO e-liquid? Available in three nicotine strengths (0%, 0.6%, 1.2%), choose from 10 flavourful choices in the XEO Aroma range. What will your favourite flavour be?
XEO Aroma e-liquid: American Red Tobacco, American Gold Tobacco, Cherry Banana, Cherry Lime, Coffee, Grape Mint, Grape Pear, Mango Pear, Peach Brandy and Virginia Honey)


Buy XEO Exclusively Available Online
Now that you know all about the versatility, reliability and well, just how great the XEO product range is, you'll surely be wanting to peruse and purchase a vape pen and vape juice for yourself. Exclusively available to purchase online in the UK at Vapour2 and Pure E-Liquids, why not see for yourself just how great the XEO Cleaomizer Starter Kit and VOID Vaporizer really are.