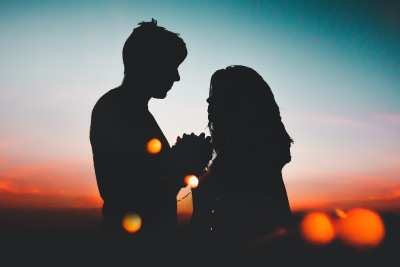 Looking for love? We're not sure it's completely ethical or entirely within our remit to provide that kind of service here, but if you're a smoker or you know someone that smokes - we may be able to help improve yours and your friend's chances of being romantically acquainted this Valentine's Day with an e cigarette.
Vaping This Valentine's Day
For singleton smokers wondering why the dating scene's been a little bleak as of late, you should only need to look as far as the cigarettes you smoke for the cause of your dry spell. Did you know that body odour plays a major part in sexual attraction? If you've been a smoker for some time you may have encountered a loss of smell and taste which makes it easy to live blissfully unaware of the odorous smell that might surround you.
But for non-smokers, the smell is a very real one typically met with disdain. By quitting the cigs, your senses will be elevated and your scent radically improved which means finding that someone special potentially a little easier than it was when you once smoked. Besides, you will already start to feel the benefits after your first day of quitting smoking, just think about what you will expect after the first week vaping.
Giving the Gift of Vaping
If you're in a loving relationship and one of you is a smoker, date nights and evenings can often be interrupted by one of you needing to pop out for a fix of tobacco. Not to mention the feeling of kissing an ashtray for those that don't smoke. Wouldn't it be nice if you were both in the same boat, leading happy and healthy lives? Smelling better, tasting better – sounds good, doesn't it?
Whether it's a daily reminder in your ear to stop smoking or the silent guilt trip every time you pop out for a 'breath of fresh air', it's almost a certainty that if love is the name of the game, then one of you will be unhappy that the other smokes.
If you're serious about your relationship being a smoke-free one then why not ditch the flowers and aftershave and opt for an e cigarette starter kit instead? Easy to use and quick to set up; pick a sample pack of flavoured pure e-liquids and spend the evening trying out the various options available. From grape to cola and coffee to chocolate it's important for whoever is trying the e-liquid for the first time, that they find something suitable for their palate and ultimately enjoy the experience in order to satisfy any cravings and stay smoke-free.
Staying Smoke-Free for Your Future
While the aforementioned benefits of vaping over smoking are wholly appealing when it comes to sharing those intimate moments of passion in the now, but what tomorrow and what about the future? If Jane or John are your intended forever-afters then it's feasible you may want to consider a family.
Did you know that e-cigarettes are up to 95% less harmful than smoking traditional tobacco products? According to Public Health England vaping has the potential to help smokers become altogether smoke-free. It's no secret that smoking kills accounting for 16% of all adult fatalities in England. This is why it's important to ditch the cigarettes as soon as possible and switch to vaping.