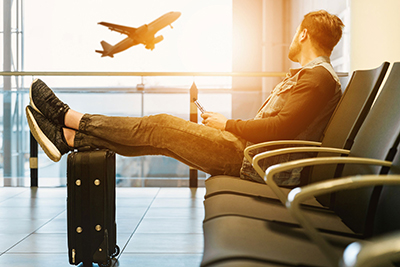 If you're thinking about booking some time off to jet away on holiday in the foreseeable future, it's important to remember that vaping laws vary from country to country. From the UAE to the USA, vaping times are a-changing - let's take a look at some of the latest e-cig news from around the world.
In addition to the variety of global legislation regarding vaping, the laws are also prone to change. Whether it be a decision based on the realisation that vaping provides a viable way to become smoke-free or alternatively, concerns about the ability to regulate an ever-growing industry in a responsible way befitting the health of their consumers, vaping around the world can be confusing if you don't keep up.
Here in the UK, Public Health England supports independent evidence that states that e-cigarettes are significantly less harmful than smoking tobacco products. However, elsewhere in the world, countries may not necessarily take the same approach.
San Francisco set to ban e-cigarettes
As the US looks to crack down on what some report as an epidemic of underage vaping, San Francisco has proposed legislation that would see the sale and manufacture of e-cigs banned on city property.
The first such legislation to be proposed in the US, it seems officials are looking for clarity from the USA government regarding the health effects of e-cigarettes and e-liquids. The US's national regulator, The Food and Drug Administration (FDA) only recently proposed guidelines that will give e-cigarette companies up until 2021 to submit their products for evaluation.
Those critical of the proposed legislation cite the impact such a ban will have on those that have used vaping as a way to quit tobacco cigarettes and become smoke-free.
It's unlikely that such legislation will take place overnight, so if you're a vaper and you've already booked your dream holiday to see the sights of San-Fran then fear not – just watch this space for updates.
Hong Kong gets tough on e cigs
The recent move by the Hong Kong Government to ban e-cigarettes and vaping looks set to step up a gear, as new legislation intends to impose hefty punishments for those caught vaping, selling or promoting e-cigarettes.
Punishments suggested include imprisonment for up to 6-months, as well as harsh fines for offenders. Once the ban comes into effect, vapers will be still be allowed to consume their e liquid at home, however, once the supply runs dry and they attempt to buy more, they will be penalised.
Love to vape and going to Hong Kong? We would say vape with extreme caution or not at all.
UAE to allow vaping
A welcome nugget of news is that the UAE will begin to allow the sale of e-cigarettes with devices to be made available to the public as of mid-April 2019.
The Emirates Authority for Standardisation and Metrology (ESMA) has published a set of standards and regulations for manufacturers and distributors, regarding things like technical specifications of devices and ingredients used in e-liquids.
To avoid getting caught in a sticky situation with your e cig this summer, we would always recommend checking out the rules and regulations of your intended destination.