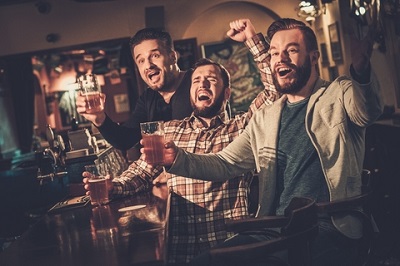 Going out with your mates? How about a date with your partner at the local pub? You're going to want to bring your wallet or purse, and your vapour device. Everything else isn't that important. A night at the pub is a smashing way to have a good time. We don't have to tell you this, we're sure you already know it. What we're here to do is help you decide which e-liquid flavour you should bring with you.
Whether you are filling up your tank for a night full of vaping, or choosing some premium e-cig cartridges to bring along, you'll want to be prepared. Flavour is important, and matching your e-liquid flavour with your drink is simply a smart thing to do. Some things go better together than others, so let's give you a rundown of how you can match some of the most popular drink items at your pub.
Beer Matching
First thing's first: beer. We love beer in the UK, and who wouldn't? Some of the best beers in the world are brewed right here. Of course, we also have imports from across Europe and the rest of the world. If you're a beer drinker and a vaper, you have many options. Here are our favourite flavour matching opportunities for beer.
Stouts. In this category we include Guinness, although it almost needs a sub-category of its own. Stouts are heavier and tend to be more bitter. That's why we like to match their intense flavour with Sahara e-liquid. Its subtler tobacco flavour will enhance your stout rather than overwhelm it.
Ales. There are a few directions you can go with ales, who can be a little more varied in flavour profile than stouts. We would match lighter ales with Gold Tobacco for its robust flavour makeup. For ales that have a more intense flavour, we would opt for Congress for its smooth yet prominent taste.
Wine Matching
Sometimes beer isn't what you're having at the pub. Perhaps it's time to raise a glass to something and wine is always good for that. For a change of pace, crack open a bottle of red or white wine with friends. Just makes sure you match it with the right e-liquid.
Red Wine. Depending on the intensity of your red wine, you'll have a number of choices. For a nice glass of red, we would favour a flavour such as Sahara, which resembles French or Turkish tobacco. For a simpler red, you can also match it with a fun flavour such as Vanilla or, the obvious choice, Grape!
White Wine. Light and refreshing, white wines are good all year round, and especially during summer. Match the fun of a white wine with something unique such as Green Tea Menthol for a surprisingly perfect flavour pairing.
Alcohol Matching
Then you have alcohol. Sure, beer and wine are alcoholic, but the below options feature the flavour of alcohol more prominently. Whether you are a whiskey aficionado or simply need a stiff drink, always be prepared with the right e-liquid to accompany your alcohol.
Vodka. If you're having vodka straight up, you know the flavour is prominent but not necessarily deep. This gives you the opportunity to pair it with Peppermint for a refreshing jolt, or Cherry for a sweeter one.
Whiskey. If you're paying for a good whiskey, you don't want to disrupt its flavour. You may be used to smoke filled rooms and glasses of whiskey, which is why you should swap out the smoke with the vapour from our strong and bold Red flavour. It'll give you the full experience.
Cocktails. Then there are times when you want a mixed drink, otherwise known as a cocktail. Here your options will vary depending on the cocktail, but Cola is a good choice for something like a rum and coke. While fruitier drinks lend themselves to Chocolate or even Coffee.
These are only flavour suggestions and we encourage you to mix and match your drink with different premium e-liquid flavours and strengths. They're a good place to start, but individual tastes (and strengths) vary. Whichever way you go, just make sure you never leave behind your vapour device when heading out to the pub. Drinking and vaping have never been better together. Cheers!