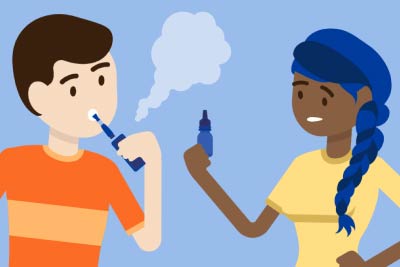 If you vape, then the likelihood is that you're doing so to help you quit smoking and lead a healthier lifestyle. But how old do you have to be to vape? And what are the consequences for the vendors who sell to those who are underage? Does the UK have an underage vaping problem? Let's take a look.
What Is The Legal Age to Buy Vape Products in the UK?
A relatively new way to quit smoking, e-cigarettes have increased in popularity in recent years. While there were no such regulations in place when vaping came to the fore in the early 2000s, the legal landscape for vaping manufacturers and retailers has since, become suitably stringent, aligning its laws appropriately with that of tobacco products. Ensuring vaping products are intended for a specific group of society, namely smokers and ex-smokers. In the UK, our vaping laws are governed by the European Union Tobacco Products Directive (TPD), which is translated to UK law via the Tobacco and Related Products Regulations (TRPR).
As such, the legal limit for selling vaping products which include items such as nicotine-based e-liquid, nicsalts, e-cigs, vape pens and vape pods is strictly prohibited to those under 18 years old. Additionally and similarly to alcohol and cigarettes, it is illegal for adults to buy vaping products for those under the legal age limit. If you're a vendor and flout the rules by selling e-cigarettes and vape products to those under 18, you can expect a hefty fine of up to £2,500.
The good news is that if you're a smoker, whether you're 18 or 80, vaping can provide you with a far less harmful alternative to smoking tobacco cigarettes.
Is Underage Vaping in the UK a Problem?
You may be aware that across the pond, the US is facing somewhat of an underage vaping epidemic, which has subsequently led to federal bans on certain flavoured e-liquids. With 28% of US high school students and 11% of middle school students admitting to vaping in 2019, the concern for underage vaping in America is certainly a justified one, with an estimated 5.2 million teens already vaping. A staggering figure that exceeds the estimated number of adult vapers in the UK, there are currently several lawsuits being filed against vaping manufacturers who are accused of marketing their products to an underage audience.
But how about closer to home? What is the reality of teen vaping in the UK? On the surface it seems not, but when you delve into the details, some areas of the country have more of a problem underage vaping than others. Research estimates that 5% of 11 - 18 year-olds vapes in England, however according to NHS figures, there does seem to be a relatively stark North-South divide taking place. From a survey of 13,000 children, a fifth of 15 year-olds in Yorkshire and Humber are vaping, with almost 10% of those kids admitting to vaping at least once a week. In comparison, less than 3% of kids in London and the South were found to be regular vapers.
Vaping to Help Quit Smoking
With an estimated 3.6 million vapers in the UK, it's safe to say that vaping has become a go-to tool to help smokers quit. With research suggesting e-cigarettes may be up to twice as effective as traditional stop smoking aids such as gums and patches, Public Health England (PHE) have even published independent evidence that shows vaping can be up to 95% less harmful than smoking traditional cigarettes.
If you smoke and are trying to quit, vaping may prove to be the tool that you've been looking for all this time. To get started, you'll need a few pieces of equipment which include a battery-powered device like an e-cig or vape pod and e-liquid. Rather than obsessing over which device to choose, from the multitude of devices that exist, opt for a basic starter vape kit that will let you discover which kind of nicotine strengths and flavours of e-liquids will suit your tastes, in an affordable and fuss-free way.
It should be noted that if you do not smoke, then it is strongly advised that you don't start vaping. Yes, vaping is significantly less harmful than smoking cigarettes and contains a fraction of the carcinogens that are harmful to human health, but it is not free from danger. If the nicotine bug has not already caught you, then it is recommended that you remain free of its addictive nature.