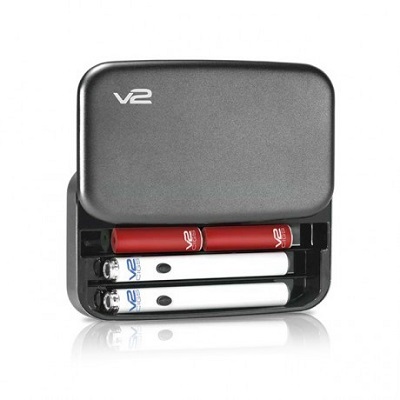 E Cigarette Cases
Keeping your vaping equipment safe and protected on the go is a topic we've seen crop up time and time again in the vaping community so we thought it was a great opportunity for us to share our thoughts on how to protect your vape gear while you're out and about.
The majority of vapers vape throughout the day so it makes sense that we usually have our e-cigarettes on us wherever we are, whether it's at work, an evening out or just on a country stroll at the weekends. While the majority of e-cigarettes are designed to be portable, that doesn't mean you can just pop them in your handbag or pocket and forget about them. Keeping your vaping equipment in a properly designed carry case is the best way keep both you and your vape gear fully protected on the go.
It's important to remember that you should never carry loose batteries or equipment in your pocket or in a bag. They should always be tucked safely into a carry case that's designed specifically for e-cigarettes. While the risk of a battery overheating or short-circuiting might be slim, it is a possibility and we urge you to take every precaution to remove any accident risk. Our team is always on hand to answer any queries you might have about e-cigarette and battery safety, so please get in touch with us via one of the methods on our Contact page if you're ever unsure about any element of e-cigarette safety.
What Did You Have to Say?
Each week on our Twitter page we run a vaping-related poll and a couple of weeks ago we asked you how you protect your vaping equipment on the go. The results were as follows:
32% - In a coat/trouser pocket
27% - In a dedicated carry case
25% - Loose in a bag
16% - In a makeshift carry case
We were incredibly surprised to read that only 27% of those who responded carry their vaping gear in dedicated carry cases. A whopping 57% don't use any sort of carry case and, instead, carry their gear in a clothing pocket or handbag.
Of course, a Twitter poll only caters to those who saw the poll when it was running but we were still shocked to see so many vapers carrying e-cigarettes and batteries loose in their pockets. It shows that there's a definite need for ongoing education about e-cigarette safety and we hope reading this post today prompts you to consider storing your equipment safely if you haven't been already.
What Are Your Options?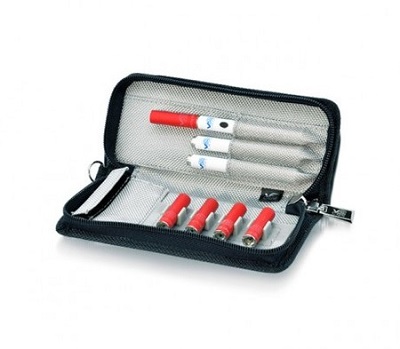 Our suggestion is to always carry your equipment in a carry case that has been designed for e-cigarette storage. Metal carry cases are the most robust and long-wearing but there are many soft case and leather options available. As we always say, play around with things and see what works best for you. For example, you might prefer a soft case for your coat pocket and a hard case for use inside your handbag or briefcase. The main thing you need to ensure is that the case is designed specifically for use with e-cigarettes.
We currently offer two options: the metal carry case and the soft carry case. The metal carry case is sleek, light-weight and designed to hold up to two standard (or short) batteries and two flavour cartridges. The sliding cover keeps your cartridges and batteries safe and protected, and the size means you can always carry a spare battery.
Our soft carry case is made from a durable fabric that contains slots for three batteries and up to four flavour cartridges. There's also a mini pocket for other accessories and a hidden sleeve where you can slot some cash or business cards. This is a great option if you're going to be out of the house for a particularly long day and might not have time to recharge your battery while you're parted from your charger.
*
We hope today's post has helped you understand the importance of always storing your vaping gear correctly when you're out and about. We never want any vaper to suffer from a vaping accident and hope that stressing the importance of e-cigarette safety will inspire you to pick up a carry case and keep both you and your e-cigarettes protected at all times. As we said before, we're always on hand to answer any questions you have about vaping and e-cigarette safety, so don't hesitate to get in touch with our friendly team for more information.