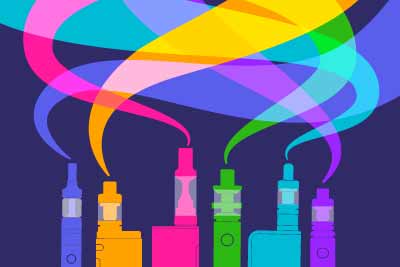 A forgotten consideration for most vapers, airflow can be a make-or-break issue for many devices. Whether you're a casual vaper or a seasoned cloud chaser, ensuring that your e-cigarette can provide a healthy airflow is absolutely essential.
That's why we have worked so hard to ensure that the airflow on our devices offers a smooth and easy draw, improving the vaping experience for everyone.
How Does Airflow Affect My Vaping
Simply put; the better your airflow, the better your vaping experience. Almost all devices work by using heated coils to vaporise your chosen e-liquid. Once it's hot enough, drawing on the device allows you to effortlessly inhale and exhale, smoothly producing your vape cloud and providing a hit of flavour, nicotine, or whatever you're seeking from your chosen product.
But the ease and concentration of the vape can vary considerably depending –on the airflow of the device. If your device has a good range of airflow, it allows you to decide on the intensity of your draw and the size of the clouds you produce. Better airflow will result in bigger clouds and a slight drop in flavour as your lung capacity is increased and the potency of the e-liquid is diluted. This then works the other way, with reduced airflow producing a smaller cloud but ramping up the taste and strength of your hit.
Every regular vaper knows the frustration of a weak airflow. This can result in an unsatisfying 'choked' vaping experience that stops your breath and can even force your device to overheat due to a dangerous inability to cool.
What options do I have for controlling my airflow?
Choosing a vape with high quality airflow control is essential for all users. Of course, we know that no two users are the same, which is why any good vape designer should come up with a range of devices that suit all tastes. These broadly break down into three core categories, which include-
Cigalikes: Built to emulate the look and feel of a cigarette, cigalikes provide a familiar vaping experience that's as close to lighting-up as possible, albeit without the harmful smoke. In order to eliminate airflow issues, our version of the device has a built-in atomiser that prevents obstructions and ensures nothing blocks your airflow when taking a puff. Simple to charge and easy to clean, the device is perfect for anyone who wants a reliable vaping experience with minimal upkeep. If you want a little more kick, choosing a device with an advanced battery will help you enjoy improved power and ensure there are no interruptions to your experience.
Vape Pens: This is the next step up for those interested in controlling and customising their airflow. Any vape pen should allow you to customise your airflow so you can have it exactly as you like it. Our Vapour2 model comes with a dedicated air intake ring that lets you manually adjust your airflow and find the right level for you. This model also allows you to try loose-leaf extracts alongside e-liquids, deploying a ceramic atomiser make sure nothing will block your airflow. By using our range of fine grinders, you can further protect your vape from any obstacles or obstructions that could ruin your experience.
Discover Prefilled Cartridge Starter Kit
Box mods:Combining a compact form and raw power, box mods are perfect for experienced vapers who want a premium vaping experience. Commonly used by cloud-chasers, all devices should have an option to fully manage the airflow as well as wattage and temperature. A good place to start for many is the Cosmo series that uses a variable airflow system. This allows you to easily switch between direct-lung or mouth-to-lung vaping and easily control your airflow and intake.
If you want to find out what other options you have for managing your airflow, you can check out our full selection of pens and box mods to see which one may be right for you. Or, if you have any burning questions and queries, you can get in touch with our team directly team@buyv2cigs.co.uk and let us know exactly what you need to get the most out of your device's airflow.