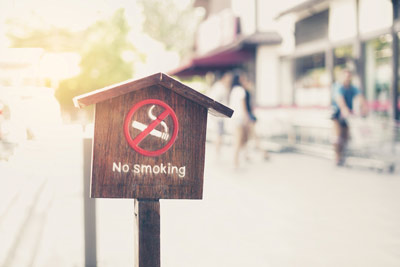 Combating Smoking Around The World
Unless you've been living under the rock, the news that smoking tobacco is bad for you, seems as much of a revelation, as the news that the earth is round (though even that sparks debate amongst the most fervent of conspiracy theorists out there). Whilst we know that burning tobacco releases thousands of carcinogenic materials into our bodies, and is responsible for millions of deaths every year on a global scale, the manufacturing of cigarettes is still a relatively big business.
As sense begins to edge slowly but surely to the centre of the stag, are we starting to find common ground when it comes to smoking? From e-cigarettes to outright bans on tobacco let's find out who's who when it comes to how countries around the world are combatting smoking.
Current And Upcoming Smoking Changes Globally
UK
Starting at home, the UK is one of the leading lights of the e-cigarette industry, with an estimated 3 million vapers ditching their cigarettes and making the switch to the less harmful alternative of e-cigarettes. In 2015 Public Health England declared e-cigarettes to be up to 95% less harmful than tobacco as well as potentially aiding smokers in their efforts to quit smoking altogether.
Singapore
Sensible non-smokers in Singapore have been campaigning against tobacco products for some time and lead the charge for a tobacco-free generation(TFG). A social movement led by doctors, medical students, teachers and volunteers, TFG connect with schools across the world to educate and encourage young people to make a difference amongst their peers.
Thailand
Similarly, to many countries in south-east Asia, since 2014 Thailand has seen an enforced ban on e-cigarette devices and e-liquids, with vendors and smokers being presented with large fines or jail time of up to five years. But is this all set to change? The Ends Cigarette Smoke Thailand group (ECST) have recently filed a request asking for this ban to be reconsidered to allow the tens of millions of smokers that exist in the country to be afforded a potentially less harmful route to abating their nicotine addictions.
Finland
Folk in Finland have been waging war on tobacco products for some time and have an ambitious target of becoming the first county in the world to eradicate smoking altogether by 2030. Their method? Simply to make tobacco products so unaffordable that it becomes an unviable past-time. Whilst e-cigarettes are legal, Finland has a ban on any fruit or sweetly flavoured e-liquids.
Scotland
Whilst Scotland is part of the UK, the country stands on their own two feet when it comes to smoking. Scotland's charter for a Tobacco Free Generation is an initiative that endeavors to reduce the harm by caused smoking and to create a tobacco-free-generation by 2034. Part of this program has seen a recent smoking ban implemented in the Scottish Prison system, with prisoners presented with free e-cigarette kits as a less harmful alternative.
New Zealand
Earlier this year, New Zealand followed in the footsteps of the UK and USA, by lifting their ban on e-cigarette products and encouraging vaping as a way to combat smoking.
Australia
As Australia lie in the wake of the majority of western civilisations liberal stance on e-cigarettes, insiders and politicians are now starting to lobby and discuss the potential lifting of their ban on vaping to encourage smokers to quit smoking. In 2014, the island of Tasmania campaigned staunchly to impose a ban on the selling of tobacco products to those born in the 2000 and thereafter, to effectively create a smoke-free-generation.
Hong Kong
Hitting the headlines in recent weeks has been Hong Kong's new Chief Executive Carrie Lam Cheng Yuet-Ngor who in her second public address took the hard-line of proposing the banning e-cigarettes and new tobacco products, followed with a call to outlaw tobacco cigarettes altogether.
With the rise of e-cigarettes to combat smoking globally, the demand for finding the best e-liquid is vastly booming.