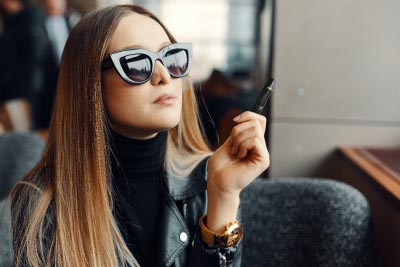 The Vapour2 PRO series was launched to bring you stylish vaping products that produce fantastic taste and first class functionality. Designed to cover a range of needs, there's bound to be something for every vaper. Let's take a closer look at the renowned PRO Series, one of our most advanced vaporizers.
What is the Vapour2 PRO Series?
The Vapour2 PRO series is comprised of thirteen different vaping products and accessories that cater to different budgets and types of vaper. Whether you're looking for a sleek, slim vape pen to use on the go, or a 3-in-1 vaporiser that's originally suitable for use with e-liquids, dry herbs or wax, then you'll find something suitable in the PRO range.
Vapour2 PRO Series 3
A lightweight vaporizer that gives the taste and battery life you'd expect from a much larger device, meaning you can have the best of both worlds.
The PRO Series 3 is optimised for use with e-liquids but it does offer 3-in-1 functionality, allowing it to be enjoyed with both wax and loose leaf products if you purchase the appropriate cartridges.
Our Series 3 kit provides you with everything you need to get started with this nifty little device for under £50.
We've been so pleased with the response to the Series 3 and we're glad vapers are enjoying the lightweight design as much as we hoped you all would. We've received some fantastic feedback from tech magazines Gizmodo and T3, who both had great things to say about the PRO 3.
"Less than a second, your mouth fills with thick piles of vapour — it's crazy, you don't even need to inhale. The thing produces vapour." - Gizmodo
Vapour2 PRO Series 7
The next step up in vaporiser technology, is one our most advanced devices: the Vapour2 Pro Series 7.
With the Series 7 you'll enjoy all the features you know and love from the Series 3, but also a few unique features you won't find on most of our other devices. An extended battery life and larger cartridge capacity are two of the star features, as well as variable voltage and temperature control that allow you to tailor your vape experience to your own personal preference. Our high-performing Series 7 kit provides you with all of the accessories you need to get started in your advanced vaping journey.
V2 Pro Series 7 Unboxing from V2 Cigs on Vimeo.
Vapour2 PRO Series Accessories
Now we've talked you through the two vaporisers in the PRO range, we want to finish off by introducing you to some of the handy accessories you can buy to go along with your Vapour2 PRO purchase.
The Series 3X Ceramic E-Liquid Cartridge allows you to transform your Series 3 into a sub-ohm vaping device. This cartridge is suitable for use with VG e-liquids and uses a ceramic heater to create thick vapour clouds, while ensuring you enjoy your favourite flavours at the same time.
"What is the Best Vape? Easy. The V2 Series 3 ... The V2 Pro is the Apple Mac of vaporisers.... In the pantheon of vaporisers, few hold a candle to this model." - T3

As a dedicated dry herb vaper you definitely want to get you hand on the PRO Grinder. Enjoy thick, rich vapour with your PRO device, as this helpful bit of kit shreds your dried herbs to a uniform consistency to boost performance.
New Loose Leaf Vaporizer
Vapour2 are proud to introduce a brand new loose leaf device for all your dry herb and tobacco needs. This device is for all dry herb vapers looking to elevate their vaping experience to the next level with a device especially designed for loose leaf vaping.