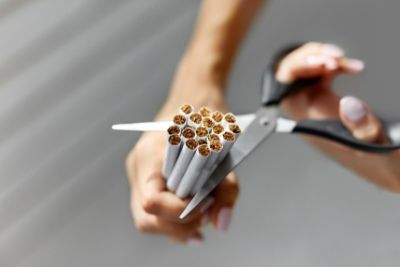 Stoptober 2019 is just around the corner, bringing with it the drive and desire to inspire smokers everywhere to quit smoking and become smoke-free. A notoriously tricky path to traverse, becoming smoke-free is no mean feat, however, there are ways to get there. Acknowledged by Public Health England to be up to 95% less harmful than smoking tobacco - vaping nicotine-based e-juice via an e-cig or vaporizer has helped up to an estimated 3.2 million UK smokers to reach the successful smoke-free destination that so many smokers dream of. Let's find out why you should stop smoking today and start vaping as we get ready for Stoptober.
The Benefits of Giving Up Smoking
Hey, we know what it's like to be a smoker. It's easy to live your life day by day stubbornly dealing with your sluggish energy like its something that will never change. Breathless as you reach the top of the stairs and limited in stamina as you try to keep up on the sports field, if you stop smoking, these moments can fade to a distant memory.
The benefits that you and your body feel when you quit smoking can re-invigorate and shake you into leading the healthy lifestyle that you deserve. By quitting cigarettes, your lung capacity and blood circulation will improve, which will lead to a dramatic improvement in your overall fitness levels, health, wellbeing and immune system. As well as saving yourself from the harm of the tens of thousands of toxic carcinogens that you subject yourself to every time you smoke, you'll also be saving your friends and family from the harmful second-hand smoke that they come into contact with.
Why You Should Stop Smoking
The health improvements within the first day of quitting smoking are already miraculous, just think of how much your body will thank you in just one week of quitting .
12 Hours -The carbon monoxide levels in your blood drop to normal levels
48 Hours -Your sense of taste and smell begin to get better
1 – 2 Weeks -Your blood circulation and lung capacity start improving
2 – 4 Weeks -Your lung capacity becomes greater and any smokers' cough or shortness of breath that you may have experienced will start to pass. The cilia hairs in your lungs are beginning to function again, as they get to work and start cleaning your lungs.
1 – 9 Months -Your body is getting back to its best and your energy levels are feeling good. With some weekly exercise, you'll be feeling like a superhero in no time at all.
1 Year -The potential risk of coronary heart disease has reduced to half what it would be compared to when you smoked.
5 Years -The chances of developing cancers that are caused by smoking such as the bladder, mouth, oesophagus and throat have halved, while the risk of cancer of the kidney and cervix have will have also decreased. Additionally, your chances of suffering a stroke will have lessened too.
10 Years -Your lungs have finally reached the stage where the chances of cancer have halved compared to that of a smoker.
15 Years -It seems like an age ago that you stopped smoking, but you have now finally reached the stage where the risk of heart disease you were subject to when you smoked is now just the same as someone who has never smoked.
The unopposed shame you put yourself through every time you popped off for the quick cigarette 'you needed', returning accompanied by the pungent smell of tobacco will be no more - no longer will smoking be a stain on your character. When you stop smoking, you not only become a naturally healthier individual, but you'll feel great and look good too with better-looking skin and no more tar building up on your teeth.
Emboldening your body with confidence safe in the knowledge that you're posing no harm to yourself or others around you, the benefits that you'll experience when you stop smoking are boundless.
As well as improving your health, appearance and confidence, you'll also notice that your bank balance begins to improve too. Smoking 20 cigarettes a day might be costing you anywhere in the region of £250 – 270 a month. When you vape, you'll be cutting that cost by two-thirds and when you're finally smoke-free you'll be able to take that annual trip to the Caribbean that you deserve.
How Vaping Can Help You Stop Smoking
What might seem, like a mountain, can actually just be an ever so slight molehill depending on your perspective. With positive action, you can take those first important steps to become smoke-free and lead a healthier life. While vaping might not be without some health risks, compared to smoking it can be considered a far less dangerous prospect. The nicotine-based e-liquid can be purchased in varying percentages of strength, which means that you'll be able to be free from nicotine in the future too. Alongside some good old-fashioned will-power and determination, vaping can serve as a great substitute to help combat any of the cravings for cigarettes you may face along the way.
While there are some obvious differences, vaping can be a fuss-free straightforward switch that you make with the cigarettes you've been smoking. A simple e-cigarette starter kit that comes with your choice of flavour and strength e-liquid will be all you need to get you vaping straight away.
Still Smoking? Did You Know?
If you didn't already know, smoking kills. In fact, smoking-related diseases account for 16% of adult fatalities in the UK. If you're not already convinced to make the big quit, let's take a quick look at 10 health problems that make be lurking around the corner should you choose not to stop smoking today?
1. Heart Problems: risk of heart disease for you and those who inhale your second-hand smoke.
2. Eyes: Risk of cataracts, glaucoma and macular degeneration.
3. Senses:Smell and taste will lessen if not disappear altogether.
4. Lung Cancer: The number one cause of death due to smoking.
5. Cervical Cancer: high risk for female smokers.
6. Early Menopause: Known to arrive earlier than non-smoking women.
7. Constricted Blood Vessels: Increased risk of heart attack, high blood pressure and strokes.
8. Infertility: Fertility issues for men and women, as well as erectile dysfunction for the guys.
9. Bad Teeth: Risk of inflammation and infection leading to the loss of teeth.
10. Immune System: A Decreased function of your immune system, disabling it from fighting any infection effectively.
Need Any Advice?
Stopping smoking and starting vaping doesn't need to be a journey you embark on alone. If you're new to the world of vaping and have any questions or queries about vaping products or how to get started, then don't hesitate to get in touch with our friendly team for a chat.