Out with the old and in with the new? Vapers are always on the lookout for the next box mod that's going to take their breath away and industry manufacturing giants GeekVape may have done just that with the M100, known in other circles as the GeekVape Aegis Mini 2. While there's a bit of confusion in the industry about what the official product name is, the performance and practicality of this device are clear. It's a definite upgrade on the original Aegis Mini with a bigger battery and a few other notable additions. Let's round up all of its clear features, and any setbacks from using the device, as well as explain how you can get the most out of the popular Z Nano 2 tank and B Series coils for this review.
How Does the Aegis Mini 2 Differ From Other Aegis Mods?
You have to rewind time to 2018 when the first GeekVape Aegis Mini was released. A diminutive 2200mAh battery mod coated with a predominantly rubber texture, it's a sturdy and robust device like the larger mods before it, such as the GeekVape Aegis X. Together with the Cerberus Tank, it chucked out plenty of clouds reaching up to 80W of power. However, although the battery was large, the size of the mod didn't help to keep up with high wattage direct lung without needing regular charges, with low resistance coils. It still offered a decent cool vape and IP67 rated protection but lacked the cutting edge needed for a consistent DTL experience.
Fast forward four years and GeekVape has finally released an upgraded version, with the Mini 2, which has answered many of the previous dilemmas regarding the original kit. Featuring an enhanced 2500mAh battery capacity, a more stylish design, now IP68 rated technology and an extra 20 watts of power, the Mini 2 is an improvement on the old mod. Bigger in size, safer to use and offering better performance, GeekVape has outdone itself once again.
Aegis Mini 2 M100 Key Features and Specifications
Great build quality
Improved IP68 protective qualities - dustproof, waterproof and shockproof
Ergonomic pocketable design
Large 2500mAh battery
Type-C charger
Z Nano top fill tank with 2ml capacity
100W output capacity
Voltage max of 8.5V
1.08" colour screen
Puff counter
510 connection
Let's Talk About the GeekVape B Series Coils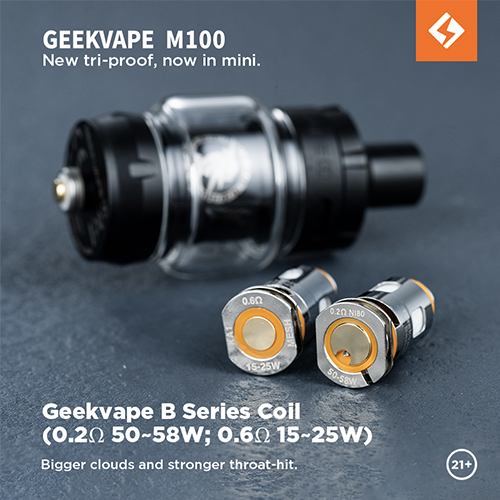 Expect some beastly flavour from the Z Nano Tank and B Series coils. The range of resistances you can get with the B Series (also compatible with other kits such as the Aegis Hero or Aegis Boost) drops as low as 0.2 Ohms and up to 1.2 for MTL. However, for this Sub-Ohm tailored mod you should be turning your attention to 0.2-0.4 Ohms with 0.6 Ohms as a stretch being for RDL vaping.
Together with the 22mm Z Nano tank, it vapes to a very high level between 40-60W. Although the Aegis Mini 2 is a 100W device, this will massively drop the longevity of the 2500mAh battery so we suggest going no higher than 80W at a push. The B Series coils produce a fair amount of flavour that brings each e-liquid note to life and the large DTL clouds Sub-Ohm from a mini-mod vapers love to see.
Functionality and How to Use the Device
Whether you're an experienced vaper seeking a more compact box mod or a new vaper trying your luck with a neat little kit, the Aegis Mini 2 delivers with a practical and simplistic device. You can adjust the settings with ease, using the up and down buttons below the screen to navigate. It's possible to adjust features such as temperature control via the main menu to maximise the performance (although some vapers prefer to not use this feature).
Pinch and twist the top of the tank half a turn to open and fill your vape juice in either of the two large ports
Rotate the base of the tank clockwise to adjust the airflow
Turn the base anti-clockwise to remove the glass from the tank to change the B Series coils
Five clicks to turn the device on and off
The up and down button changes the colour of the device screen settings
Access and change the brightness levels by pressing the fire button, up and down buttons together, then click up or down to reduce or increase the brightness
Appearance Breakdown
Not only does it vape fantastic but it looks great too. Super comfortable to hold with a sleek design for a box mod vape. Although as a negative it isn't made with as much rubber as previous Aegis mods to give that added level of protection, the design of the Mini Aegis 2 is instead more polished with a mixture of rubber, metal and zinc alloy. A stunning piece of vaping craftsmanship that's durable thanks to the IP68 technology. It's compact, not too wide or tall, so ideal to slip into the pocket.
Located at the bottom of the device is the USB type-c port which has a plastic cover which opens up and closes with ease when you need to give new life to the Aegis Mini 2. The Nano 2 Tank has a removable drip tip and is 22mm in diameter, so not much of an overhang once you place it in the 510 connection. Similar to previous mods from the Aegis collection, it's got a leather-textured grip on the back, with the GeekVape logo on either side of that panel, as well as the handy lock switch.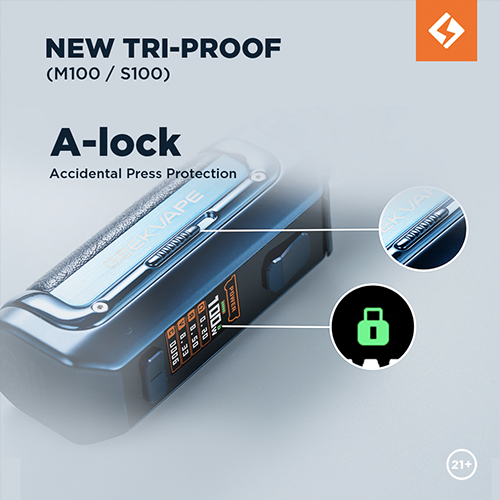 Why Choose the GeekVape Aegis Mini 2 M100 Kit?
The versatility of the B Series coils. Opt for smooth textures from the 0.2 Ohm B Series coil to maximise the flavours from your e-liquids, with a fully open-top airflow tank working beautifully in tandem.
Also, the option of a slightly restrictive DTL 0.6 Ohm is good to alter the vape experience and enjoy a more intense draw and throat hit via RDL.
The Aegis Mini 2 is an easy to use mod with simple navigation from the 1.08 inch OLED display, as well as a locking switch to keep your kit safe and turned off in the pocket as an additional precaution!
Plenty of battery life to last a DTL vaper most of the day depending, although the size of this mod could mean battery life quickly diminishing if used excessively.
Push-fit coils and top fill method create an easy system for swapping key accessories and topping up e-liquid on the go.
Any Disadvantages?
Like with most top fill Sub-Ohm tanks, there is a little bit of loud noise (sort of whistling sound) when you vape at higher wattages, so consider whether that bothers you before purchasing. The fire button as well sticks out on the Aegis Mini 2, more than its predecessor and recent bigger mods like the Aegis Legend 2, but this is a subjective point, which some may prefer.
Conclusion
Vapers typically pick up a pod kit or vape pen when they first get going after switching from smoking because it's the easiest method to start vaping. To know what you like and dislike. Once that honeymoon period is over and you seek something that's the next step up - i.e more clouds, flavour and adjustable technical features, a handy, useful intermediate-friendly mod is your best bet. And the GeekVape Aegis Mini 2 is a great choice to progress your vaping journey.
Not only does it look great from the outside - offering style and easy set-up. But internally, there are no qualms with navigation while delivering some amazing flavour consistently. New Sub-Ohm vapers that want to try vaping direct lung will get on with this device as a starter mod, thanks to all these combining factors.
Vapers already using a bulkier mod may want a step down in terms of size and a kit with a large internal battery instead of 18650s. This is another reason for picking up the Aegis Mini 2 as your next compact box mod.