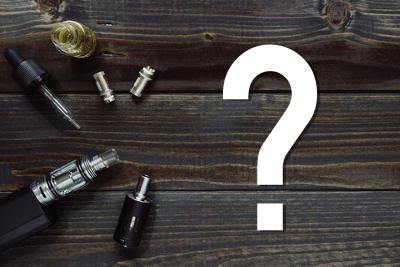 Misinformation is one of the biggest enemies vaping faces today, with incorrect information and sensationalist news stories floating around the internet on a weekly basis.
Here at V2 Cigs UK we do what we can both on our blog and on social media to combat this misinformation by educating vapers on everything from vaping terminology to more advanced types of vaping.
In today's post we're going to take a look at five of the biggest misconceptions about vaping, starting with the price tag.
Is Vaping is Expensive?
We're not going to deny that vaping can be a pricy habit, but the emphasis here is on can be. It doesn't have to be. Of course, if you decide to treat yourself to a new vape pen once a week it isn't going to be cheap, but there's equipment and e-liquids to suit all budgets so vaping doesn't have to break the bank. Be smart, save money and switch to vaping.
We also blogged our top five money-saving tips for vapers, so check that out to find out how you can save money while you vape.
Is Regulation of the Vaping industry a Bad Thing?
When the TPD was introduced earlier this year there was a lot of pushback, particularly on social media where dedicated vapers decried the regulations and worried it would signal the downturn of vaping. While, of course, there are elements of the regulations that don't appear to have been founded with logic in mind, it is imperative that the industry is regulated from a health perspective.
Every vaping brand's primary concern should be the health and wellbeing of their customers, which is why regulations founded on health and safety should be welcomed and adhered to.
Is Second Hand Vapour as Harmful as Second Hand Cigarette Smoke?
There have been multiple incorrect claims that second hand vapour is as harmful as second hand smoke, and unfortunately these claims are often believed by non-vapers who then go on to decry vaping without doing any independent research.
Numerous scientific studies have been carried out over recent years to determine whether or not second hand vapour could have a detrimental effect on vapers and non-vapers, and a recent air sampling study undertaken in a vape shop provided heartening news.
What Goes Into E-Liquids?
This one all comes down to which brand of e-liquid you choose to use and we urge you to go with a brand that is completely open and up front about their e-liquid ingredients. If it isn't easy to find a list of ingredients then please think twice before purchasing.
At V2 Cigs UK we focus on transparency as one of the cornerstones of what we do. We aim to always be honest and forthcoming about exactly what goes into every single one of our e-liquids and only ever use high quality ingredients. We have more information about our e liquid ingredients and expiry dates available.
Is Vaping a Gateway to Smoking?
Are you sick of hearing about this one yet? The buzzphrase that's been doing the rounds online for months now, one of the most hotly debated topics in online tabloids is whether or not vaping acts a gateway to smoking.
A landmark study was released in a report titled 'Clearing the Air'. The study, released by University of Victoria's Centre for Addictions Research of BC, contained the following statement from principle investigator, Majorie MacDonald: "Fears of a gateway effect are unjustified and overblown".