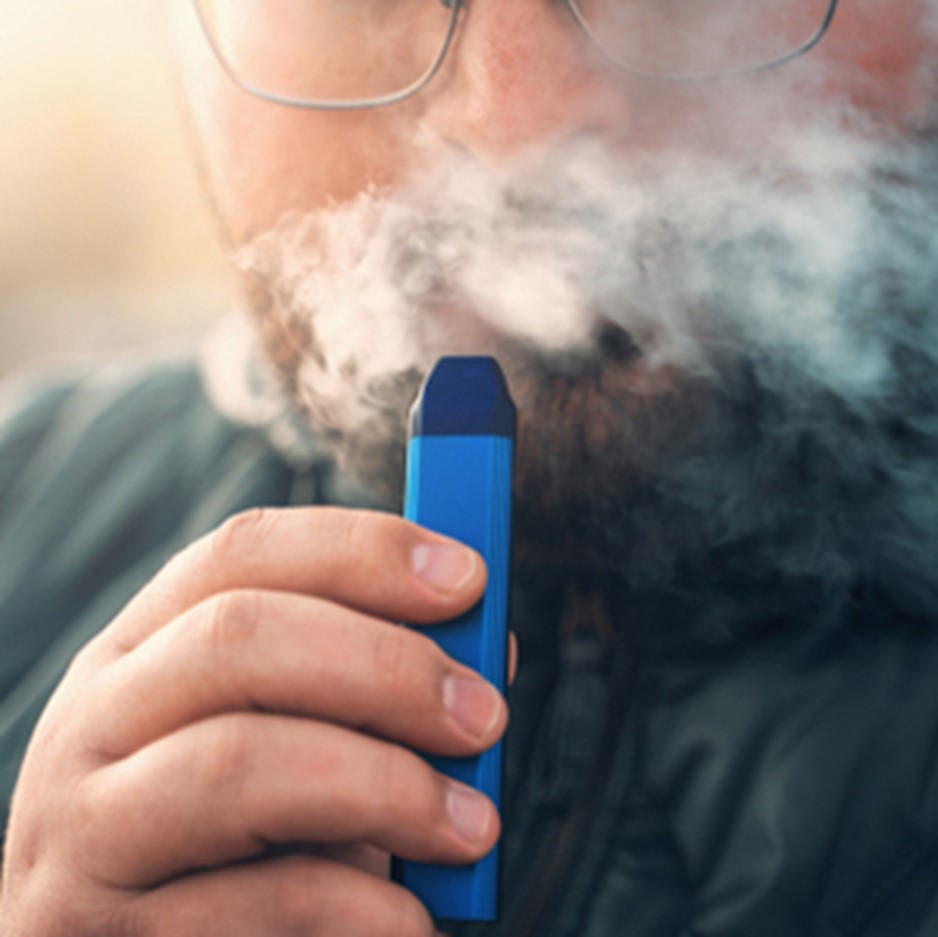 The popularity of vaping has skyrocketed in recent years, partly down to more people becoming aware of the health benefits when compared to cigarettes, as well as increasingly advanced vape technology. The way in which we vape and the devices available to you from V2 Cigs today are so much more diverse than they were even just a few years ago. From vape pens and electronic cigarettes designed to resemble the real thing to the vape pods we know today, vaping devices have become much more user-friendly. Gone are the days of clunky vape pens and unreliable batteries, as they've been replaced with slick, portable vape pods designed to make vaping easier and more enjoyable.
The wide variety of kits available mean that you can always have a modern and efficiently working device which is always there when you need it. If you're new to vaping or aren't clued up on the new trends, there are a few things you can learn about vape pods and why they're so popular.
What are Vape Pod Kits?
Vape pods are a product of advanced vaping technology, delivering all the same benefits as the classic "box mod" vaping devices but in a much smaller, more streamlined design. The compact design makes these devices more portable and a sensible choice over the clunkier designs if you're always on the move.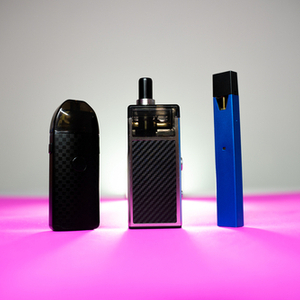 Some pods come prefilled with e-liquid for an easy pick-up and go solution with no hassle. These are referred to as closed pods and when they run out you simply replace the pod in your device with another compatible pre-filled pod. These pre-filled pods are the easiest way to vape, making them a popular choice for those who are looking to quit smoking. The all-in-one design takes the stress out of refilling and changing parts on your vape device so you spend less time altering your kit and more time enjoying your vape. The other type of pod kit you can get are refillable kits, which come with some devices and allows you to insert your favourite flavours of liquid without being tied to one brand. The refillable pods give you more control over the liquid you're vaping in terms of flavour and nicotine content, making them a better option for some vapers who are looking to reduce their nicotine intake.
How Do They Work?
Vape pods work the same way as other vape devices, with the pod holding the liquid which is then heated and then the vapour inhaled through the mouthpiece. The actual pod component in these devices replaces the tank which can be found on other devices such as vape mods and, as part of the slimmer, sleeker design, are often smaller in capacity.
The device will come pre-fitted with a coil, which is used to heat up the e-liquid encased in the pod to turn it into vapour. The coil is encased in a small amount of cotton which soaks up and holds the e-liquid and holds it allowing it to be vaporized when the coil heats up. It's quite common for the coil to burn out due to overuse or over long periods of time, but they are easily replaceable - simply switch out the pod!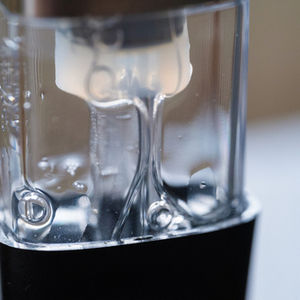 The rest of the device operates similarly to other vape pens and e-cigarettes, usually with a single button which powers on the vape pod, heating the e-liquid. Depending on whether there are other controls, this button can also be used to change different settings, such as air intake or to boost the wattage. Increasing the airflow dilutes the vapour making inhalation much smoother, while a lower air intake will result in a thicker, more dense vapour which is often much hotter.
Batteries on vape pod devices are often smaller than ones you'll find on larger devices. While still reliable, these batteries aren't made for long, continuous vape sessions but they will keep you going nicely throughout your daily use. Various vape pod devices also have a screen which can display data such as battery percentage, giving you an indication of how long it will last between charges.
Why You Need a Vape Pod Kit
The reasons why you may need a vape pod kit will vary depending on your lifestyle and vaping preferences, but the benefits they offer are undeniable. The compact design makes them perfect for storing in a bag or pocket without occupying too much space. The sleek design also makes vape pods super user-friendly, as there aren't too many controls and settings to fiddle with, making operation easy for anyone, especially those new to electronic vape devices.
One factor which is often overlooked with vape pods is their affordability when compared with other portable devices. The lack of huge batteries, tanks and other (sometimes unnecessary) additions drive the cost down and with a refillable pod, upfront costs will be kept to a minimum. Even with a closed pod system, which is the more expensive way to vape in the long run, you'll be saving a huge amount of money compared to cigarettes, meaning you can benefit from hassle-free operation as well as a great value price.
Vape pods allow you to enjoy your vape whilst remaining discreet. The pods produce smaller and less dense clouds for use in public locations. As a smaller device, they more closely resemble cigarettes, making them more satisfying to hold than larger devices. Part of the compact design means that leakage from the e-liquid tank is also minimised! If you've ever experienced leakage from your vape tank with another device, you'll know it's extremely annoying and inconvenient!. Since each vape pod is designed to fit perfectly into the corresponding vape device, a pod kit can help prevent extra costs from wasted e-liquid and keep your belongings free from the sticky, nicotine-filled fluid.
Perfect for Beginners
If you've been a smoker for a long period of time, you'll know that habits can be hard to shake and trying to learn how to use a complicated device can make kicking that habit even more difficult, especially when you consider how easy it is to pull out a cigarette and light it up, even if it does cost a lot more. This is why vape pods are perfect for beginners looking to adapt their habit to incorporate a more healthy alternative . Not only is the design of the vape pod created to be simple and easy to use, but its size and weight are also designed with the user in mind and what feels the most comfortable. After all, if you were smoking any more than 10 cigarettes a day, trying to operate a clunky and complicated device is going to prove time-consuming and likely lead to you giving up on the idea.
Not only is the design favourable to those looking to kick smoking, but it also caters to those who like control over their nicotine intake. Depending on how much you used to smoke, your body will be used to a certain amount of nicotine per day and starving your body of that nicotine instantly isn't healthy and can result in some unpleasant side effects.
By choosing the right pods and flavours of e-liquid which suit you, the more likely you are to stick with vaping and resist the temptation to pick up another pack of cigarettes. With the various pods available at different nicotine concentrations, you can gradually wean yourself off nicotine altogether and enjoy the health benefits. Choosing the right vape pod for you can do wonders for helping you change your lifestyle and act as your companion on your journey to becoming smoke-free.
The Best Vape Pod Kits for You
At V2 Cigs we have a huge selection of popular vape pod kits from a range of reputable brands . Our product range and website is dedicated to user experience and helping you find the best vape pod for you. On each product, you'll find a reviews section which allows you to see what other customers think as well!
To get you started and point you in the right direction of some of the best vape pod kits we've stocked up on for 2021, we've listed a few of our top picks below. Accounting for style, functionality and usability, we recommend choosing a vape kit which caters to your lifestyle before anything else, as that's what will help you stay off traditional tobacco cigarettes.
Hangsen iQ Touch Kit
The Hangsen iQ Touch Kit vape pod features a slim, ultra-modern design which is easily concealed and transported. This particular pod kit is designed to be used with high nicotine e-liquids and features draw-activation making it perfect for those who are new to electronic vape devices and are looking to quit smoking. It also comes in a variety of different colours, so you can pick a design which suits your style.
The Hangsen iQ also features a built-in 450mAh battery which will last throughout your daily activities provided it's not used continuously for prolonged periods of time. If you do need to give a little boost, the battery only takes around 40 minutes to fully charge. It also has a convenient 9-puff reminder that will give you a buzz if you're taking lots of puffs in quick succession.
This pod device is compatible with various different e-liquids, though we recommend it's used with high nicotine concentration e-liquids or nic salts. Due to the iQ Touch being a low power device we wouldn't recommend using cloud-chasing liquids. You can find the range of compatible V2 Platinum e-liquids on our website.
Smok Nord 4 Pod Kit
The SMOK Nord 4 Pod Kit delivers an excellent balance of power and battery life, making it the perfect portable vape companion. The nifty, handheld design makes it easy to slip into a pocket or bag for great comfort and ease of use. The design options let you choose between 'armour-style' colourways of black, white and blue for a device which suits your style.
If you're familiar with the Smok brand, you may have heard of the Smok Nord 2 device. The Smok Nord 4 features the same sleek design but with more power than ever before for a more enjoyable vaping experience. This device is also the first in the series to offer an adjustable airflow control, allowing you to switch between loose or tight inhalation. The versatile and user-friendly controls make the Smok Nord 4 Pod Kit the perfect device for vapers of all experience levels. With a 2ml refillable pod, you can refill your e-liquid as many times as you'd like, making for a cost-effective vaping solution. The built-in 0.4 ohm coil is lower resistance meaning higher wattage can be used. You'll also enjoy a much better flavour from some kinds of e-liquids with this type of coil.
RipStick Starter Kit
This RipStick starter kit is perfect for those who are new to electronic vaping devices as this features everything you need to start vaping straight away! You can choose which flavour e-liquid to start off with and the strength of the pod. This kit uses a closed pod format so you can easily swap out pre-filled pods and dispose of used pods.
The RipStick device has a 500mAh battery which offers power as well as a stylish design. The RipStick is also draw-activated, making for easy use, and lights up when activated to give you an indicator of the battery life. The battery is charged through a USB-C connection and comes with a compatible charging cable as part of the kit. The pre-filled pod flavours include Bright Leaf Tobacco, Mint, Blue Raspberry, Mango, Tropical and Berry Crunch. Perfect for the new vaper, the tobacco flavour closely resembles the authentic taste of a cigarette helping to satisfy those cravings and make the transition to vape devices a lot easier.
iQ Air Vapers Kit
The iQ Air is a very slim, light device, with a 400mAh battery that will last you well throughout the day. One of the smaller devices on the market, it's only 6.5mm wide, so is super-easy to carry around with you wherever you go. The iQ Air Vapers Kit includes 2 iQ Air devices so you can keep them wherever you need - one at home or the office and one in the car for when you're on the move, perhaps? This kit also comes with chargers for both your devices so you're never caught short without your pod vape. In the iQ Air Vapers kit, you'll also get a total of five pre-filled refill pods. The iQ Air uses nicotine salt e-liquid pods, which makes it great for new vapers or ex-smokers who want a more intense nicotine rush from their vape. Nicotine salts, or nic salts, have a smoother flavour and feeling than regular e-liquids. With nicotine salt e-liquids, you'll get a smoother flavour, less intense throat hit and a faster, and more intense nicotine rush with every inhale.
Get Your Vape Pod Kit Today From V2 Cigs
Our extensive range of vape pod kits made up of reliable brands makes us the go-to suppliers for both beginners and experienced vapers . If you have any questions about which device would be right for you or anything you would like to know about our products, get in touch by phone, over live chat or by emailing us at team@buyv2cigs.co.uk.
If you're looking to get started right away, why not explore our range of products from vape devices to accessories. Whether it's a new device you're after or an upgrade to your current device, we've got you covered.