When you first start vaping, the sheer range of brands, devices, styles of vape and e-liquids can be a bit overwhelming, and it's very easy to see why. For this reason, lots of beginners are drawn to vape starter kits and "cig-a-like" devices, which emulate the experience of smoking a cigarette without continuing to smoke. These devices are great for lots of users as they are low maintenance, incredibly easy to use and can get you vaping straight away!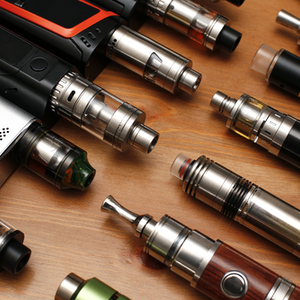 However, as you become more experienced, many vapers feel restricted by the capabilities of this style of vape and want to switch to something more advanced, while still being easy to use and affordable for the first-time vaper. Of course, this isn't always as easy as you would hope! Many vape mods have a huge number of features, settings, interchangeable parts and different modes, which makes them perfect for advanced vapers, but a little bit confusing for the beginner. Fortunately, the world of vaping has something for everyone if you know where to look, and at V2, we are passionate about helping you find the perfect vape for you.
In this guide, we'll take a look at some of the more advanced devices on the market that are still very beginner-friendly and easy to use, without compromising on versatility, performance or longevity. These vape mods will not just start your vape journey off on the right track, but will still serve you well when you start to venture into the world of more advanced vaping!
Best Vape Mods for Beginners
The Innokin Coolfire Z50 is a brilliant vape mod for first-time vapers . It's a small, convenient and durable device in a streamlined version of the classic vape mod shape, and has the capabilities of a high-end device, with the convenience of a beginner-friendly one, making it perfect for a new vaper who wants a device that will continue to work for them as they get more experienced and skilled!
Equipped with a fantastically powerful 2100mAh battery and variable wattage up to 50W, this device supports mouth-to-lung and direct-to-lung vaping, while making switching between the two modes as easy as can be! Your starter kit comes with two coils, one perfect for mouth-to-lung vaping and the second ideal for starting to try direct-to-lung and sub-ohm vaping , so that when you feel confident enough to try a new vape style, you don't have to fork out for any new accessories. A small LED screen makes it easy to see what settings your vape is currently using and to adapt them quickly when you want to. The slide-top filling mechanism is also great for new vapers, as it makes it super simple to refill without making a mess or wasting your precious e-liquid!
With the Innokin Coolfire Z50 Kit, you'll get:
1x Coolfire Z50 Mod
1x Zlide Tank (2ml)
1x Spare Glass Tube
1x Charging Cable
1x 1.2Ohm Coil (Pre-Installed)
1x Spare 0.8-ohm coil
1x Replacement Drip Tip
1x User Manual
1x Spare O-Ring Set
f you're looking for a device with all the same capabilities, functionality, experience and power of a vape mod but without the bulky casing, look no further than the Smok Vape Pen V2! Smok is one of the UK's best-loved vape brands for their high-quality devices, sleek and stylish casings and excellent performance, without any frills or gimmicks. The Smok Vape Pen is perfect for new and beginner vapers as it is small, smart, durable and very convenient to carry round in a purse, bag or pocket . This device only measures 117.7mm x 22mm, making it incredibly easy to carry out and about so you're never caught short without your vape when those pesky nicotine cravings come on. However, within this fun-sized package is a rechargeable 1600mAh battery, and up to 60W output, perfect for both mouth to lung and direct to lung vaping. This kit also comes complete with two 0.15 Ohm mesh coils you don't need to think about picking up new coils when you want to start vaping direct to lung. These low-ohm coils are ideal for getting great flavour and a smooth throat hit on the inhale and helping you to produce dense, fluffy and delicious vapour clouds. The Smok Vape Pen also features an adjustable airflow mechanism, like most sub-ohm products, to make sure you're getting the most possible output of vapour. As a smaller device, the Smok Vape Pen and comes with an easy-to-use LED light interface showing you power level and battery life, rather than a full screen. It also comes in four great colourways - Black, Blue, Red, Rainbow.
With this vape kit, you'll get:
Smok Vape Pen V2 60W Kit
2 x Smok Vape Pen V2 0.15 Ohm Mesh Coils
Micro USB Charging Cable
User Manual
Pod Kits for Beginners
At V2, we understand that while you might be looking for a device that will last you for years to come, the world of vape mods can be a very confusing one, especially for beginners. One alternative option for vapers looking for a step up from the cig-a-like vape, but without venturing fully into the world of box mods and vape mods is the pod kit . Pod kits are available for absolute beginners all the way up to experienced vapers, and they provide an authentic, high-quality vape experience without the bulky casing and expansive settings.
What are Pod Kits?
Pod kits are very similar to your starter kits in that they have a cartridge of e-liquid that you slot in and out, rather than a tank you refill. However, there are two main types of vape pod devices, those with a closed system and those with an open system.
Closed-system vape pods are what you generally get in cig-a-like devices and vapes geared towards the absolute beginner. The pods themselves are prefilled and "closed", so all you need to do is slot them in and throw them away when you're done. Open-system pods, on the other hand, are refillable like vape mods are, the only main difference is that instead of refilling your vape tank, you refill a cartridge of e-liquid and then slot it in to be pulled into the tank, and the differences in shape, style and size. Particularly when it comes to more advanced open-system pods, there's really not a lot of difference between these and vape mods as far as your experience goes ! In order to offer you choices when it comes to your vape experience, these more advanced vape pod kits often come with a number of different settings and modes, including interchangeable vape coils. You can use these more advanced devices to give you a stronger throat hit or to produce massive, thick vapour clouds depending on the vape style you prefer! These devices do not exclude less experienced vapers, as they come with ergonomic designs that make them easy to hold and intuitive button enabled functionality while vaping, as well as being easy to use and refill. When you are ready to start playing with various e-liquids and coils, this type of system helps you to get started immediately without having to look into the pretty in-depth world of box mod vapes.
Advanced Pod Kits
The Vaporesso TARGET PM80 Kit toes the line between a pod kit and a vape mod with ease ! Shaped like many vape mods with a slim mouthpiece and larger body, this device is still very compact and features a replaceable e-liquid pod with 2ml capacity. This is an open pod system, so you have your pick of the market when it comes to the e-liquid you choose. The device comes with a 0.3Ohm coil, which is ideal for direct-to-lung and sub-ohm vaping for the first time, but is also compatible with any of the Vaporesso GTX Mesh Coils and has a variety of easily adaptable settings, including wattage, temperature, battery mode and more. This means that if you're just starting out and prefer to vape mouth-to-lung, all you need to do is pop a different coil in, do some quick adjustments (made easy by the PM80's tactile interface), and you're ready to go! Then, when it's time to experiment, you have everything you need within reach!
With the Vaporesso Target PM80 Kit, you'll get:
1x TARGET PM80 Battery
2x TARGET PM80 Pods (2ml)
1x GTX 0.3Ω Mesh Coil
1x USB Cable
1x User Manual
1x Warranty Card
1x Reminder Card
Alternatively, if you're set on a vape mod, the Vaporesso GTX One 40W Kit offers you a very similar shape, size, capability, output and overall vape experience in a traditional vape mod style.
All this goes to show that there are plenty of options for the new vaper, and you don't have to feel restricted to starter kits, cig-a-like devices and closed-system pods. While these are great for some users, you'll be getting the most out of your vape in the long run if you take the time to do some additional research and pick up a vape device that will last you for years to come! However, if you're still not sure what kind of vape you should try, our customer service team are always on hand to help advise you on the right device for you - simply get in touch!