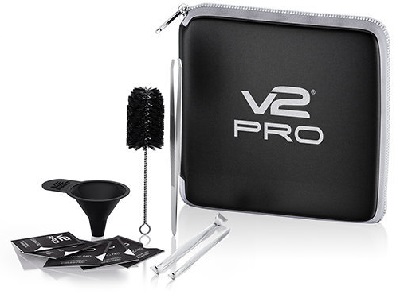 Getting yourself setup with vaping can be really easy. If you're a veteran of vapour, you may not even remember the questions and thoughts you had when you first started. All you can probably think of is that first drag of vapour, and the very first vaping device you purchased. It was the start of a wonderful thing, and your focus was on the essentials.
Now you probably know that, beyond the basics, there are plenty of other things that can make your vaping experience even better. If you are new to vaping, this is the time to take some notes. Whether you have purchased your first starter kit or are still deciding which route you'll take, you should know there are some more products to consider. We like to think of them as a support system for our primary product, which is of course what we vape with.
Whatever you want to label them, know that they are essential to creating the type of vaping experience in the long run that will get you where you want to be. If you are one of those kinds of people who want to be prepared from the beginning, then certainly consider picking these up. For you vaping veterans, this may not be new, but a good reminder. Without further ado, here are the 3 vaping accessories everyone needs.
Chargers
Are these really an accessory? You might be asking yourself that, but yes, they most certainly are. It's true that you probably already received a charger for your vapour battery when you made your first purchase. Nobody would let you walk away with a battery that has no charger, right? But that's beside the point. There is no way you should assume one charger will be enough.
First of all, we lose things. Losing a charger means you have no way to power up your vapour device, and that is a recipe for disaster. Even if you dare to say you never lose anything, there is a convenience about having multiple chargers wherever you are. Store one at work, store one at home, and store one in the car. When you're in need, you don't want to be caught without a charger. Pick up a V2 Express Charger for when you are by a computer all day, or just go for the V2 Charger Kit outright so you can plug it into an outlet too. Whatever you do, make sure you have multiple chargers.
Cases
Once you have that vapour device that changes your life, you're going to want to take care of it. Step one is to buy it a home, or as we like to call it, a case. This will be good for around the home as well as when you're traveling. Sure, you can stick an electronic cigarette in your pocket as a last resort, but this is a valuable piece of technology. Wouldn't you rather it be inside something that will protect it and not get snagged on your keys or other objects?
Besides, when it isn't in use, you're going to need to put it somewhere. Having a case lets you store extra cartridges and batteries so you don't run out while on the go, but it is also super useful at home. Whether using a soft case or hard case, you'll always know where your vapour device is – safe and sound in its home.
Cleaning
This is one part of the picture that frequently gets overlooked. With a 2-piece product that has throw-away parts, you perhaps could get by without cleaning your vapour device. This is not the case with products that you refill and re-use, like blank cartridges and tanks. You're going to want to be able to get the gunk out every once in a while, as any product will build up residue if it isn't cleaned well.
Thankfully, you do have the V2 PRO Vaporizer Cleaning Kit as an option. It comes with everything you need to keep your Series 3 or Series 7 vaporizer clean. Whether you are using it for e-liquid, wax, or dry matter, you'll want to keep it fresh for your next use. Make sure you have the right cleaning tools to keep your vapour product running for a very long time.
Those are the three basic vaping accessories everyone needs. They're a small investment, and certainly a worthwhile one. There are others you might fancy as well, such as a grinder to break up your dry matter. Or a lanyard so you can let your vapour device swing from your neck and leave your hands free. But, definitely start with the three above so you can enjoy your vaping experience to the fullest.