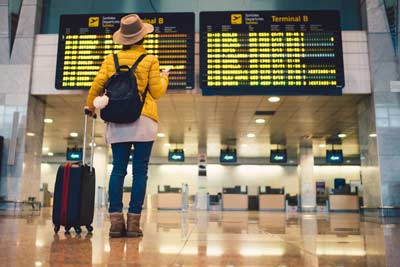 Wherever you may be seeking your winter sun this season, if you're a vaper, it's important to be aware of the rules and regulations of flying with your e cigarettes and e liquid, as well as specifically knowing that not all countries condone e cigarettes as the UK does.
Dark and dreary days. Umbrellas and woolly scarves. Armed with accessories aplenty to combat the cold, with midwinter settling in for the season, it's fair to say that it's gotten a little chilly outside. As the sun seemingly takes some time out this Christmas, it's quite feasible that you've also booked yourself a little trip in search of warmer climes.
Countries with E Cigarette Restrictions
Since the UK currently falls under the same jurisdiction as our fellow European counterparts when it comes to e cigarettes, if you're travelling throughout the mainland continent, you'll have little to worry about. When it comes to e cigarettes in public spaces such as restaurants or train stations, it would usually be best to enquire before you start vaping to ensure its okay to do so.
Unless you're travelling to Spain or Italy, it's more than likely that your search for winter sun will need to be extended somewhat. If you're intent on vaping and trying to avoid having to use tobacco to fulfil your need for nicotine, then you may want to carefully consider your choices before booking your next holiday.
Countries that have banned e cigarettes include places like, Thailand, Hong Kong, Argentina, Brazil, Brunei, Mexico, Turkey, Taiwan, UAE, Egypt, Cambodia, Malaysia, Philippines, Vietnam, Uruguay and Venezuela. Penalties can range from confiscation of devices and possible fines - stay vigilant diligent vaper and be careful carrying your e cigarettes and vaporizers to different countries if you don't want to lose them!
Flying with Your E Cigarette
Similarly to smoking, vaping and flying is a no, no. When it comes to transporting your e cigarette, devices should always be stored within your carry-on luggage and should not be placed in any checked baggage. Batteries should be disconnected from any removable e liquid cartridges and stored in a carry case to keep safe. The e liquids should be placed within a clear bag with any other liquid items you may be carrying on your person.
The rules on flying with your e cigarettes and e liquid are straightforward, but if you're unclear on anything we would always recommend checking with your airline before commencing any journey.
Countries that Allow the Use of E Cigarettes
In 2015 Public Health England's published an independent evidence-based review that announced e cigarettes to be up to 95% less harmful than smoking tobacco and that they have the potential to help smokers become smoke-free. This news has contributed to a steady increase in the number of vapers in the UK with estimates in 2018 suggesting that some 3.2 million of us have made the switch to e cigarettes in recent years. In addition to the UK, other countries that also allow the use of e cigarettes to help smokers attempt to become smoke-free include; the US, New Zealand, as well as countries throughout the E.U.