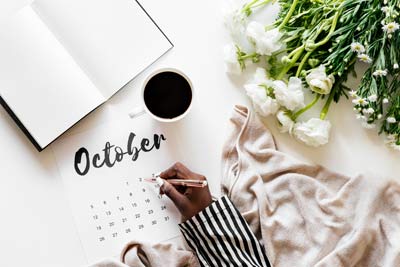 As the month of Stoptober passes, day-by-day, scores of smokers up and down the country have been taking up the challenge to break their tobacco habit for 28 days in the hope of remaining smoke-free once the month is up.
28 Days To Form A Habit
The national campaign initiated by Public Health England and led by One You implores smokers to join together in attempting to become smoke-free for 28 days in October based on evidence that suggests you are five times more likely to stay smoke-free after such a period of time. But why should 28 days be such a significant number? Is it possible to make or break a habit in such a time?
The Logic Behind Habit Forming
In reality, there seems to be little differentiation between the numbers 30, 28, or 21, when it comes to the forming of one's habits. The initial number of '21 days', was loosely categorised and theorised by the American cosmetic surgeon Maxwell Maltz, in his 1960 bestselling title Psycho-Cybernetics. Based on his observations that it took amputees an average of 21 days to adjust to the loss of a limb, he subsequently claimed that the same must be true of all major life-changing events.
Far from scientific, the truth is that the length of time it takes to form a habit or indeed break a habit, is going to be different for us all depending on a variety of factors, namely how much you might normally smoke and your mental ability to cope with the withdrawal of both the nicotine and sugar (tobacco contains up to 20% natural sugar) found in tobacco.
Of course there may be those superhuman like folk who forgo any kind of cessation product or nicotine substitute, who pursue the 'cold turkey' route, however, research shows that only 4% of those who follow such a path will remain smoke-free after a year, let alone 28 days. Using nicotine replacement therapies can increase that percentage by 1.5 times and liaise with an NHS stop-smoking clinic will see your chances increase by 4 times that amount.
More than just the addiction of nicotine and sugar that has already shaped the bad habits we seek to escape, you've more than likely become accustomed to things like the 'throat-hit' you receive when you smoke or even the simple act of exhaling smoke.
Tools To Break the Smoking Habit
E-cigarettes can act to bridge the gap between bad habits and relinquishing them altogether by providing vapers with varying strengths of nicotine, which you can aim to reduce over the course of time, depending on how you and your body feel. A V2 Cigs E-Cigarette Starter Pack makes for a convenient transition from smoking to becoming smoke-free and is quick and easy to use.
In addition to being able to select differing nicotine strengths, vapers are provided with a plethora of traditional tobacco flavour options as well as some fruitier tasting options to abate any ensuing sugar cravings.
E-cigarettes have become a favourite for UK smokers seeking a supportive aid with an estimated 3.2 million vapers using e-cigarette devices. In 2015 Public Health England declared that e-cigarettes are up to 95% less harmful than smoking tobacco and that they have the potential to help smokers quit altogether.
Deciding to stop smoking can seem like the biggest and most difficult decision to make, but one that will be deemed the best in time. Everybody will have varying and different needs when we come to quit smoking and it's important to remember to take each day as it comes and to not put your body through any unnecessary stress. Find a product that works for you and consult the accompanying Stoptober website for support, more information and professional advice. Good luck on your journey from smoking to vaping. You can do it !