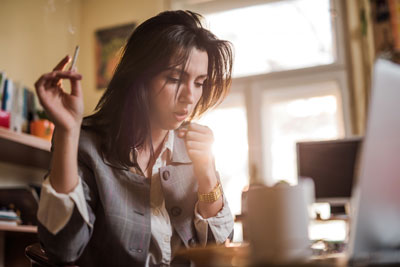 Whether you're suffering from the stresses of the season or have had one too many tipples and have forgotten your mission, it's safe to say that if you've recently been trying to give up on your smoking habits, you may have feasibly succumbed to a smoking relapse throughout the course of the festive period. Have no fear, for Vapour2 are here to ease your woes and let you know that it's going to be okay. Let's take a look at what to do if you've suffered from a smoking relapse and how to easily get back on track to becoming smoke-free.
Don't Beat Yourself Up if You Have a Cigarette
First things first. Do not enter a world of self-loathing should you accidentally slip up and take up your friend's festive offering of a celebratory cigarette. You are a human being and this kind of hiccup happens to the very best of us. Being in a negative frame of mind will only hinder your ability to overcome this minor hurdle and may send you into a spiral of delusion leading you to think that you'll never manage to make the big quit.
Remember that you're on a journey that many like you have faced, and like the many that have stood before you, the reality is that it may take you several attempts before you finally become smoke-free. Just shake it off and start again.
The relapse is a naturally reoccurring part of the process that can give us the experience to further understand our focus and intent on becoming an altogether healthier person. With this in mind, why not write a list of reasons why you wanted to give up smoking in the first place and put it somewhere visible. Try to repeat those reasons to yourself throughout the day to engrain the message and get back on track.
Staying optimistic about your eventual smoke-free outcome is paramount. As we've mentioned, slipping up and having the odd cigarette is okay, as long as you stay positive and remain committed to your cause. Just like you had the ability to start smoking in the first place, you also have the ability to stop, so jump back on the journey and march on, safe in the knowledge that with a little hope in your heart and a positive frame of mind, anything is possible.
Set Realistic Goals to Stop Smoking
Due to the highly addictive nature of tobacco, the likelihood of saying today that you're going to stop, and tomorrow actually stopping is few and far between. Set realistic goals and give yourself a timeframe to work to. If you manage to stay smoke-free for 90 days, you will significantly reduce the chances of a smoking relapse and be well on your way to being a non-smoking member of society.
Vaping E Cigarettes to Avoid a Smoking Re-Lapse
Thought about using e cigarettes to help you stay smoke-free? In 2015 Public Health England published a report based on independent evidence, stating that e cigarettes are up to 95% less harmful than smoking tobacco and that they have the potential to help smokers become smoke-free. E liquids are available in many different nicotine strengths that you'll be able to manage, and in time, eventually reduce your levels to 0%, becoming both smoke and nicotine free.