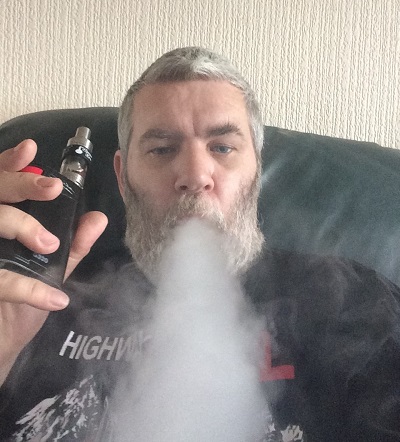 We're here today with another special guest on the Vapour 2 blog: vape reviewer and YouTuber, Paul at Coseley CloudChaser. We're happy to welcome Paul to our blog today and find out a bit more about his vaping journey, his top tips for new vapers and what he thinks about the TPD.
Hi Paul, thanks for joining us on the V2 blog; we're excited to hear more about your journey not only as a vaper but also as a reviewer First of all, could you tell us a little bit about yourself and your YouTube channel?
I am a 54 year old ex-smoker of 40 years, so I was a long time smoker until December 25th 2015 when my wife and my youngest son clubbed together to buy me a Vamo V5 full kit with a Kangertank and spare coils, as well as a couple of spare batteries and some Spacejam juice at 18mg nicotine. After I'd been vaping for a while I joined Twitter and got talking with vendors, after which I was offered a discount if I did a review on the order. I did this and have been reviewing ever since.
Tell us a little bit about your journey from smoking to switching to vaping.
Well, I started vaping on Christmas day 2015 and I was a dual use vaper, cutting down the amount of hand rolled cigarettes I was smoking as I vaped more often. I will admit I have had a few stumbles along the way but today I am once again smoke free and vape only :)
What are the main changes you've seen between starting vaping and the vaping landscape today?
Well the main change is the TPD, which in my opinion has made vaping more restrictive. I do not mind the regulated bottle size as you can get zero nicotine juice and add nicotine to create your desired strength.
What role has the vaping community played in your journey as a vaper?
The vaping community has played a big part in my journey as I watch fellow vaper's reviews and I can go to them with any questions I have about vaping.
We're delighted to have you here on our blog so we'd love to know what your favourite bit of kit from our range is.
The Series 7 which is a great mod as the battery lasts for a long time and the magnetic cartridge is a wonderful idea as makes it so easy to use. Also, the flavour from it is fantastic.
Tell us more about your experience as a reviewer. Has it changed the way you vape? What is the most rewarding thing about running your YouTube channel? The most challenging?
Being a reviewer has changed the way I approach juices as I mainly do the less-liked menthols/aniseed/mint/eucalyptus types with fruit. The most rewarding part is giving people who watch the videos the opportunity to see my honest views and if they are looking for that type of juice then they know I am honest. The worst has been when I got trolled on Twitter for my older style of reviews and the fact I have never had a juice I have not disliked. I have just been lucky so far!
What are your top dos and don'ts for those who want to make the switch to vaping?
My top dos would be:
Do research and ask someone you know about vaping, not just one person as everyone has differing tastes and views
Do start on an AIO (all in one) kit as the lower wattage is easier for people to start with
Do look at the many reviews that people have done before choosing where to start
My top don'ts would be:
Don't start on a big 200W mod, stick to the many AIOs on the market
Don't start on the highest possible nicotine level
To finish up, what is your favourite V2 e-liquid flavour and what is your dream flavour that isn't currently available to buy?
My favourite has to be the Menthol as it's strong and very smooth vape. As for the perfect flavour I would love a great blueberry with menthol and aniseed mixed, as I've never come across one e-liquid with all of the flavours combined.
*
On behalf of the entire Vapour 2 team, we want to say a big thank you to Paul for visiting our blog today. We always like shining the spotlight on the fabulous bloggers and YouTubers we work alongside so we hope you've enjoyed getting to know the person behind the videos.
For more information about Paul, and to keep up with all of his videos, you can find him at the following links:
Blog: http://dudleyvaperreviews.weebly.com
Twitter: https://twitter.com/DudleyVaper
YouTube: https://www.youtube.com/channel/UCQOtGxuAx6uYKrhg49axsCw