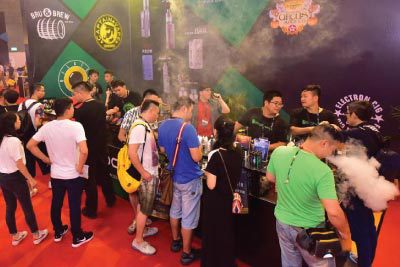 Europe's biggest vaping convention, The Vaper Expo, returned to the NEC in Birmingham recently, where hundreds of the world's leading vaping brands set about showcasing their new products to the market. Take a look at our vaping predictions for 2020 as well as what we learned while we were there.
Expect Lots of New Products
If you vape and know how beneficial it has been for you in quitting smoking, then you'll also know that vaping has helped millions of people around the world give up smoking. With an estimated 3.2 million vapers in the UK alone, the industry has continued to grow, which was very much reflected by the number of exhibitors promoting their products at the Expo.
Ever since the outbreak of a mysterious vaping-related illness in the US, there have been some question marks, over the sustainability of the industry across the pond. With several states imposing temporary bans on flavoured e-liquids, the focus of many manufacturers attention has shifted from the US, towards the shores of the UK and EU. If you thought that there was already a lot of vaping inventory to choose from, get set to be introduced to a vast number of vape brands and products that you probably haven't heard of before.
Try Not to Get Confused
You'll remember when you first started vaping, how daunting the prospect of choosing a device and e-liquid was. Confronted by a plethora of products, without appropriate guidance, the quest to find the 'perfect' vaporizer was not always so easy. Well, for new vapers attempting to become smoke-free, it looks like that journey isn't going to get any easier.
From the sheer number of exhibitors attending the Vaper Expo, it's clear at just how saturated the market has become. Featuring hundreds of vendors supplying similar products, for new vapers, it's more than feasible that the market could appear like a mire of confusion. With many vape pods and pod devices with hardly any distinguishing features, it seems manufacturers may have come to an impasse when it comes to innovation and features.
We all know that our first experiences of vaping can contribute to the success of becoming smoke-free, but is it all becoming too confusing?
Are Vaping Products Targeting Underage Vapers?
Here in the UK, we're happy to report that the number of underage vapers is relatively low compared to elsewhere in the world. While a growing vaping epidemic sweeps across the US, a raft of educational establishments has been lining up to file lawsuits against the famous vaping company JUUL. Accused of marketing their products to those under 18 via colourful packaging and youthful lifestyle images, you might have through that fellow vaping manufacturers would have taken note.
From what we witnessed at the Vaper Expo, a worryingly large number of vendors where exhibiting colourful, cartoon type packaging for their products. For products that are intended tools for adults to give up smoking, it was a little concerning not to find packaging that reflects the prime cause.
The Rise of 0.0% E-Liquid
It's interesting to note the particular rise in vendors promoting 0.0% e-liquid, and to perhaps steer you towards erring on the side of caution should you encounter them in the future. While 0.0% e-liquid should be your final port of call before becoming both smoke and nicotine-free, due to their lack of nicotine, they are not regulated in the same way as nicotine-based e-liquids.
If a product contains nicotine UK, then it is subject to the regulations and laws set out by the Tobacco Product Directive (TPD). These regulations mean that before a manufacturer can introduce a product to the market, guidelines must be adhered to and any banned ingredients cannot be included. If a product doesn't contain nicotine, doesn't need to meet the TPD's requirements, which means manufacturers may choose to add some questionable ingredients to achieve their desired flavour.
Stay safe out there and always choose an e-liquid that uses quality and safe ingredients such as the premium e-liquid made by Vapour2 or VSAVI.
The Return of Disposable E-Liquid Cartridges
Usually reserved for those making the initial transition from smoker to vaper, there seems an apparent attempt to re-introduce disposable e-cigs to the UK market. While they can be an affordable and easy to use products for the early days of your vaping, the reality is that they hardly do anything to reduce our carbon across the pond, Chinese manufacturers seem set on making them prominent in the UK. To minimize the impact surplus vaping products might have on our environment, we would recommend sticking to bottled e-liquid and refillable e liquid tanks.